BLOOMINGTON – Indiana University will celebrate the resiliency and dedication of its students when it confers thousands of degrees during outdoor commencement ceremonies taking place at all of its campuses May 7-15.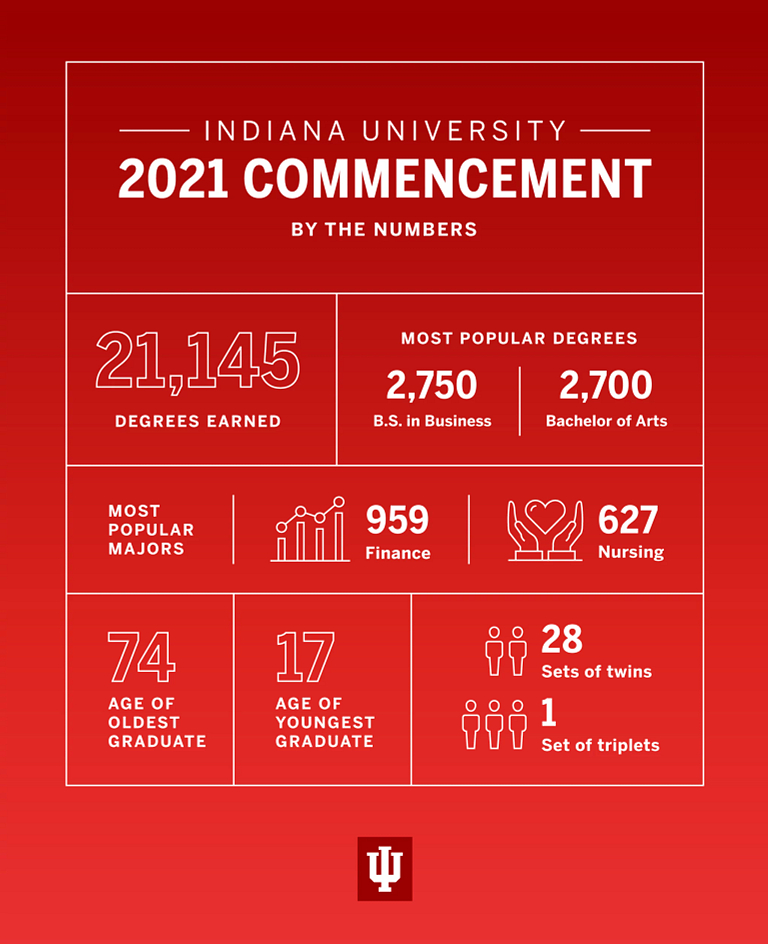 In addition to awarding more than 21,000 degrees to 2021 graduates, the Class of 2020 is invited to participate in commencement ceremonies after their in-person ceremonies were canceled last year due to the COVID-19 pandemic. The ceremonies are limited to graduates only, but guests are invited to celebrate virtually by watching a livestream on IU's commencement website.
"We are extremely pleased to be able to safely celebrate the remarkable achievements of our graduates, who've made enormous sacrifices over the past year while remaining dedicated to their studies and doing their part to keep Indiana University campuses safe," IU President Michael A. McRobbie said.
IU's strength in preparing students to meet the nation's critical health and economic needs is evident, with a Bachelor of Science in business being the most popular degree being awarded. Finance and nursing are the most common majors.
Undergraduate commencement in Bloomington will feature a speaker, and seven honorary degrees will be awarded at ceremonies across IU campuses.
IU Bloomington
Marcia McNutt, president of the National Academy of Sciences, will speak and receive an honorary Doctor of Science degree during the IU Bloomington graduate ceremony May 7. McNutt, a geophysicist, was the first woman to serve as director of the U.S. Geological Survey. She helped lead the federal response to the 2010 Deepwater Horizon oil spill.
IU Bloomington's undergraduate ceremony will take place May 8 and feature IU Bloomington Provost and Executive Vice President Lauren Robel as the speaker. Robel will step down from her current role and return to the faculty of the Maurer School of Law at the end of June. Robel has led IU Bloomington to major achievements in education, research, and the arts and humanities, and has furthered the positive impact the campus has on the communities it serves.
An honorary Doctor of Humane Letters will be awarded to IU alumnus and philanthropist Robert A. Borns during the ceremony. Borns is a 1957 Kelley School of Business graduate, a successful real estate developer and the namesake of the College of Arts and Sciences' Robert A. and Sandra S. Borns Jewish Studies Program.
Pat Shoulders, vice chair of the IU Board of Trustees, will deliver a special address as part of the induction of graduates into the IU Alumni Association and in recognition of his 19 years of service to IU as a member of the board. Shoulders will conclude his sixth term as IU trustee in June.
IU Southeast
Alumna Cynthia Torp will be awarded an honorary Doctor of Fine Arts during IU Southeast's May 10 commencement ceremony.
Torp is founder and owner of Solid Light, a 100 percent woman-owned business. Solid Light has grown to include a team of design, architecture, content, multimedia and fabrication experts who create and produce experiences for visitors to corporations, nonprofits, government entities, universities and visitor centers.
IU Kokomo
IU Kokomo's May 11 ceremony will include an honorary Doctor of Humane Letters for Gregory Goodnight, a Kokomo native who was the city's mayor from 2008 to 2019. His leadership helped establish economic development programs, revitalize the downtown district and accrue more than $650 million in new investments in the city from local businesses.
IU South Bend
Virginia Brown Calvin will receive an honorary Doctor of Humane Letters during the May 12 ceremony at IU South Bend.
Calvin was the first African American school superintendent in the state of Indiana when she became superintendent of the South Bend Community School Corp. She also served as chancellor of Ivy Tech Community College-North Central for a decade.
IU Northwest
IU Northwest will hold its Commencement ceremony May 13 at 10 a.m. The campus will not award any honorary degrees.
IU East
IU East will award an honorary Doctor of Music to Jack Everly during its ceremony on May 14.
Everly is a leader in symphonic pops and is principal pops conductor of the Indianapolis Symphony Orchestra, Baltimore Symphony Orchestra, National Arts Centre Orchestra of Ottawa and the Naples (Florida) Philharmonic Orchestra. He also leads the National Symphony Orchestra as music director of the National Memorial Day Concert and "A Capitol Fourth" on PBS.
IUPUI
IUPUI will hold a graduate commencement ceremony at 10 a.m. May 15 and an undergraduate ceremony at 3 p.m. May 15.
During the undergraduate ceremony, Theodore Reed Boehm will be awarded an honorary Doctor of Laws. Boehm was a justice of the Indiana Supreme Court and a senior judge for the Court of Appeals of Indiana. He was chairman and CEO of the organizing committee for the 1987 Pan American Games in Indianapolis, and also was the first president and CEO of Indiana Sport Corp.
Information Barbara Brosher, News at IU.