(BLOOMINGTON) – In just over a month, Indiana University Bloomington will host NCAA Division I Men's Basketball Tournament games for the first time in 40 years. Simon Skjodt Assembly Hall will host First Four and first-round games from March 18 to 20.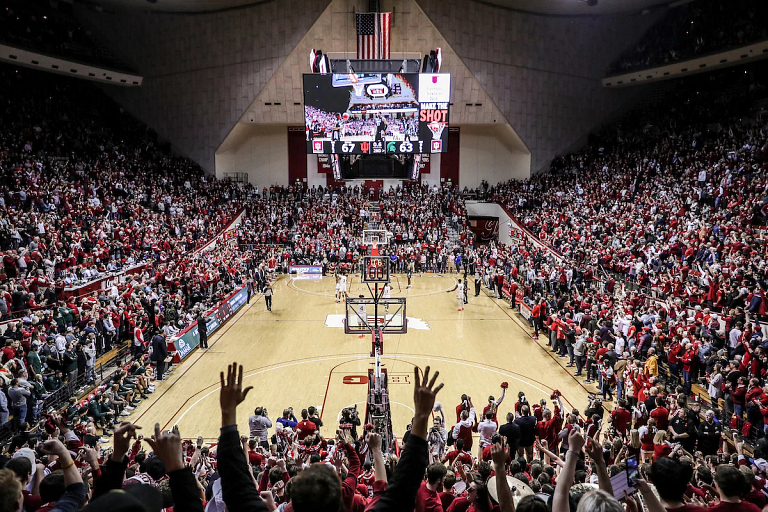 That was made possible in part by an IU Bloomington alumnus and former men's basketball manager who now has a central role in organizing the annual men's basketball tournament.
LJ Wright was a freshman manager for IU's 1987 national championship team. Now he's director of men's basketball championships for the NCAA, which has its headquarters in Indianapolis.
While he is involved in all rounds of the tournament, Wright is primarily focused on organizing the Final Four. He oversees a range of key pieces including venue build-out, operations, public safety and security, managing event contractors, and running event oversight from during the Final Four.
Wright said he considers himself blessed to part of the tournament field selection process as well, joining the men's basketball committee in the selection room to provide team data to the committee members who select and bracket the teams that compete annually in March Madness. Wright also assists with the tournament site selection process every few years, when hopeful cities bid to host a part of the tournament.
"Working in college basketball, to me there is not a better job," said Wright, 53, who played basketball at Floyd Central High School.
Not only is there not a better job right now for Wright, but perhaps not a busier one either. Preparations that are normally made in an 18-month timeframe are now being compressed into a few months. That's meant long days and some sleepless nights, Wright said.
The NCAA announced in January the entire tournament would be conducted entirely in Central Indiana, creating a controlled environment to keep players and coaches safe during the COVID-19 pandemic. Traditionally, tournament games are hosted at venues across the country.
Last year's tournament had to be canceled as the virus began spreading rapidly. The NCAA took a financial hit of several hundred million dollars, Wright said.
Since then, Wright and other senior leaders on the NCAA's basketball staff have worked on how to safely host the tournament, considering it's a valuable piece of its financial model. After seeing the National Basketball Association and National Hockey League each use a "bubble" to safely conduct their playoffs in one location, the NCAA began discussing such a plan.
"We wanted to try and emulate what had been proven to work," Wright said.
Once the controlled environment idea was settled on, conducting the tournament in Central Indiana quickly made the most sense, he added. Indianapolis has hosted the men's Final Four seven times previously, and multiple top-notch basketball venues that can accommodate 68 teams are in and near Indianapolis, so the 67 tournament games can be completed in 19 days. That includes Simon Skjodt Assembly Hall, about an hour south of Indianapolis.
"Everything we do is about the student-athlete and the experience they have," Wright said. "Simon Skjodt Assembly Hall is one of the most well-known venues in the country. There is such a rich tradition there. It was a pretty easy choice."
Five national championship banners hang inside the venue, which last hosted NCAA men's basketball tournament games in 1981 as the site of the Mideast Regional. IU won the 1981 regional and then went on to win the national championship, the program's fourth.
To get IU involved, NCAA President Mark Emmert reached out to IU President Michael A. McRobbie to seek IU's interest level in hosting games. McRobbie then contacted IU Bloomington Athletic Director Scott Dolson to discuss the opportunity.
"We are really thrilled to be part of the tournament and felt it was a great way for us to help when needed," Dolson said.
Discussions included how many days the venue would be needed, the types of spaces needed for the teams, COVID-19 protocols, what resources would be needed and other logistical concerns.
One of the challenges is that various IU athletic programs need access to Simon Skjodt Assembly Hall's resources. Fortunately, Dolson said, Wright understood the busy schedules and needs of IU's programs: Dolson also was an IU men's basketball manager, overlapping with Wright for two years.
"Once we got more information from LJ, it became clear hosting tourney games at Simon Skjodt Assembly Hall would be a good fit," Dolson said.
A career involving athletic events has been a good fit for Wright.
He earned a sports marketing and management degree from IU, and he fulfilled an internship with the Hoosier Dome in Indianapolis after graduation. That experience included the 1991 men's Final Four and one Colts football season.
Wright then landed a job with the Capital Improvement Board in Indianapolis as stadium event coordinator. After a decade in that role, he was in the process of applying for a job as assistant general manager with the Georgia Dome in Atlanta. He contacted the NCAA to ask if they would be a reference for the open position in Atlanta. It turns out, the NCAA was e already considering him for a position that would soon open in the near future. They offered him a job, and he accepted. Wright has now worked with the NCAA for 19 years.
"It's really been a dream job for me," he said.
Even though the pandemic has changed how the men's basketball tournament is conducted — limiting spectators and eliminating fan events such as concerts — Wright is determined to ensure that playing in the tournament feels like a dream come true for the participants.
"We're still going to make this year's tournament incredibly special for the student-athletes and all those involved," he said. "It's still going to create memories of a lifetime."
Information by Kirk Johannesen, News at IU Bloomington