(BLOOMINGTON ) – The site that once held IU's driving range is now the proud home of IU's Regional Academic Health Center, which includes a state-of-the-art academic building for many of IU Bloomington's health sciences programs as well as a new hospital built for the future of health care.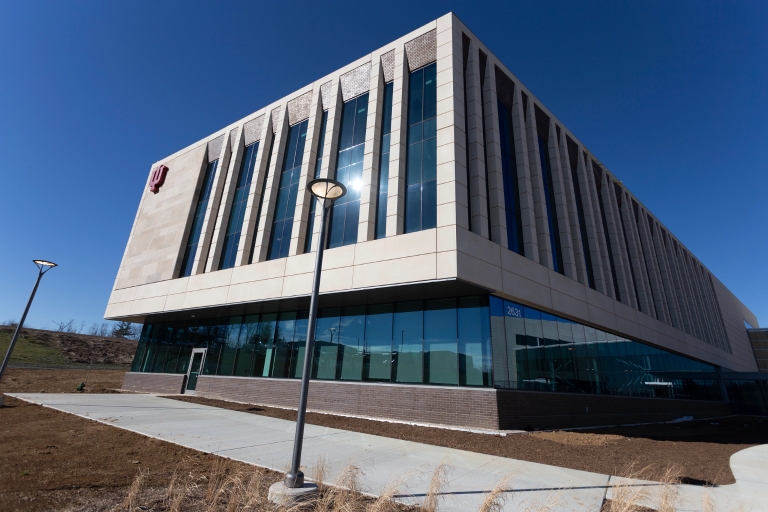 Over the last four years, the site has transformed into a health care campus that will serve not only as a space for teaching, learning, and research but also for hospital and trauma care for Indiana's south-central region.
IU Bloomington's Health Sciences Building is now open on the site, with the hospital expecting to start caring for its first patients in late 2021.
Many of the health sciences programs moved into the new building in December. The IU Hearing Clinic and IU Speech-Language Clinic are seeing patients there, and the School of Medicine and School of Social Work are in their new homes preparing for the start of in-person classes Feb. 8.
The School of Nursing continues to set up its learning and office spaces to prepare for review and approval by the Indiana State Board of Nursing. Once approved, the school will begin teaching IU Bloomington nursing students in the new space.
The Department of Speech, Language and Hearing Sciences has already reconfigured its research labs to allow for more collaboration among researchers, and the School of Nursing will double the number of students in its bachelor's degree program.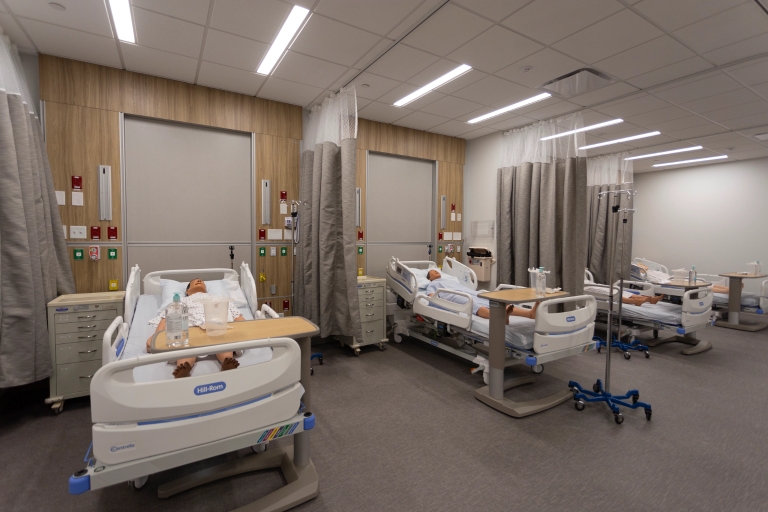 One of the biggest benefits of having an academic facility as a neighbor to a hospital is the opportunity for interprofessional education opportunities.
A shining example of the space available for students and IU Health professionals to work and train alongside each other is the new Simulation Center. The center is space shared between the IU School of Nursing, IU School of Medicine and IU Health Bloomington Hospital. The university will use it for training and educating students, while the hospital also plans to use it for training and onboarding.
The new center, which will be fully functional by the fall 2021 semester, will be larger than the current two centers put together and feature patient rooms, doctor rooms and a home environment for training in any number of situations.
Construction continues on the Simulation Center and the IU Health portions of the campus.
Information by Amanda Roach of News at IU Bloomington