(BLOOMINGTON) — Indiana University continues to educate more Indiana residents than any other college or university in the state, as its student body becomes more diverse and prepares itself to meet the state's critical health and economic development needs.
As of Aug. 31, the official IU census day for fall semester, 70 percent of the 90,090 degree-seeking students enrolled at IU campuses are Indiana residents. The 62,992 Hoosier students are, by far, the largest total of Indiana residents enrolled at any college or university.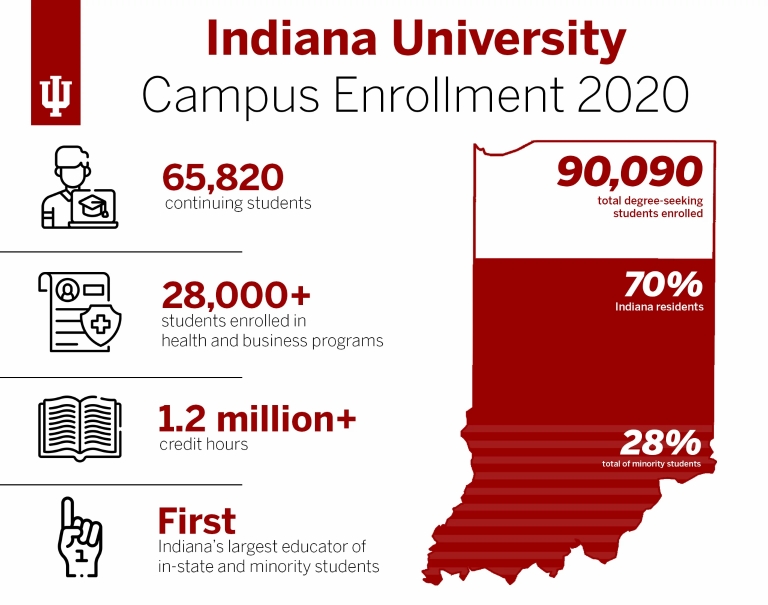 This fall, IU's campuses are more representative of the regions of the state they serve as a result of IU welcoming the most diverse class in the university's 200-year history. The university's record total of 23,401 minority students constitutes more than a quarter (28 percent) of the total degree-seeking population.
IU's campuses are also well positioned this fall to ensure the future success of their students and continue their commitment to keep a strong pipeline of knowledgeable, highly skilled and innovative workers flowing to local job markets. IU's fall enrollment includes a total of 65,820 continuing students, who are staying on course to complete degrees and be recruited by the state's leading employers. Additionally, 3,899 students — more than ever before — are attending an IU campus to pursue a professional education in fields that are vital to improving the health and well-being of Hoosier communities, such as medicine and dentistry.
"We are extremely proud that — in the face of enormous challenges confronting colleges and universities in Indiana and across the nation — we are continuing to meet our core mission of bringing greater health and prosperity to Hoosiers through the world-class education we offer," IU President Michael A. McRobbie said. "We continue to see very large numbers of new and returning students who are choosing to pursue their degrees at IU, which reflects the success of our efforts to ensure that our academic programs remain accessible and affordable to students from all backgrounds, and that they are highly relevant and responsive to the most important needs of our students and our state's leading employers.
"We are especially proud to be Indiana's largest educator of both minority students as well as in-state students. These figures clearly demonstrate that IU is the people's university."
All of IU's campuses hit their enrollment targets this fall, the result of strong numbers of both new and returning students, and the continued growth of the pioneering IU Online program. This fall, 42,552 degree-seeking students are enrolled at IU Bloomington, 28,612 students at IUPUI and 18,926 students at IU's five regional campuses. Collectively, they are taking 1.2 million credit hours.
IU now serves more than 110,000 students total across the state when non-degree-seeking students are included. This number includes thousands of high school students taking dual-credit courses — the largest number of any university in the state.
Continuing leadership in diversity
IU's fall enrollment reflects its continued leadership in providing opportunities for all students, regardless of their racial or cultural background, and ensuring the student populations on its campuses are as diverse as the Indiana regions they serve.
IU Bloomington has enrolled 9,950 degree-seeking minority students this fall. They represent 26.2 percent of the campus's total degree-seeking population. IU has another 8,408 degree-seeking minority students who have enrolled at IUPUI and make up over 31 percent of the campus's degree-seeking population.
"Indiana University's increasing minority enrollment is testament, in part, to the meaningful actions we have taken in recent years to foster more welcoming and inclusive campus environments and to ensure that our minority students have the support and resources they need to recognize their fullest academic potential," said James C. Wimbush, vice president for diversity, equity and multicultural affairs; dean of the University Graduate School; and the Johnson Chair for Diversity and Leadership at Indiana University. "But we will not rest on our recent successes. Continuing to take tangible action toward being a truly anti-racist university — one that advocates access, respect, equity and community for all — will be critical as we embark upon what promises to be one of the most challenging years in our university's history."
Meeting Students Where They Are
IU continues to honor its mission as Indiana's flagship public university by expanding access to its quality academic programs and working to more effectively reach nontraditional students seeking to further their education and earning power.
IU Online, launched in 2012, now offers over 150 online programs for both degree-seeking and non-degree-seeking students; the programs include certificates as well as associate, bachelor's, master's and doctoral degrees. All of the more than 2,000 IU Online courses are developed and taught by IU faculty and are an extension of the IU curriculum.
This fall, 7,444 students are enrolled in IU Online, a 17.5 percent increase over last year's total.
"With its long experience in providing an authentically IU educational experience for online students, IU Online has been a critically important part of IU's rapid expansion of virtual education in response to the COVID-19 pandemic," said John Applegate, executive vice president for university academic affairs. "At the same time, IU Online has seen continued strong growth in 'born online' programs, especially collaborative programs, that have been and will continue to be offered as online opportunities for the wide range of learners who look to IU for excellent online education."
Educating Tomorrow's Health and Business Leaders
IU's census-day figures illustrate the university's strong and increasing impact on Indiana's health and economic development. Noteworthy figures this fall include:
More than 28,000 IU students enrolled in health- and business-related programs.
A 30 percent increase in student enrollment in health sciences programs at IU Fort Wayne, now beginning its third academic year.
A 48 percent increase in beginner enrollments in the IU Kelley School of Business' top-ranked Online MBA program.
Over 17 percent growth in enrollment in online graduate business programs at IU.
These data tell only part of the story of the way IU continues to answer the state's call for highly trained employees who can meet the greatest public health and business challenges facing Indiana communities.
"Over the past several months, IU medical graduates, along with our returning students, have helped lead our state's charge in the fight against the COVID-19 pandemic," said Dr. Jay L. Hess, dean of IU School of Medicine and IU's executive vice president for university clinical affairs. "These same students will ultimately go on to make up the majority of physicians and health care employees here in Indiana, working at IU Health hospitals or other hospital systems in our state. It is no overstatement to say that the future health of our state — and whether we overcome the biggest public health challenges we currently face — is in their hands."
"IU's business school graduates are extremely attractive to our state's top employers and entrepreneurs, who are looking for employees equipped with the leadership skills, confidence and real-world experience to succeed in the workplace from day one," said Idalene "Idie" Kesner, dean of the IU Kelley School of Business and the Frank P. Popoff Chair in Strategic Management.
Succeeding in a Challenging Environment
Despite international travel restrictions that, as expected, prevented many students from coming to Indiana, IU maintains a strong international presence. This fall, 6,167 international students are enrolled at IU, down 1,473 from last year.
Overall degree-seeking enrollment across the university saw a slight decline of 1.1 percent, or 1,042 students.
This fall, IU also welcomed a beginner class of 15,021, the largest number of beginning students in the state.
Information by Chuck Carney at News at IU.