(BLOOMINGTON) – We are now less than one week away from the 100th anniversary of the 19th Amendment. But Indiana University Bloomington has been commemorating the centennial through lectures, panel discussions, film screenings and more since January, and will continue through the calendar year.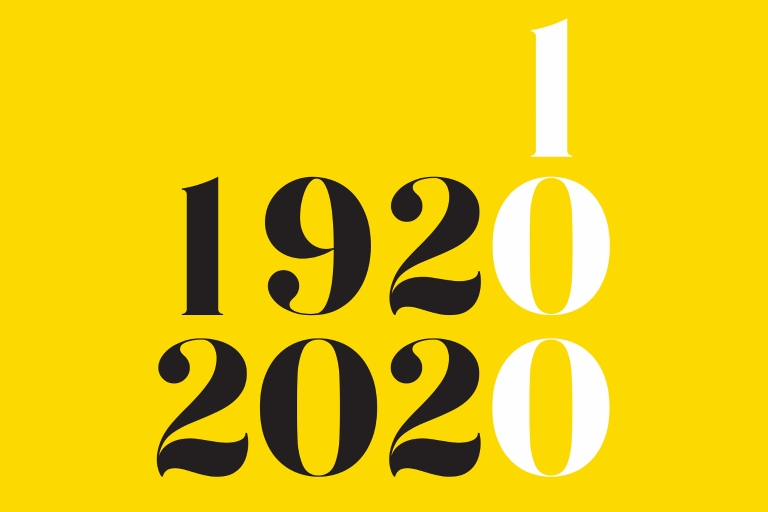 The 19th Amendment, adopted on Aug. 26, 1920, prohibited states and the federal government from denying citizens the right to vote on account of sex. It marked the culmination of a long struggle, but it wasn't the end.
"The struggle for women continues, especially for women of color," said Lisa-Marie Napoli, director of the Political and Civic Engagement program on campus. "It wasn't until 1965, just 55 years ago, that the Voting Rights Act helped bring a vigilant eye to inequitable treatment toward women and people of color. This, in turn, began to provide fair opportunities for voting rights, and there is still more work to be done."
IU Bloomington campus historian, professor Andrea Walton, said that the observance of the IU Bicentennial this year has focused on helping students see that history matters.
"We can have these milestones even as we understand that one has to continue to push forward," Walton said in relation to women's suffrage. "There is a phrase in suffrage history: 'Forward into light.' There is deep symbolism to that. And if you reflect on what a university does, it pushes forward into light. It sheds light on truth."
Fittingly, at sunset on Aug. 26, purple and gold lights will shine across the Indiana Memorial Union. They will join lights cast across landmarks all over the country in honor of Women's Equality Day. Purple, white and gold flower beds will also be planted around the Indiana Memorial Union, in honor of the purple, white and gold flag of the Congressional Union, which later became the National Woman's Party.
Central to IU Bloomington's commemoration of the 19th Amendment is a series of virtual panel discussions on Wednesday and Friday during the week of Women's Equality Day, which is celebrated every year on Aug. 26.
Wednesday's panel will be followed by a keynote address by Anita Morgan, IUPUI senior lecturer in history. Morgan is the only person to date to write a book on Indiana's women's suffrage movement, Napoli said. Her talk, "We Must Be Fearless: The Woman Suffrage Movement in Indiana," will take place in Alumni Hall before a physically distanced audience and will also be livestreamed. The address will be followed by a physically distanced screening of the PBS film "One Woman, One Vote," also in Alumni Hall. The space will be cleaned between events.
The fall 2020 Themester in the College of Arts and Sciences centers on democracy and also includes the course "Sex, Race and Voting Rights," which will be co-taught by Napoli; Wendy Gamber, Byrnes Professor and Department of History chair; Lauren MacLean, professor and Department of Political Science chair; and Stephanie Sanders, the Peg Zeglin Brand Chair, a Provost Professor and chair of the Department of Gender Studies.
"The faculty teaching this class — and the series of guest speakers we will host from history, political science, gender studies, law, and political and civic engagement — have blown me away," Napoli said. "This has been a collaboration like I have never experienced before."
Having taught Intensive freshman seminars on suffrage in 2015 and 2016, Napoli said that she and her students have been counting down the days until the 19th Amendment centennial. She said she is thrilled for the opportunity to teach a course on the topic with such outstanding colleagues, and she is inspired by the continued engagement of her former and current students.
Walton, as a historian of education, reflects a great deal on the experiences that brought her students to their present moment of consciousness.
"I teach master's students in the higher education program, and things they say in class and the values they reflect in how they live their lives — whether it be what they eat or what they contribute to philanthropically or where they volunteer — show that they're very aware of the connection between their individual actions and larger society," she said. "I can think of coming home a few times from teaching and thinking that the world's gonna be in good hands."
Partners on the 19th Amendment and Women's Equality Day programming are the Political and Civic Engagement Program; the Arts and Humanities Council; the Office of the Provost; the Department of History; and Themester. Additional commemorations have taken place or are planned by Women's Philanthropy, IU Cinema, the McNutt Lecture series, IU Libraries, the Maurer School of Law, Wylie House Museum, the Journal of American History and the League of Women Voters of Bloomington-Monroe County.
"I hope students can mark the date and better understand the long journey it took to get us where we are now and where we still need to be," Napoli said. "I hope we can take a deep breath and truly be grateful for all the sacrifices that were made to allow us the opportunity to cast votes as women, to be seen as equally deserving of a vote and a place in society. It's so important not to take any of it for granted."
Information by Lana Spendl is a speechwriter and communications specialist in the Office of the Provost.