INDIANA – On Tuesday, Oct. 25, Earth will experience a partial solar eclipse that will be visible from parts of Europe, western Asia, and northeast Africa.
Skywatchers in other parts of the world, such as the U.S., may miss this event in person, but they can watch it live online for free.
The partial solar eclipse will begin at 4:58 a.m. EDT (0858 GMT) on Oct. 25 when the moon passes in front of the sun and will end at approximately 9:01 a.m. EDT (1301 GMT).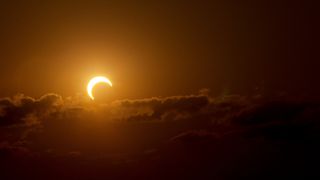 The Virtual Telescope Project 2.0 will allow astronomy enthusiasts to watch the partial solar eclipse on Oct. 25 from the comfort of their homes (or offices). The eclipse with be filmed from Rome, Italy, and can be live-streamed free online here.
The mobile observatory team of the website Time and Date will also live stream the partial eclipse and the coverage will be available to watch on its YouTube channel.
Solar eclipses occur when the moon slips between Earth and the sun casting a shadow on the planet and fully or partially blocking sunlight. The Oct. 25 partial eclipse is the second partial eclipse of 2022, the first was on April 30, 2022. The next total solar eclipse will happen on April 20, 2023.
Partial solar eclipses nor total solar eclipses are ever visible from all parts of the Earth. This is because the moon is much smaller than Earth and its shadow is just a few hundred miles wide, meaning it can only fall on part of the planet's surface at any one time.