BLOOMINGTON – Chrysanthemums, nicknamed "mums," is one of fall's quintessential flowers.
A number of customers are enjoying the variety at the Farmers' Market. Be sure to pick some up this weekend.
Mums are usually the last plant to bloom before frost, ushering your garden into the big sleep of winter with a last bang of color.
"Harvest for the World"
"Harvest for the World" returns this weekend to Bloomington Community Farmers' Market.
This is an experience of sight, sound, and taste, featuring ethnic vendors, food and beverage artisans, and entertainment representing Bloomington's international communities.
This event runs concurrently with the Bloomington Housing and Neighborhood Department's "Blooming Neighborhoods" and the Lotus World Music & Arts Festival which ends this Sunday, September 25th.
Here are some groups scheduled to perform at Harvest for the World:
When Dan Kusaya moved to the United States, he became a one-man band. He does live looping of several instruments while performing his own original songs plus other world music.
This includes storytelling of traditional Zimbabwean songs and music with new Afro-centric interpretations of traditional sounds and songs dating to a time when music was believed to have magical properties.
Ana Nelson is a clarinetist, saxophonist, composer, and arranger known for her multi-genre diversity in classical and jazz. Ana has performed with a variety of groups and artists across the Midwest.
As a recording artist, Ana has appeared on recordings with Bootsy Collins for his remix of the "Indiana Fight Song," Indiana University Jazz Ensemble performing "Gennett Suite" recorded for WTIU TV, and releases for Oberlin Orchestra and IU New Music Ensemble. Accompanying her on Saturday will be Andre Jamal Cardine Jr. Currently, Ana is pursuing a Doctorate in Clarinet Performance.
Matixando is a collective of musicians and artists playing original world forest music written and composed by Costa-Rican singer-songwriter, David Dávila González.
Matixando plays original Latin fusion, blending rock, reggae, blues, funk, and a variety of Latin rhythms. Originally formed in Costa Rica, the band is currently based in Bloomington.
Performance Schedule for "Harvest for the World"
Anna Wrasse on the circular stage – 8 a.m. until 8:45 a.m.
Dan Kusaya on the circular stage – 9 a.m. until 9:45 a.m.
Adam Rivere on the circular stage – 10 a.m. until 10:45 a.m.
Centeotl at City Hall Plaza – 10 a.m. until 10:45 a.m.
Matixando on the circular stage – 11 a.m. until 11:45 a.m.
Ana Nelson on the circular stage from Noon until 12:45 p.m.
Featured Vendors during "Harvest for the World"
Pinoy Garden Cafe is an Authentic Filipino Cuisine vendor based in Bloomington, IN. Andy Christian "Chris" Manansala launched Pinoy Garden Cafe on April 2, 2022, at the Bloomington Community Farmers' Market.
Pinoy has started doing Pop-up events and you can catch them at Food Truck Fridays at Switchyard Park, Saturday & Tuesday Farmers' Markets they also have catering services.
His specialties include Pork Belly Trio (Fried Rice, Filipino Pork Belly), Chicken Lumpia Spring RollsPork Adobo Rice Trio (Fried Rice, Marinated Pork Adobo), and Pancit Stir Fry Noodles w/ Veggies. A food truck is their next goal.
Canku Luta is a national nonprofit organization headquartered in Bloomington with a field office on the Cheyenne River Lakota Reservation in South Dakota.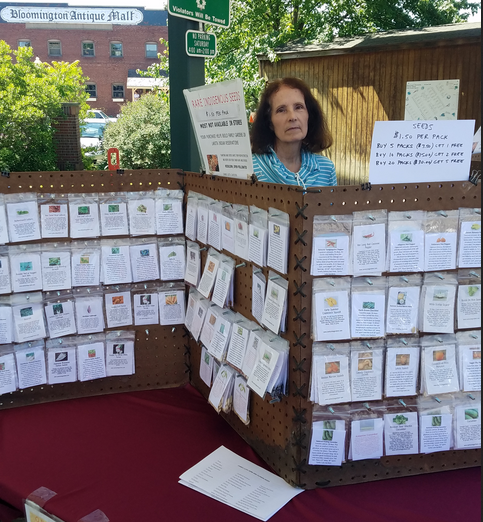 Angela Caine manages the Canku Luta booth and provides a wide variety of "heirloom vegetable seeds". Heirloom denotes that these seeds have a documented heritage of being passed down from generation to generation within a family or community.
Canku Luta, in the language of the Lakota people, means Red Road. Canku is pronounced "chunk uh" and means "road" Luta has a long "u".
Whether you are craving gringas, nachos, burritos, quesadillas, or tacos, you can find these and more authentic delicacies this Saturday at Pili's Party Taco.
Pili's food truck is one of several food and beverage vendors that you can frequent on Saturday's at the Bloomington Community Farmers' Market. The genesis of Pili's began when Pilar Gonzalez moved to Bloomington, she missed Mexican cuisine from her home of Puebla, Mexico.
Oluwanifemi Ologunorisa is the proprietor of "Homemade by Nife". All of her products have their origin in West African culture, specifically Nigeria.
One of her specialty dishes, "Puff-Puff" is a deep-fried dough shaped into balls while Chin-Chin is a fried or baked crunchy snack cut into small inch squares. The pie pastries have a chunky filling of meat, vegetables, chicken, and other savory ingredients.
Shu Jou and Ping Chang are proprietors of Chang's Produce.
They offer seasonal potted plants and seedlings such as vegetables, tomatoes, and beans; flower seeds such as Cherokee purple tomatoes, Lakota Sioux tomatoes, Cherokee Trail of Tear beans, King of the Garden lima beans, and Lakota squash.
Mayor at the Market
Mayor at the Market is a community outreach program that invites Market-goers to interact with the mayor and various department heads from the City of Bloomington government. From the arts to potholes – any city-related topic you are interested in is up for discussion.
Andrew Cibor Director of the Department of Engineering will be greeting the public from 10 a.m. to 12 p.m. at this Saturday's Farmers' Market.
HAND Department will host a networking opportunity
This Saturday the HAND department will host an opportunity to network, share, and celebrate neighborhood accomplishments. Neighborhood representatives and members of community organizations will assemble on the terraces under the trees in front of City Hall for fellowship and fun.
This year's theme is "Neighborhood Networks: Growing Stronger Together".
Visit here for more information.
The Farmers' Market Advisory Council
The Farmers' Market Advisory Council represents Market vendors, customers, and food and beverage artisans. The Council acts in an advisory capacity on policy matters relating to the Farmers' Market. The next Meeting is Monday, October 17, from 5:30 p.m. until 7 p.m.
The final Tuesday Market of the 2022 Season ends on September 27.