BLOOMINGTON – Provost Professor Lemuel W. Watson, Indiana University's associate vice president for diversity, equity, and multicultural affairs, will add an important new responsibility to his portfolio during the 2021-2022 academic year: in addition to his current role, Watson will serve as acting vice provost for diversity and inclusion on the IU Bloomington campus.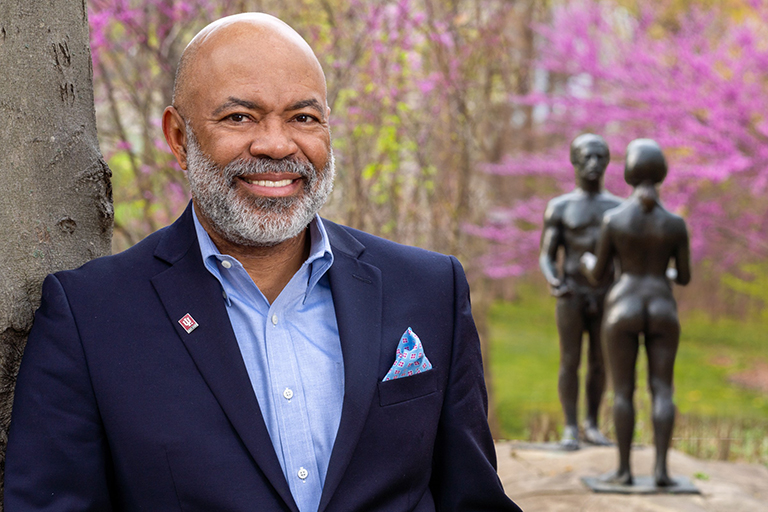 John Nieto-Phillips, who has served as IU Bloomington's vice provost for diversity and inclusion since 2017, will take a sabbatical year to continue work on a book project.
Watson currently directs anti-racist initiatives for all IU campuses to help further diversity, equity, and inclusion throughout the university community. This work includes the development of a framework for transformative actions that will help eliminate inequalities across the university and coordinating assessment, program reviews, research, and audits for the office's initiatives across IU's campuses.
"The IU Bloomington campus is deeply committed to maintaining our momentum in enhancing diversity and inclusion and striving for a more equitable environment for all people," said John Applegate, Interim Provost, and Executive Vice President. "I know that Lem will help us achieve these goals by working with members of our campus community, as he has in his present position, to take tangible action and make needed changes."
Over the past year, as associate vice president for diversity, equity, and multicultural affairs, Watson has helped IU make major progress toward the goals of its anti-racist agenda. This progress includes:
In his current role, Watson has also worked to engage members of the IU community – from students to administrators – to help expand IU's successful efforts and change or create structures to support new efforts, policies, and programs where they need to be implemented. Watson oversaw a 2020 student equity audit for all IU campuses, the results of which will be shared through an online dashboard by the end of the 2021-2022 academic year. He has also met with over 140 individuals and groups to discuss the work that still needs to be done.
"We're having a sincere dialogue about how this work is everyone's responsibility, and how we should hold each other accountable to honor our roles to serve with the highest integrity – regardless of your position in the university," Watson said. "People are hungry for the space to learn and grow and to make a difference." 
As acting vice provost at IU Bloomington, Watson will continue Nieto-Phillips' work with campus leaders to analyze and coordinate diversity, equity, and inclusion efforts and their impact; review and enhance IU's current practices, policies, and procedures; strengthen communications around diversity initiatives; and continue efforts to recruit and retain faculty members from underrepresented populations.
In the coming year, Watson will also work with campus leaders on strategies to ensure that IU's anti-racist efforts are fully integrated into all initiatives. "It is an honor to do this work because it is the heart of any educational organization and experience, rather than peripheral to our mission," Watson said. "I believe that we will continue to be a leader in our efforts to create communities that hold ourselves to integrity, honesty, openness, and justice as we transform our organization to reflect our diversity."
Watson initially joined the IU community as dean of IU Bloomington's School of Education in 2018 and a core faculty member at the Kinsey Institute, where he helps oversee Kinsey's efforts to generate collaborative education, research, and fundraising related to LGBTQ+ lives and topics.
Watson is a faculty affiliate in the Department of African American and African Diaspora Studies in the College of Arts and Sciences and is co-director for the Rural Center for HIV/STDs Prevention. He has authored or co-authored seven books and monographs and many articles, and he has been granted $13 million in research funding by an array of organizations. He has shared his expertise on systemic educational policy, talent management, and leadership issues both domestically and in countries all over the world, and he has been deeply engaged with the community as a personal and professional advocate through membership on numerous arts, community, educational and professional boards.
Information from the IU Office of the Provost & Executive Vice President