UNDATED — Budweiser has launched a new line of limited-edition patriotic-themed cans with some of the proceeds will actually help benefit the men and women who give their lives to protect that flag.
The cans feature a red, white, and blue design emblazoned with stars and stripes representing the five branches of the United States Military.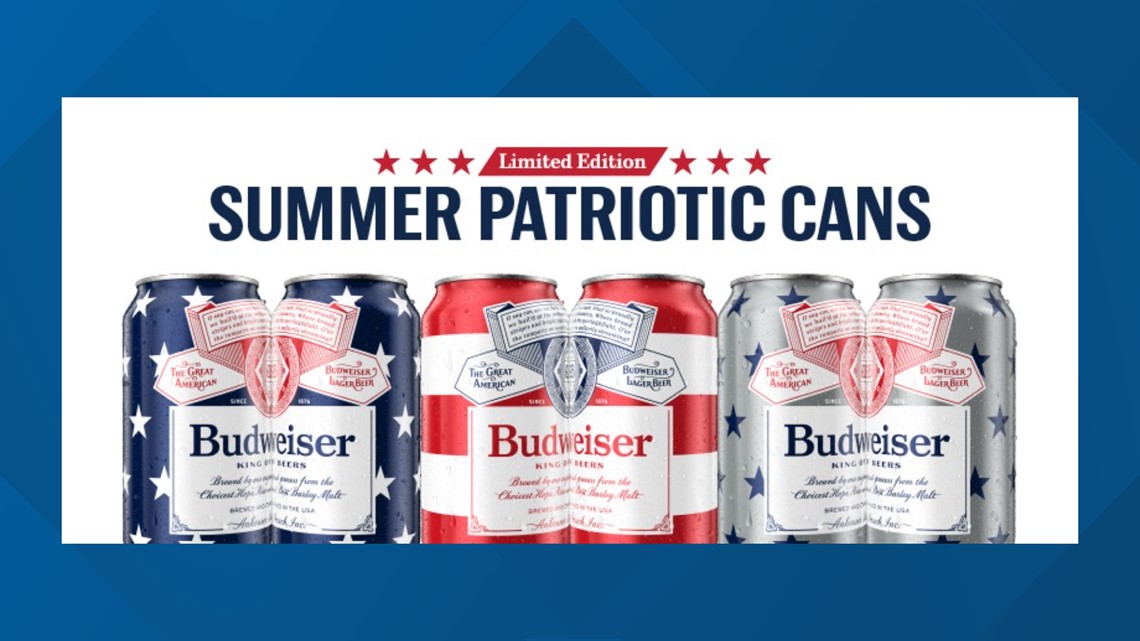 The new design comes in advance of a summer initiative in which the brand will contribute a portion of all sales to help raise as much as $2.5 million for the Folds of Honor Foundation.
Folds of Honor is a non-profit organization that provides educational scholarships to spouses and children of America's fallen or disabled service members.
The specialty cans are available at stores now through and come in 24 and 30 packs of 12 once cans, as well as 25 once single cans. Budweiser's collectible patriotic cans and large packs will be available through Aug. 9.
"It's going to be a red, white and blue summer for Budweiser — most visibly in our packaging but more importantly in our philanthropic support for the families of America's fallen heroes through the Folds of Honor Foundation," said Rob McCarthy, vice president of Budweiser at Anheuser-Busch. "Our partnership with Folds of Honor is helping to make a difference in the lives of families whose loved ones have made the ultimate sacrifice to protect the freedoms we all hold so dear."
To date, Budweiser has donated $18 million to Folds of Honor which equates to over 3,600 scholarships for military dependents.

According to McCarthy other components of Budweiser's "Red, White and Blue Summer" include:
"Walk Off a Hero" This season, Budweiser will donate $5,000 for every walk-off (the equivalent of one scholarship) during baseball's 2012 regular season to the Folds of Honor Foundation.
2012 Olympics: Budweiser is the official sponsor of Team USA during the 2012 Summer Olympic Games; in June, the brand will unveil a 16-ounce aluminum bottle with the Team USA logo.
NASCAR: Kevin Harvick, driver of the No. 29 Chevrolet, will spotlight a special Budweiser red, white and blue paint scheme for races at Charlotte Motor Speedway (May 27), Michigan International Speedway (June 17), Kentucky Speedway (June 30), Daytona International Speedway (July 7), Pocono Raceway (Aug. 5) and Watkins Glen International (Aug. 12).
Flag Day Sampling: Budweiser wholesalers will hold sampling events for the brand in mid-June, including on Flag Day itself, June 14.