(UNDATED) – Given the number of major rivers and tributaries that dissect Indiana and the fact that approximately 24 percent of the state was historically covered by wetlands, much of Indiana is susceptible to severe flooding, given the right circumstances.
Conditions such as excessive rain, rapid snowmelt, and frozen ground prevent the upper soil surfaces from allowing water to percolate downward as groundwater and increase surface runoff, causing flooding.
The National Weather Service is predicting rain and higher temperatures in the area this week.
Sunday night the NWS predicted a 100 percent chance of rain, with it continuing into Monday. Temperatures will reach highs in the upper 30s.
Tuesday will be mostly sunny with highs in the upper 40s with southwest winds around 10 miles per hour.
Wednesday temperatures will reach the lower 50s with a 20 percent chance of rain.
Thursday and Friday will be sunny with temperatures in the lower 40s.
Saturday rain retunes with a possible mix of snow. Highs will be in the mid-40s. The chance of precipitation is 30 percent.
While Indiana will always be at risk of flooding, modern communication systems make it much easier to give advanced warning to people in potentially afflicted areas, resulting in enhanced preparation and decreased casualties.
River flooding can be caused by heavy rainfall, dam failures, rapid snowmelt, and ice jams. The National Weather Service issues Flood Warnings for designated River Forecast Points where a flood stage has been established.
River flooding is classified as Minor, Moderate, or Major based on water height and impacts along the river that have been coordinated with the NWS and local officials. Minor river flooding means that low-lying areas adjacent to the stream or river, mainly rural areas and farmland, and secondary roadways near the river flood. Moderate flooding means water levels rise high enough to impact homes and businesses near the river and some evacuations may be needed. Larger roads and highways may also be impacted. Major flooding means that extensive rural and/or urban flooding is expected. Towns may become isolated and major traffic routes may be flooded. Evacuation of numerous homes and businesses may be required.
There is an additional level of flooding known as record flooding. A record flood is simply one where the water reaches a level higher than it ever has been recorded before. Therefore, record flooding can cause extensive damage or no damage or other negative impacts at all.
Anyone who lives in or near the flood plains of a major creek or river should be aware of the possible dangers associated with flooding and take the necessary precautions.
Turn Around Don't Drown®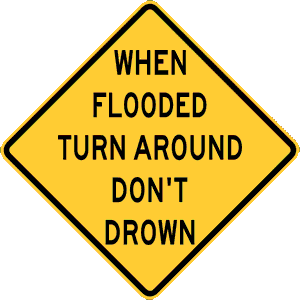 Each year, more deaths occur due to flooding than from any other thunderstorm related hazard. The Centers for Disease Control and Prevention report that over half of all flood-related drownings occur when a vehicle is driven into hazardous flood water.
The next highest percentage of flood-related deaths is due to walking into or near floodwaters. People underestimate the force and power of water. Many of the deaths occur in cars swept downstream.
Many of these drownings are preventable. Never drive around the barriers blocking a flooded road. The road may have collapsed under that water. A mere 6 inches of fast-moving flood water can knock over an adult. It takes just 12 inches of rushing water to carry away most cars and just 2 feet of rushing water can carry away SUVs and trucks. It is NEVER safe to drive or walk into floodwaters.
The June 2008 floods are a recent example of the devastation that flooding can cause. During an already wet spring, nearly a foot of rain was dumped on the saturated soils of Franklin and Edinburgh in seven hours. This rain was unable to infiltrate the water-logged ground and was shed into the West Fork White River, East Fork White River, Flatrock River, and other smaller tributaries. The result for the surrounding areas of Franklin, Columbus, Martinsville, and low-lying parts of Brown County was record-setting high-water levels and widespread damage. After the storms passed, all but 10 of Indiana's 92 counties were declared presidential disaster areas. At least two deaths were caused by the floods and an estimated half a billion dollars in damage was done in Columbus alone, where the hospital was inundated with water and was closed for months.