(UNDATED) – The following is a list of some historical Christmas facts. Did you know?
You can thank Prince Albert for your Christmas Tree
You might want to brew a cup o' tea when trimming your tree this year to pay homage to its origins. When Prince Albert of Germany introduced a tree to his new wife, Queen Victoria of England, it really took off across the pond. A drawing of the couple in front of a Christmas tree appeared in Illustrated London News in 1848 and as we say, the idea went viral.
St. Nick Was More Generous Than Jolly
You probably already knew that the idea of Santa Claus came from St. Nicholas, but the real saint wasn't a bearded man who wore a red suit. That all came much later.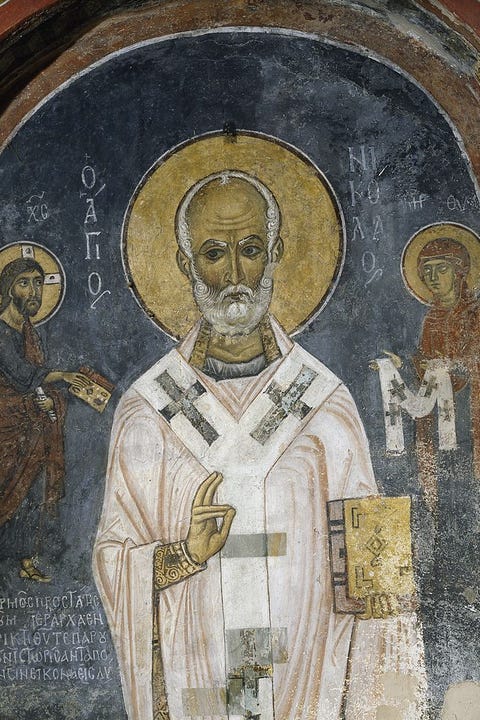 According to legend, the fourth-century Christian bishop gave away his abundant inheritance to help the needy and rescued women from servitude. His name was Sinter Klaas in Dutch, which later morphed into Santa Claus. The rest of the trappings followed.
Candy Canes Originated In Germany
The National Confectioners Association says a choirmaster originally gave the candies to young children to keep them quiet during long church services.
Grandmas who still dole out sweets during droning sermons, you've got history on your side. But it wasn't until a German-Swedish immigrant decorated his tree with candy canes in 1847 that they became popular as a Christmas candy.
Stockings Hung By The Chimney With Care
According to legend, we hang stockings by the chimney with care thanks to a poor man who didn't have enough money for his three daughters' dowries.
Generous old St. Nick dropped a bag of gold down their chimney one night, where the girls had hung their stockings to dry. That's where the gold ended up, and how the tradition began.
Washington Irving Created Nany Santa Legends
You may know Washington Irving best for The Legend of Sleepy Hollow and his headless horseman, but he wrote a lot about St. Nicholas, too.
In fact, he bestowed eight tiny reindeer on the big man. He loved Santa Claus so much that in 1835, he helped found the Saint Nicholas Society of the City of New York, serving as its secretary until 1841.
Christmas Tree In Indianapolis Decorated With Lights
In 1913, in University Park in Indianapolis, a Christmas tree was decorated with colorful electric lights, a new innovation for the time.
Mayor Henry Wallace organized the event in conjunction with the Cornelia Cole Fairbanks chapter of the Daughters of the American Revolution.
The 50-foot cedar tree, provided by the Bridgeport Nursery, was the centerpiece for music each evening by local choir groups.
Christmas Wreath Symbol Of Christ
The Christmas wreath originated as a symbol of Christ. The holly represents the crown of thorns Jesus wore at his crucifixion, and the red berries symbolize the blood he shed.
So when you see a wreath this season, you'll remember the reason for the season.
Demand Grows For Lights For Christmas Trees
In 1920, with fears of sub-par lights fading and the technology becoming affordable enough for the middle class, demand grew for new shapes and sizes of light-up displays, including flowers, snowmen, saints, and even Santa himself.
Thus was born the outdoor light show, which still burns brightly in towns across America. Organized by Frederick Nash in Altadena, Calif., the first public outdoor electric Christmas light display turned Santa Rosa Avenue into Christmas Tree Lane. With the exception of WWII, it has been lit continuously every year since. Not to be outdone, in 1923 President Calvin Coolidge lit the National Christmas tree with about 3000 lights.
Coca-Cola Played A Part In Santa's Image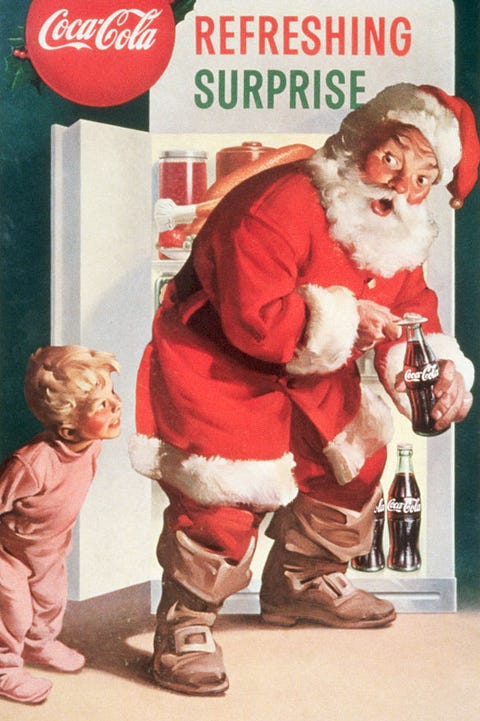 Before Coca-Cola got in on it, Santa used to look a lot less jolly — even spooky. It wasn't until 1931 when the beverage company hired an illustrator named Haddon Sundblom for magazine ads that we got the jolly old elf. Now, kids won't get nightmares when they dream of Christmas eve.
Rudolph The Red-Nosed Reindeer Marketing Ploy
Rudolph the Red-Nosed Reindeer first appeared in 1939 when the Montgomery Ward department store asked one of its copywriters to create a Christmas story the store could give away as a promotional gimmick.
The store had been giving away coloring books for years and decided to make its own to save money.
Aluminum Christmas Trees the New Fad
In 1959, the rise in popularity of the aluminum Christmas tree, including the Evergleam, changed America's decorating habits.
Unable to use electric lights on aluminum, owners used a rotating color wheel instead. This had an unfortunate effect on string lights, which saw sales plummet as a result.
By 1966, the NOMA Electric Company filed for bankruptcy. By the '70s, almost all Christmas lights were foreign-made.
Astronauts broadcast "Jingle Bells" From Space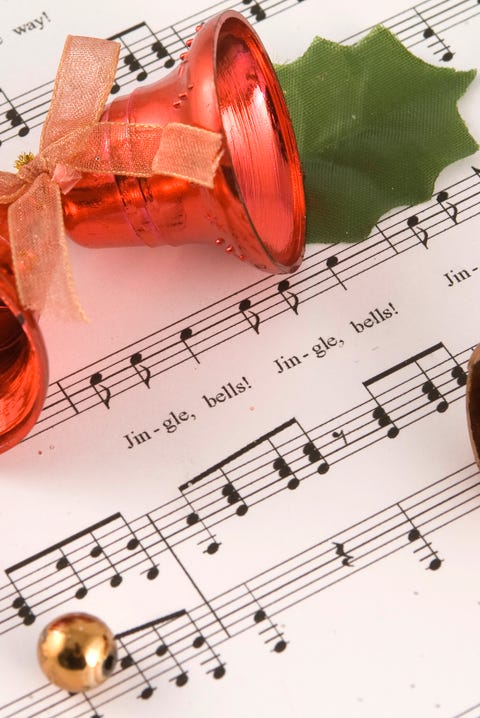 This prank almost went too far. Nine days before Christmas in 1965, the two astronauts aboard Gemini 6 sent an odd report to Mission Control that they saw an "unidentified flying object" about to enter Earth's atmosphere, traveling in the polar orbit from north to south.
They interrupted the tense report with the sound of "Jingle Bells," as Wally Schirra played a small harmonica accompanied by Tom Stafford on a handful of small sleigh bells they had smuggled aboard.
Top-Selling Christmas Toys In 1970s Reflected Space Program
Fifty years ago, in 1970, the top-selling Christmas toys reflected the nation's space program and lunar expeditions. Woolco stores advertised a child's "Space Helmet with a headphone."
There were also futuristic tools for young astronauts, including the Ionization Nebulizer "which emits a fine mist to decontaminate and eradiate lunar specimens."
The well-equipped space traveler could also have an equipment belt with a "signal communicator, scanner scope, and belt buckle with a secret compartment."
Jingle Bell Rock
Hoosier Bobby Helms (1933- 1997) was a recording artist. Born in Helmsburg, Indiana, he developed a singing talent which took him to Nashville, Tennessee, where he became a star.
In 1957, he appeared on the Ed Sullivan television show to perform his hit "My Special Angel." Also in 1957, he recorded "Jingle Bell Rock," which is listed in Billboard Magazine's top ten Christmas songs of all time. Other top-selling records included "Fraulein," "Jacqueline," and "Borrowed Dreams." In later years, Bobby lived near Martinsville, where he is buried in Hilldale Cemetery. "Mr. Jingle Bell Rock" is engraved on his tombstone.
Christmas Shopping List Experts
in 1928, the L. S. Ayres Department Store offered its customers a "telephone shopping service."
Newspaper advertisements invited the public to call the "intelligent, well-trained personal shoppers" and the gifts "would come trotting out to your home just as if your best friends had been shopping for you." Other stores offered similar programs, made possible by the fact that nearly 40% of American homes now had telephones.
Christmas Decorating Sends Nearly 15,000 People to The ER
If you've ever watched Clark Griswold decorate his house in Christmas Vacation, that probably doesn't come as much of a surprise. In fact, the Consumer Product Safety Commission estimates that 14,700 people visit hospital emergency rooms each November and December from holiday-related decorating accidents. So please, be careful when you're decking your halls.
Americans Spend Nearly $1,000 On Gifts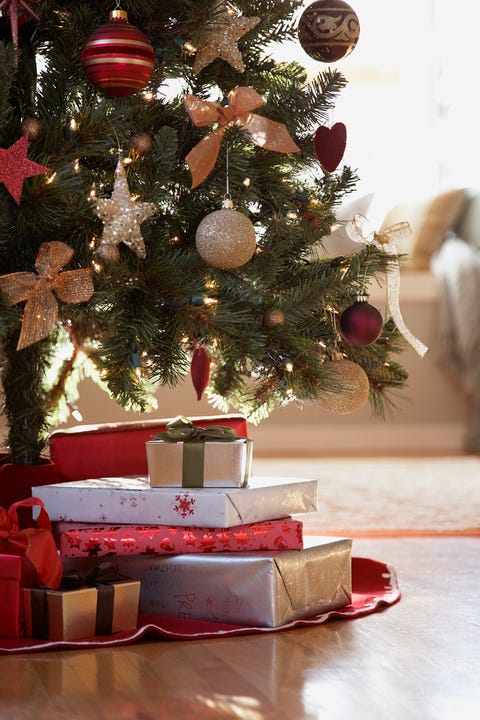 According to the National Retail Federation's annual consumer spending survey, Americans plan to spend an average of $997.79 this year, down 5% from last year ($1,007.24). Spending falls into three major categories: Gifts for family, friends. and coworkers: $650. Non-gift holiday purchases such as food, greeting cards, and decoration: $230.
Ham Ranks As The Festive Favorite
Some families cook up a turkey for Christmas dinner, others go for ham, and still more go rogue and stick a leg of lamb or another protein in the oven.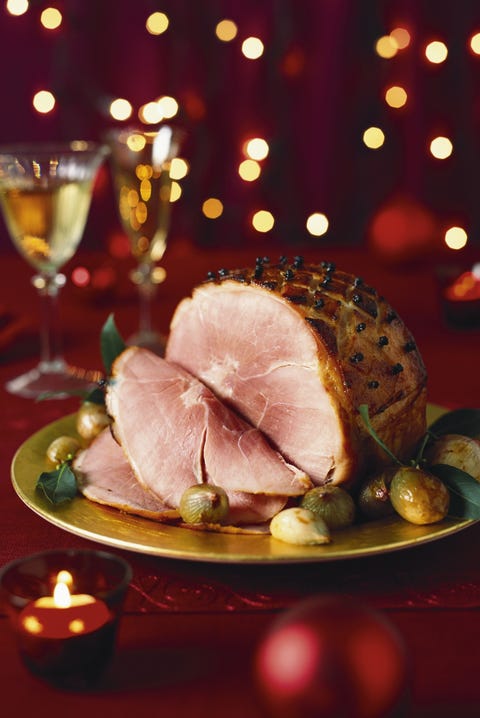 Google searches for "ham" and "turkey" both spike during the month of December, according to Google Trends data.
Despite the popularity of both festive entrees, spiral-cut ham remains the more popular choice for a Christmas table. The jury's still out on whether people prefer ham or turkey sandwiches the day after, though.