(BLOOMINGTON) – Adolescence is a critical time for young people, especially when it comes to relationship building and choosing whether or not to experiment with substance use.
That's why preventative measures for young people are critical. Research shows adolescent substance use can lead to problems in school and at home and that early onset of substance use can lead to substance use disorder in adults.
IU researcher Tamika Zapolski is helping to address this issue by partnering with community schools to provide a drug prevention program for at-risk students.
"We know that adolescence is a time when people start to experiment or engage in substance use," said Zapolski, associate professor in the Department of Psychology at IUPUI. "We also know that the earlier someone starts to use substances, even if it's experimental, it increases their risk for continuation of substance use. So, if we can intervene early for those that are going to possibly be at risk, we can offset some of the problems that they might see later on."
Called "Going for Goals," the nine-week program brings together small groups of seventh-through-12-grade students with Zapolski and her team, who lead them through discussions and activities designed to build skills including mindfulness, coping with emotions, managing stress and communicating effectively in tense situations. The program is part of IU's Responding to the Addictions Crisis Grand Challenge.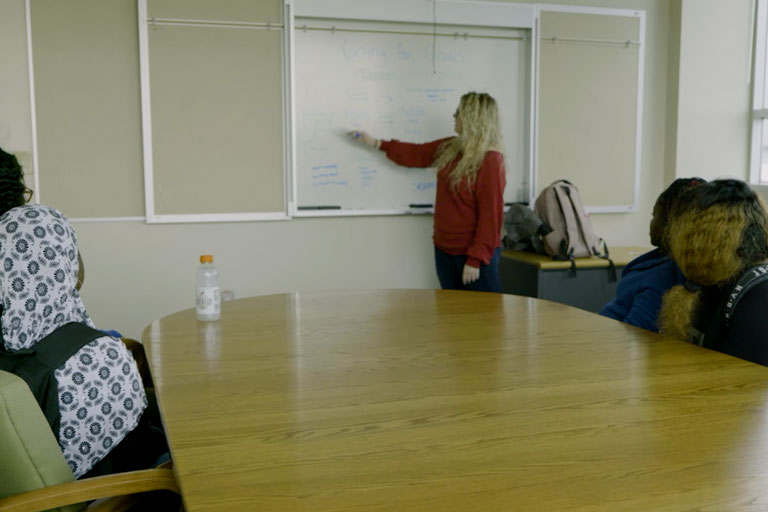 So far, Zapolski's team has worked with 163 students at Ben Davis High School and Ninth Grade Center and North Central High School. The program has an additional 80 participants signed up for the fall. Due to COVID-19, the program will be held virtually.
So far, both students and school administrators say the program is working. Students have reported an improvement in communication levels at school, improved grades, improved relationships with friends and families and better management of their emotions.
"The program has been great," said Andrea Wilson, assistant principal at Ben Davis Ninth Grade Center. "We've seen a difference in the classroom as far as impulsive behaviors — less blurting out, less discipline referrals of some students, which is great. Some of the students who have substance use issues have reported that they have used less, and some have said they have actually turned down offers. Whereas in the past, when they got anxious or upset at something, they would maybe turn to substances. So, the program has definitely made a difference."
According to a survey of student participants, 85 percent said the program has affected their schooling in a positive way and almost all said it improved their communication with teachers and fellow classmates.
Additionally, 55 percent of students said the program has positively affected their grades, teaching them valuable skills to help them focus in class and prioritize their academics.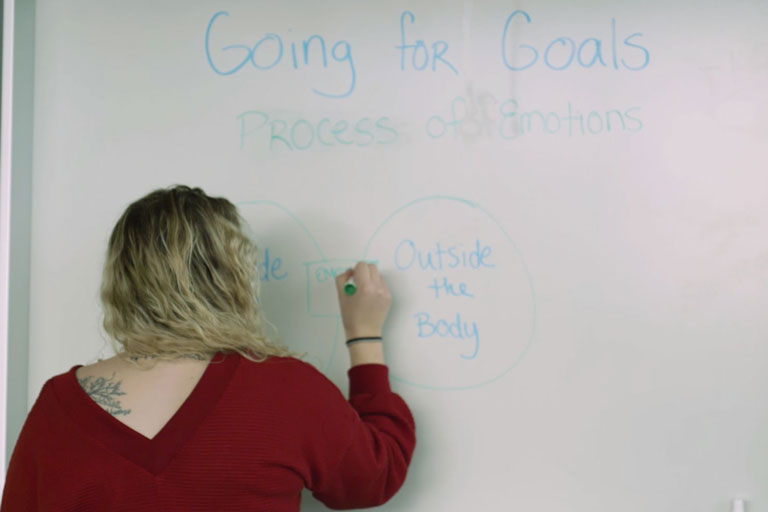 When it comes to relationship-building, more than half of the students surveyed said the program affected their relationships with friends resulting in both gaining new friends and losing some old friends who they saw as "bad influences."
Although many of the students said their relationships with their parents did not change due to the program, 29 percent said it increased their communication and taught them better emotion regulation during times of disagreement.
A big part of the Going for Goals program involves teaching students to identify and regulate emotions, which students reported was their favorite part. According to the survey, 77 percent of students said the program improved their ability to control their emotions, particularly anger, impulsivity and stress. The students also were able to describe specific techniques that have helped including walking away when angry or thinking about consequences before allowing an emotion to take control.
These tools, Wilson said, can be life-changing for students who use substances, have substance use in their homes or are simply more vulnerable to using.
"It's a very important that we give the students tools to succeed when they're faced with being exposed to substances," Wilson said. "A lot of them, unfortunately, have substance abuse in their families, whether it's a direct family member, aunt, uncle, or grandparent, and so they are around it more than other kids, and it's a little bit more difficult sometimes for them to not go down that path. But some of them also see family members who have gone down that path and the negative consequences of it, and so they're looking for help and a different way."
Although students in the program are able to learn valuable coping skills that will hopefully help them throughout their lives, the program also gives them a sense of community and connectedness at a time when some young people can feel alone.
"I would do it again," one student said. "It's honestly helpful. It shows that they care about you and you can really go to somebody that you care about or that cares about you."
"Hearing other people's stories about what they go through at home and connecting it with what you go through at home … It's like, I'm not the only one going through it," said another participant.