(BLOOMINGTON) – Indiana University will rename the Intramural Center on its Bloomington campus in honor of Bill Garrett, the first black basketball player to regularly play in the Big Ten conference. IU President Michael A. McRobbie announced the renaming, which the IU Board of Trustees approved today at its business meeting.
The center will be known as the Bill Garrett Fieldhouse after the late Shelbyville, Indiana, native who starred on the IU basketball team from 1949 to 1951. Garrett was named a first-team All-American his senior year and was IU's all-time leading scorer when he completed his basketball career at IU.
Garrett was also the third African American drafted into the National Basketball Association, and he went on to play for the Harlem Globetrotters. After his playing career, he became an educator and basketball coach in Indiana, including coaching the state championship team of 1959 at Crispus Attucks High School in Indianapolis. He was assistant dean for student services at IUPUI at the time of his death in 1974.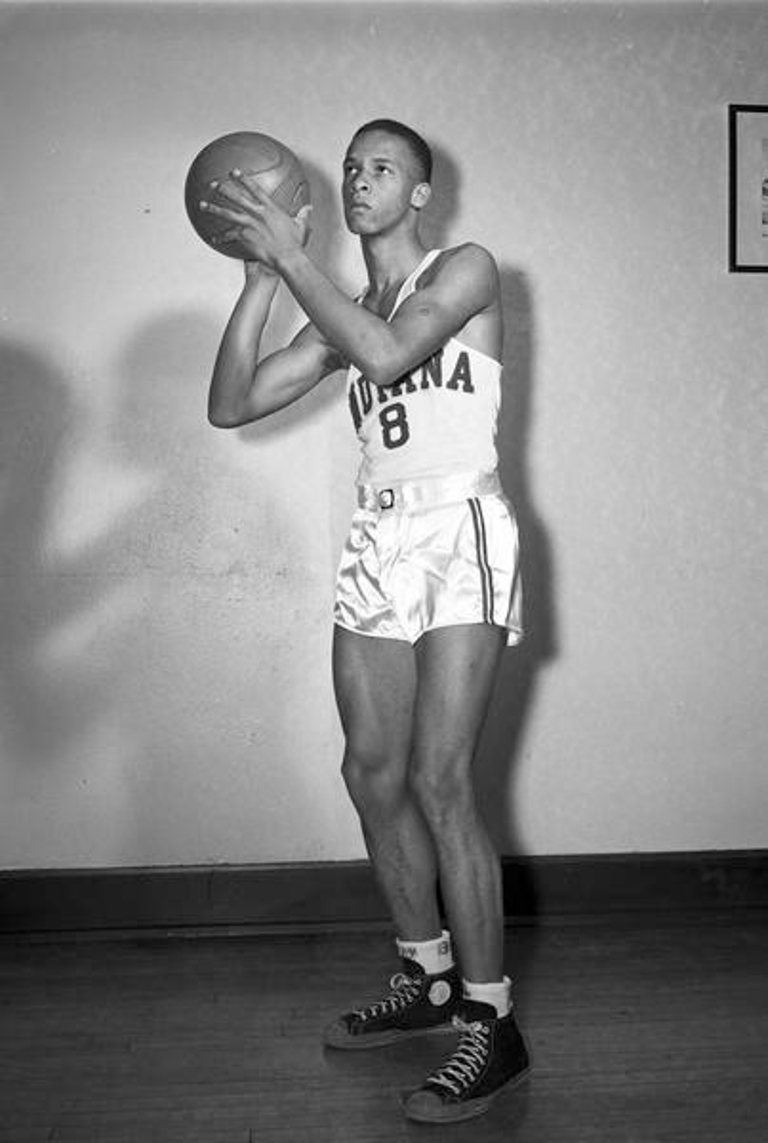 McRobbie also shared that appropriate signage will be placed on the building to honor Garrett, one of IU's great alums and "one of its true courageous leaders in the integration and acceptance of African Americans in basketball at both the collegiate and professional level."
IU's first recreational sports facility is used for academic purposes by the School of Public Health-Bloomington and for recreational activities by students across campus. In 2018, the former Wildermuth Intramural Center was renamed the Intramural Center after members of the IU community questioned the building's name. Historical documents linked the building's namesake, Ora Wildermuth, to harmful attitudes regarding African Americans and extraordinarily strong opposition to racial integration.
Today's renaming announcement came as McRobbie told IU trustees about five areas in which IU will make changes to further diversity and inclusion on its campuses.
Among the actions, McRobbie announced are:
The creation of a $1 million Pandemic Health Disparities Fund to address the needs resulting from the COVID-19 pandemic for African American and Hispanic students returning to IU campuses for the fall semester. CDC data shows that the hospitalization and death rate among African American and Hispanic communities is about double that for the white community. IU has about 15,000 students who are African American or Hispanic.
The awarding of a $7 million grant from the federal Health Resources and Services Administration to help the IU School of Medicine educate medical students to better care for underserved populations. The grant is aimed directly at making the school a leader in eliminating health care disparities.
The establishment of a new Racial Justice Research Fund that will support, among other initiatives, 25 grants providing start-up funding of up to $15,000 each for research by IU faculty focused on racial equity and justice.
A systematic review of all named buildings or structures on all IU campuses. The goal is to identify any buildings or structures that are named after a person who has been found to have held views in statements, writings or publicly, inimical to the fundamental values of the university and where there is a case for considering removing their present names.
A review of IU programs and policies aimed at increasing the racial diversity of the IU community and creating a welcoming and supportive environment for people of color. During this time, the university will seek to determine the effectiveness of its programs and policies, how to improve them, and which programs might need to be modified or replaced. New programs and policies will also be considered during this time
"IU has made great strides in recent years in enhancing the impact of its efforts related to addressing social injustice, diversity and inclusion," McRobbie said. "We are proud that in little more than a decade, the size of the university's minority student body has nearly doubled to now mirror the racial composition of Indiana. But we must do much more, and we must take yet more action."
About Bill Garrett
Garrett led the Hoosiers in scoring and rebounding each year from 1949 to 1951 (freshmen did not play on the varsity squad in those days). He led the Hoosiers to a 19-3 record and a No. 2 ranking in 1950-51 when he also was chosen as IU's most valuable player.
He was drafted by the Boston Celtics, making him the third African American ever drafted by an NBA team. But Garrett was called to serve in the U.S. Army, and two years later he signed a contract with the Harlem Globetrotters, playing with them for three years.
Within a year of Garrett's graduation from IU, six other African Americans were on Big Ten basketball rosters.
He was inducted into the IU Athletics Hall of Fame in 1984 and the Indiana Basketball Hall of Fame in 1974.
In 2017, a state historical marker was dedicated in his honor in front of the Intramural Center, formerly the Fieldhouse where Garrett played. IU also paid tribute to Garrett during the 2017 season, which marked the 70th anniversary of his integrating the Big Ten Conference.
Information News at IU