(BLOOMINGTON) – Glenn Gass arrived at Indiana University Bloomington more than 40 years ago with a background in classical music and composition. He'll retire at the end of the semester having created a modern masterpiece.
In rock history.
Known as "Doctor Rock," Gass created the first rock history classes offered by a school of music, the IU Jacobs School of Music.
The classes became so popular that Gass has taught more than 60,000 students in his career, and often has been voted the most popular professor on the IU Bloomington campus.
The success of the classes led to additional rock history courses and eventually the creation of a certificate program at IU. Other colleges and universities have seen that success and popularity and added rock history courses to their offerings.
Gass' passion for the music and his classes also has inspired some students to go on to successful careers in the music industry.
"Glenn blazed a trail in teaching rock music, and no one I've ever seen has come close to him," said Anthony DeCurtis, a contributing editor at Rolling Stone magazine who earned a doctorate in American literature at IU and has lectured in Gass' classes. "Best of all, he is energized by the music and passionate about it.
"However sophisticated his thinking about it, he makes his knowledge visceral so that his students could feel it. The level of talent, conviction and insight he brought to his teaching inspires me to this day."
Gass, Rudy Professor and Provost Professor of Music in the Music in General Studies program, said it was important to teach classes about rock 'n' roll in a way that didn't kill the passion the music creates. First and foremost, he wanted students to appreciate the music.
"It was always my goal to teach a rock class so that if Keith Richards wandered in, he'd like what he heard," Gass said.
Although the Rolling Stones' Richards has never wandered in, many other rock stars have participated in one of his classes: John Mellencamp, Lou Reed, Bo Diddley, Neil Young and Booker T. Jones of Booker T. & the M.G.s, to name a few.
But it was the Beatles who hooked Gass on rock 'n' roll and started him on his journey of teaching rock history.
'This Boy'
Gass was one of the nearly 73 million TV viewers who watched the British band perform on the Ed Sullivan Show on Feb. 9, 1964.
From then on, all Gass wanted to do was talk about the Beatles — or look like them. His second-grade teacher even let him wear in class a Beatles wig that she gave him, so he wouldn't have to sport a bald head that resulted from an operation to remove a birthmark. He even wrote a letter to the Beatles, which the teacher saved and gave to his mom.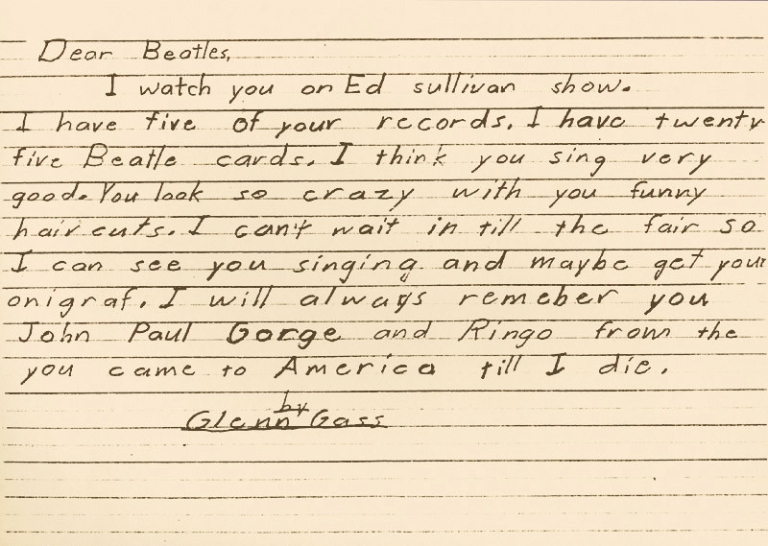 "I have five of your records. I have twenty-five Beatle cards. I think you sing very good. You look so crazy with you funny haircuts," Gass wrote in the letter.
'Roll Over Beethoven'
Gass learned classical music as a boy by playing the violin. And while attending a prep school in Andover, Massachusetts, he became interested in contemporary classical music. He later studied at the New England Music Conservatory, where he earned a Bachelor of Music degree in 1977.
After graduation, a friend from the conservatory who was working for the University of Wisconsin at Baraboo helped Gass land his first professional job: teaching rock history and jazz to college students during the day and to inmates at a maximum-security federal penitentiary at night. (The university ran a program for the penitentiary.)
He described it as a great experience.
Gass said one inmate told him, "When I'm in your class I don't feel like I'm in prison because I'm listening to music, and I could be anywhere listening to music."
"Talk about the power of music to deliver you," Gass said. "I think that's the first time I really thought rock — or jazz — could rise to that level."
In the fall of 1978, Gass arrived at Indiana University to start on a doctorate in composition and a career as a composer. When he needed a way to finish paying for graduate school, he revived the rock history class from his time in Wisconsin.
He taught a class on the Beatles at the Collins Living-Learning Center in the fall of 1982. The following spring, he taught his first History of Rock 'n' Roll Music class. But it wasn't easy in the beginning.
"There was an old guard here," Gass said. "It was an outrage to teach rock 'n' roll at the world's greatest music school. It was a battle."
However, Gass had support from Charles Webb, then the dean of the music school, and Henry Upper, the associate dean.
He also received a helping hand from some faculty, such as psychology professor Jim Sherman, who let Gass record songs from his large, personal doo-wop collection to use in class. Many of those records were out of print and difficult to find, Gass said.
"It was pretty amazing," Sherman said. "Nothing like History of Rock 'n' Roll Music existed anywhere at the time."
With support from administrators, Gass' rock history classes took off — eventually necessitating help in teaching them and giving rise to the Music in General Studies program. Starting in the 1990s, additional rock history courses were developed and added. The program now offers 10 rock history courses for credit, including classes on the blues, Bob Dylan, Frank Zappa and the Beach Boys.
"He recognized not only the importance of the music itself but also the value in offering these types of courses for college credit to undergraduates," said Connie Cook Glen, director of the Music in General Studies program. "His enthusiasm and professionalism brought others into the fold, so that now the significance of rock history courses as part of the curriculum is recognized across the country."
Students enjoy Gass' classes because he's charismatic, passionate and expressive, and the significance of the classes is rooted in the cultural context he provides, Glen said.
"Glenn's approach of embedding the music in cultural developments means that he brings up important questions of social history and current events," she said.
The Music in General Studies program also offers specialty classes, such the music of war and peace and the James Bond franchise, for example.
"We are the only school in the country that covers so many facets of rock history from the music vantage point," Glen said.
Little did Gass know then that he'd eventually be teaching a class about the band he loved the most.
"They're like Beethoven," said Gass, 64. "They're the best that rock ever produced because they aimed the highest of anybody. I don't think anyone has aimed that high before or since."
However, it was a different genre of music that eventually presented the Greencastle native with the opportunity to teach rock history.
'Come Together'
While the creation and proliferation of rock history classes is an important part of Gass' legacy, so, too, is the impact he and the classes have had on students. Sometimes that comes in the form of personal messages.
"Every semester I get emails from students saying something to the effect, 'This music saved my life or changed my life,'" Gass said. "Enough students every semester say this music really, profoundly moved me. That makes it really worthwhile."
Some students have told him that learning the music their parents loved has given them a connection that has strengthened relationships.
"It's funny that music that was famous for tearing generations apart now kind of brings them together," Gass said.
Gass and his rock history classes also created unique opportunities and career paths for some students.
With the help of IU's Overseas Studies Program, Gass took students to England some summers to study the Beatles in London and Liverpool. The first trip was in 1998.
"The Beatles in England class is one of the highlights of my teaching at IU," Gass said.
Andy Hollinden, IU's other full-time rock history professor, was studying music composition at IU in the late 1980s, when Gass was pursuing his doctorate. Hollinden was performing with his band Lather, Rinse, Repeat at a bar in Bloomington on April 15, 1987 — tax day — so the band played the Beatles' "Taxman." When Hollinden saw Gass walk in, he wondered if the rock professor would love or hate their performance.
After the show, Hollinden introduced himself and said if Gass ever needed an assistant for his courses, he'd be interested.
"I had no idea a college course could be so fun and thrilling and educational, and have long-lasting life impact," Hollinden said.
'In My Life'
In the summer of 1989, Hollinden taught the rock history class when Gass needed time off. Later he took over Gass' rock history class at IUPUI. Eventually he received permission to develop his own rock history classes, such as the music of the '70s and '80s, Frank Zappa and the Beach Boys.
"I would not have my career if Glenn had not set in motion History of Rock 'n' Roll at IU," Hollinden said.
And Rock and Roll Hall of Fame inductee Booker T. Jones wouldn't have an honorary doctorate from IU if it weren't for Gass. The songwriter/keyboardist for Booker T. & the MGs, which achieved fame with the 1962 smash single "Green Onions," studied music composition at IU while returning home to Memphis, Tennessee, on the weekends to play music. He earned a bachelor's degree in music education from IU in 1967 and received the honorary doctorate in 2012.
"I worked on that for a good 20 years," Gass said. "I was really happy for that. Jones gave a great commencement speech. He was deeply moved, in tears."
IU alumnus John Jackson, senior vice president and head of artists and repertoire for Sony Music division Legacy Recordings, said the rock history classes set him up for his career. He oversees the music catalogs of performers such as Elvis Presley, Bob Dylan, and Johnny Cash.
Jackson took History of Rock 'n' Roll Music I as a freshman in the fall of 1992 and was enthralled by the experience.
"He was the first person I saw who took rock music seriously but made it fun," Jackson said. "He has such enthusiasm and passion for it."
For example, Gass' deconstruction of "Good Vibrations" by the Beach Boys — described as a mini symphony created by band songwriter/bassist/vocalist Brian Wilson — is legendary, with the professor a frenetic ball of energy: pacing, arms gyrating and drawing on the chalkboard to illustrate the changes in the song.
On the last day of class, Jackson told Gass that he'd be willing to serve as an assistant if the professor needed the help.
Jackson helped Gass and Hollinden and took every rock course possible. He also used IU's Individualized Major Program to create the world's first bachelor's degree in rock history.
"It was the highlight of the time I was in Bloomington, for sure," Jackson said.
He said those classes helped him understand the artists, their backgrounds and their motivations, and the social and political contexts of the times. That has translated directly to things he does now, such as picking the proper songs and video clips to match the story arcs of documentaries, or creating themed collections.
John Strohm, president of Rounder Records, sat in on Gass' History of Rock Music I class in the summer of 1985 when he wasn't even a student. His girlfriend, Freda Love, was, and Gass was fine with him attending the lectures, too.
"We absolutely loved Glenn," Strohm said. "We found the class thrilling. He had so much enthusiasm and passion. It's probably the most interesting and engaging class I've ever taken."
After the summer, Strohm and Love headed to Boston to start a music career, which included time in the band Blake Babies. When they returned to Bloomington for a show, Gass was thrilled with their success, Strohm said.
After a 10-year music career, Strohm finished college, went to law school and became a music lawyer. In 2017, he was named president of Rounder Records.
He said that what he learned from Gass' rock history course provided an important foundation for what he does today.
"My foundation of musical knowledge — history, culture, business and impact on society — is absolutely essential to all of the work I've done in music," Strohm said. "Glenn set me on a course that has continued throughout my life of understanding the narratives around music and contributed to my passion for music discovery. He let us know that it was OK to be super excited about music because it really is amazing."
After this semester, though, it will be up to Hollinden and others to excite and teach students about rock history.
'When I'm 64'
Gass said he used to think that he wouldn't retire because he enjoyed teaching rock history so much. But time has a way of passing and making it evident to oneself that retirement is right.
"It was not easy," Gass said of the decision.
But the timing is right. Gass and his wife, Julie, have two sons. Mathew — who was born on Beatles vocalist/guitarist John Lennon's birthday — graduated from IU a few years ago. Julian, a senior at IU who is named after Lennon's oldest son, will graduate this spring. The thought of retiring the same year Julian graduates seemed ideal, Gass said.
Although IU postponed all commencement ceremonies because of the COVID-19 pandemic, the real disappointment is not being able to teach students face-to-face for the last month, Gass said.
"I was already thinking of what special songs I would play and looking forward to having my family there on the last day," Gass said.
Fortunately, his family came to the last-ever Beatles class in December, and before spring break, Julian came to what proved to be his last face-to-face class. Gass showed a video of his son, a drummer, backing up Booker T. Jones on "Green Onions" in 2012, when Jones received his honorary degree.
"So that was a good way to go out: tying in music, my family and IU, even if it was unplanned," he said.
Gass said he plans to remain in Bloomington, regroup and see what sounds fun to do. Teaching lifelong learning classes is a possibility. So are classes for senior citizens.
"Since they are now the Beatle cohort," he said with a smile.
While retirement will be a big change, Gass said he's been fortunate to teach rock history far longer than he ever anticipated.
"I think I have enjoyed this more than any music career I possibly could have had," Gass said. "In fact, I know I have, because I got to teach the music that I love."
Story by Kirk Johannesen, Images by Chris Meyer and James Brosher
Videos by Tyler Lake, Page design by Cadence Baugh Chang