BLOOMINGTON – A Fair of the Arts will take place this Saturday, June 11 with more than 25 local artisan vendors on the brick plaza outside of Bloomington City Hall.
Come out and peruse the finely crafted items made by local craftsmen at the market this weekend. Join us for this local shopping experience on the second Saturday of every month throughout the Bloomington Community Farmers Market season from 8 a.m. until 1 p.m. through September and 9 a.m. until 1 p.m. in October.
Also, A Fair of the Arts will launch its season at the Tuesday Market on Tuesday, June 14 on the brick plaza north of the Pavilion building, at 1611 Rogers Street.
For more information about A Fair of the Arts, click here.
Here are a few produce and farm products spotted at last Saturday's Market:
| | | |
| --- | --- | --- |
| Basil | Onions | Popcorn (Kettle) |
| Broccoli/Cauliflower | Potatoes/Sweet Potatoes | Teas |
| Carrots | Radishes | Beeswax Candles |
| Cherries | Spinach | Knitted Goods |
| Cilantro | Strawberries | Lip Balms |
| Dried Mushrooms | Tomatoes (greenhouse) | Bouquets |
| Fennel | Turnips | Dried Flowers |
| Fresh Herbs | Other Farm Products: | Hanging Baskets |
| Greens (Collard, Kale, Swiss Chard) | Cheese (Goat) | Perennial Plants |
| Lettuce/Cabbage/Salad Mix | Honey/Jams & Jellies/Syrup | Seeds |
| Micro Greens | Meat (chicken, lamb) | Vegetable Plants |
Please note: This is not a comprehensive list nor does it contain all vendor-crafted items or plants and flowers.
Saturday's performance at the Farmers' Market features The Modest Trio!
The trio is comprised of Mark Wiedenmayer who plays keyboard, Susie Sullivan on Ukulele and drums, and Leah Savion on Ukulele. The Modest Trio will perform Saturday at 10:00 a.m.
Mayor at the Market is a community outreach program that invites Market-goers to interact with the mayor and various department heads from the City of Bloomington government. From the arts to potholes – any city-related topic you are interested in is up for discussion.
Bloomington Community and Family Resources Director, Beverly Calender-Anderson, will be greeting the public from 10 a.m. to 12 p.m. at this Saturday's Farmers' Market.
This Week's Vendor Profile: Canku Luta
Canku Luta is a national nonprofit organization headquartered in Bloomington with a field office on the Cheyenne River Lakota Reservation in South Dakota.
Angela Caine manages the Canku Luta booth and provides a wide variety of "heirloom vegetable seeds". Heirloom denotes that these seeds have a documented heritage of being passed down from generation to generation with a family or community.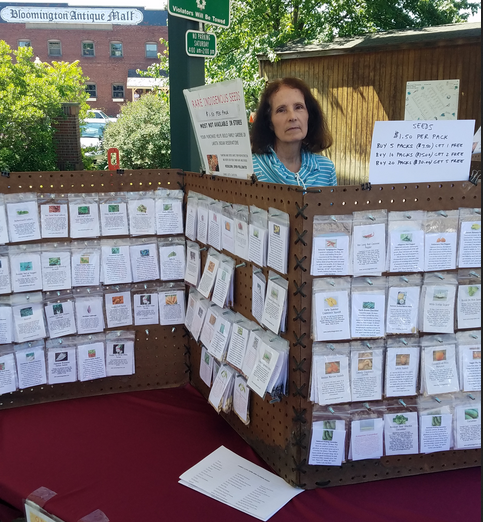 Canku Luta, in the language of the Lakota people, means Red Road. Canku is pronounced "chunk uh" and means "road" Luta has a long "u".