INDIANAPOLIS – Governor Eric J. Holcomb, Adjutant General R. Dale Lyles and Secretary of Commerce Brad Chambers concluded an economic development trip to Slovakia and Israel Friday after meeting with government officials and business leaders. The week was spent cultivating new business relationships and people-to-people ties in central Europe and the Middle East while encouraging collaborative opportunities to advance innovation and investment, bolster strategic relationships and offer humanitarian support during a critical time for the geopolitical situation in the region.

"This trip was extremely productive in creating opportunities for future Hoosier investment across Slovakia and Israel in a variety of industries," said Gov. Holcomb. "Throughout the week, Sec. Chambers, Maj. Gen. Lyles and I were warmly greeted with open hospitality which led to productive discussions, opportunities for academic exchanges, mutual investment, and cross partnerships."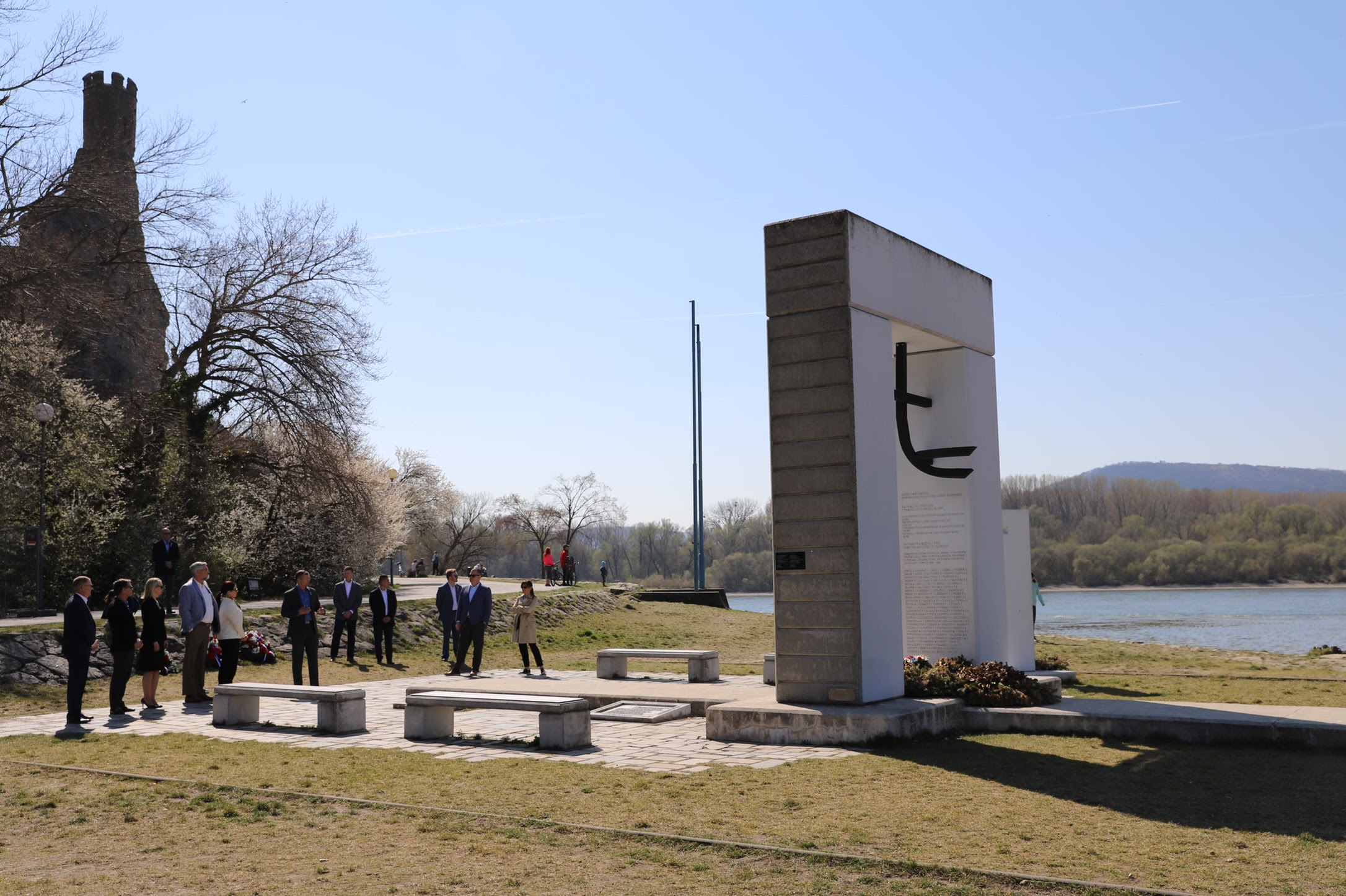 On Monday, Gov. Holcomb, Maj. Gen. Lyles, Sec. Chambers, U.S. Ambassador to Slovakia Brink, and the delegation, which included Indiana Economic Development Corporation (IEDC) staff members, placed wreaths at the Gate of Freedom Memorial, in remembrance of the lives lost fleeing the divisive Iron Curtain in pursuit of freedom.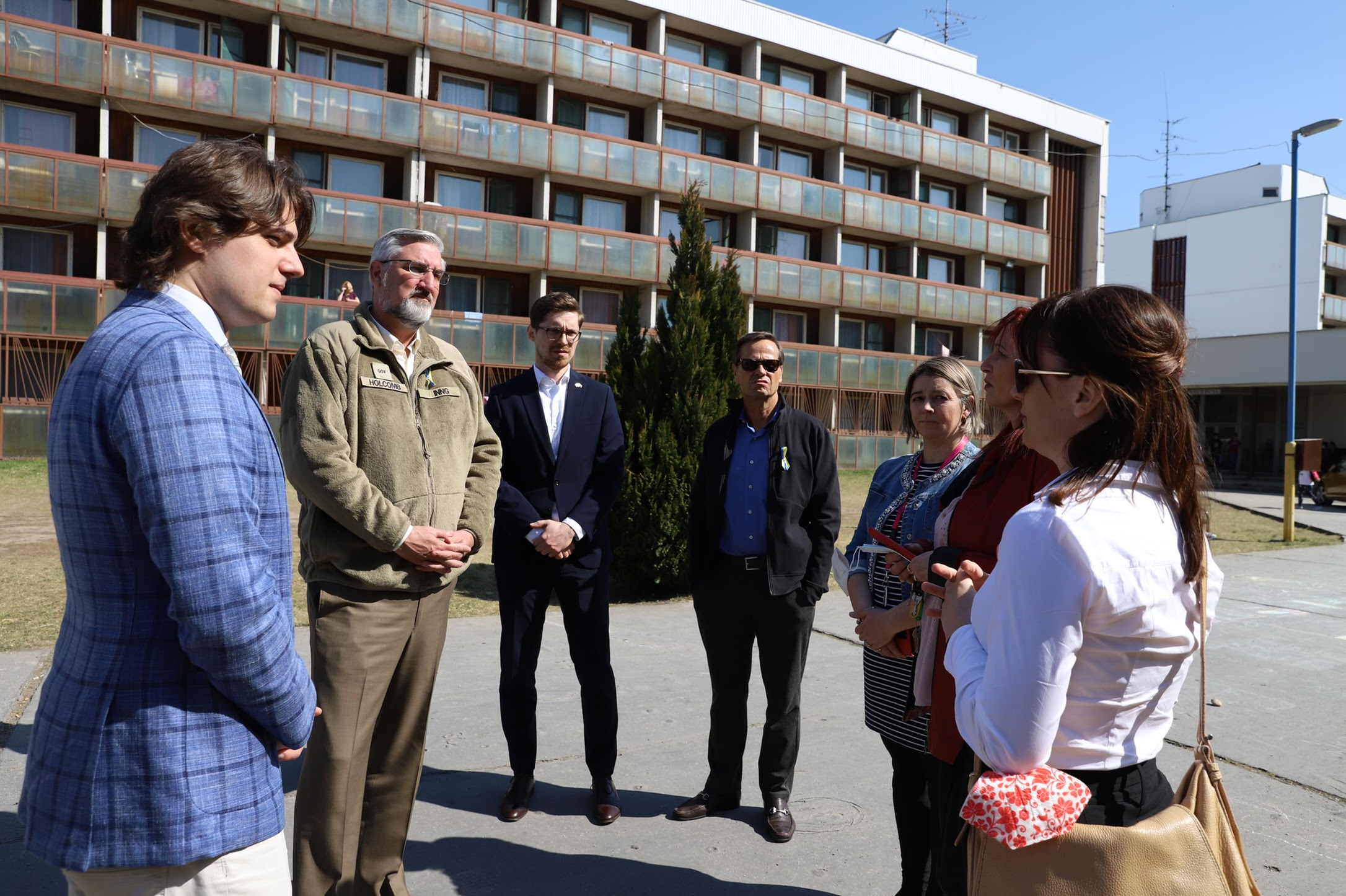 The delegation met with Ukrainian refugees directly following the timely ceremony at the Gate of Freedom to offer Hoosier support to the Ukrainians who have found refuge in Slovakia and the greater region. Gov. Holcomb emphasized Indiana's solidarity with Ukraine and commitment to providing support in any way possible.

On Tuesday, Gov. Holcomb, Maj. Gen. Lyles and Sec. Chambers had meetings with Slovak leadership including Prime Minister Eduard Heger, Minister of Foreign and European Affairs Ivan Korcok, Minister of Defense Jaroslav Naď, and Chief of Defense General Daniel Zmeko to discuss deepening Slovakia and Indiana's relationship through economics and defense. The delegation also met with the Slovak Investment and Trade Development Agency (SARIO) and U.S. Ambassador to Slovakia Bridget Brink to target strategic synergetic sectors that represent areas of opportunity for trade growth between Slovakia and Indiana.
On Wednesday, the delegation arrived in Tel Aviv, Israel, where Doral Energy hosted the delegation to continue conversations around innovative technology, the energy transition, and a shared vision for the economy of the future. In 2021, the company broke ground on a three-phase solar farm project, which is expected to deliver a $1.5 billion investment in the company's Indiana operations over the next five years.
On Thursday, Gov. Holcomb and Sec. Chambers met with Start-Up Nation Central to discuss opportunities to strengthen Hoosier partnerships with innovative Israel businesses. Start-Up Nation Central is an independent non-profit that builds bridges to Israeli innovation. The delegation also met with GrowingIL, an accelerator group developing the Israeli agtech ecosystem and reshaping Israeli agriculture to meet emerging global food needs, to discuss future sustainability, university partnerships, and innovative product development.
Later in the day, the delegation visited Equinom and participated in a tour of its new R&D center. Equinom, which also has operations in Indianapolis, is a food-tech company driving the global transformation to appealing, non-GMO foods while creating a sustainable plant-based future. The new center, located at Kibbutz Givat Brenner, provides end-to-end research and development capabilities to accelerate Equinom's efforts to develop the next generation of its non-GMO Smarter Seeds.
Gov. Holcomb and Sec. Chambers met with Minister of Foreign Affairs Yair Lapid to offer Hoosier support after a week of violent attacks in Israel, discuss Indiana-Israel current partnerships, brainstorm ways to advance connections between the two economies, and share best practices in emerging markets and technologies.
Throughout the week, the delegation also met with industry leaders and top state officials, including Minister of Energy Karine Elharrart and U.S. Ambassador to Israel Thomas R. Nides, to discuss strategic economic partnerships.
On Friday, the delegation concluded its trip in the ancient City of David, where they participated in a historical tour of the 3,000-year-old site and shared a spiritual experience at the Western Wall.
This concludes Gov. Holcomb's tenth international economic development trip, a second trip to Slovakia, and a third trip to Israel as governor. The trip was Sec. Chambers' second international trip with the IEDC. The governor and the delegation returned to Indiana over the weekend.
About IEDC
The Indiana Economic Development Corporation (IEDC) is charged with growing the State economy, driving economic development, and helping businesses launch, grow and locate in the state. Led by Secretary of Commerce Brad Chambers, @SecChambersIN, and governed by a 15-member board chaired by Governor Eric J. Holcomb, @GovHolcomb, the IEDC manages many initiatives, including performance-based tax credits, workforce training grants, innovation and entrepreneurship resources, public infrastructure assistance, and talent attraction and retention efforts. For more information about the IEDC, visit iedc.in.gov.