WEST LAFAYETTE – Taking the theme "We Are Purdue," the eighth annual Purdue Day of Giving surged past last year's $42.2 million total to raise $52.5 million, through 25,219 gifts, toward the small steps and giant leaps that make Purdue University an engine of innovation and impact.
This year's giving day (Wednesday, April 28) followed just seven months after last year's, which was postponed to September 2020 because of the COVID-19 pandemic. The 2021 fundraising event extended the university's tradition of topping the previous year's contributions, set a Purdue record for number of gifts made and brought Purdue Day of Giving's cumulative total, since 2014, to $241.5 million. (See YouTube thank you video.)
"It's a pleasure to witness this outpouring of support in a year that has presented challenges to all of us," said Purdue President Mitch Daniels. "Purdue is about the persistent pursuit of innovation, where people bring their best and learn to build a better world together. Together, we are Purdue – and my thanks go out to everyone who participated so generously in this special day in the life of the university."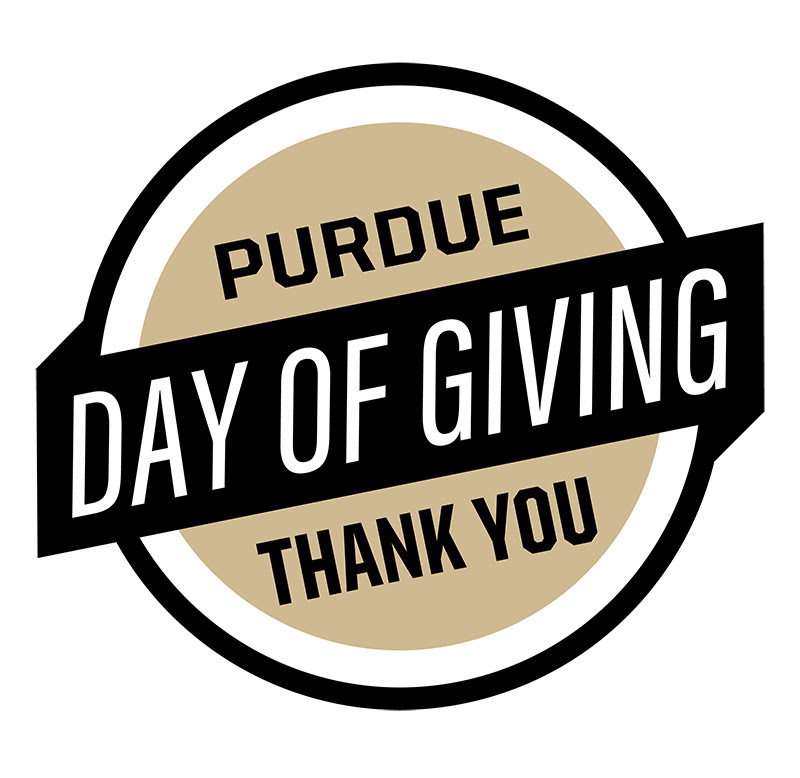 From midnight to midnight, alumni, students, parents, faculty, staff, retirees and friends across the entire Purdue system – including Purdue Fort Wayne, Purdue Northwest and Purdue Global – joined together in support of their favorite campus, college, school, program or student organization. For the first time, local county Extension offices also participated in the event, allowing each county in Indiana to raise funds for Extension programming.
Through 31 hourly challenges and six #IGave challenges, 72 academic and nonacademic programs competed for cash prizes. In addition, 197 student organizations participated in a challenge specifically for them.
Contributions ranged in size from $10 to $4 million, targeting an array of initiatives and programs, including scholarships and student programs, faculty research and academic programs. Approximately 91% of all donations were made online.
Among the gifts made through Purdue Day of Giving:
$4 million from Irene (Hoysan) and Brian Binash to the Davidson School of Chemical Engineering for endowed scholarships and an endowed strategic initiative fund for unrestricted support to be used by the school's leadership.
$500,000 from Kevin Sumlin for Purdue Athletics' More Than a Game initiative.
$250,000 from Farm Credit Mid-America to fund programming in the College of Agriculture's­­­­­­­ Office of Multicultural Programs.
$100,000 from Katie and Darren Wise to endow the Wise Family Scholarship for pharmacy students pursuing a career in industry. Katie, a 2017 graduate of the College of Pharmacy, first participated in Purdue Day of Giving as a student, making a $40 contribution.
$10,000 from John and Roberta Gleiter in support of Degree+, a program that enables students to complete a degree from the College of Liberal Arts along with a degree from another academic area without extending their time to graduate.
Of 132 international gifts, a $5,000 contribution from Wil Fittante toward two endowments: the Professor Anna Mauro Scholarship Endowment for merit-based scholarships in the Krannert Graduate School of Management for students pursuing a master's in industrial administration, and the Dr. Ing. Ettore Fittante FellowshipEndowment for merit-based fellowships for graduate students in the School of Electrical and Computer Engineering.
$510 from Whitney Wood to Purdue Dining & Culinary, where she works with software that tracks nutrition in ingredients and recipes. Wood raised $500 in bonus money by winning a "Purdue Pride" user-generated-content challenge, posting a recipe for Wiley Lemon Cookies, and made a $10 donation to the Purdue Dining Staff Professional Development Fund in memory of colleague Amanda Adams.
A gift from Roger Johnson in memory of his wife, Vicki, to the Home Economics Class of 1968 Freshman Scholarship. Read their story, "Purdue alumnus stitches lasting legacy."
$10 from junior Molly Grotjan to the Purdue Grand Prix Foundation. "I'm supporting the outstanding students who work tirelessly to facilitate the annual Purdue Grand Prix while raising funds for student scholarships," she said.
"Every year, through Purdue Day of Giving, thousands of alumni, donors and friends step up and pay it forward – and show the world just how much this institution has meant to them," said Matt Folk, president and CEO of the Purdue for Life Foundation and vice president for university advancement and alumni engagement. "We are thankful for the generosity and spirit of the Purdue family and their heartfelt investment in our university's future."
To view the Purdue Day of Giving thank-you video and hourly-challenge and full-day-challenge winners, visit DayofGiving.Purdue.edu.
About Purdue University
Purdue University is a top public research institution developing practical solutions to today's toughest challenges. Ranked the No. 5 Most Innovative University in the United States by U.S. News & World Report, Purdue delivers world-changing research and out-of-this-world discovery. Committed to hands-on and online, real-world learning, Purdue offers a transformative education to all. Committed to affordability and accessibility, Purdue has frozen tuition and most fees at 2012-13 levels, enabling more students than ever to graduate debt-free. See how Purdue never stops in the persistent pursuit of the next giant leap at https://purdue.edu/.
Information Lisa Tally lhtally@purdueforlife.org, Matt Folk, mdfolk@purdueforlife.org and Mitch Daniels, president@purdue.edu