BLOOMINGTON – South Korea is one of the fastest-growing nations in the world, with the fourth-largest GDP in Asia and the 10th-largest in the world. It is among the world's most technologically advanced and digitally connected countries, a leading exporter in the consumer electronics industry, and one of America's most vital economic, political and military partners in the region.
The country is also a vital partner for Indiana University, which has many strong relationships with several of Korea's leading research and educational institutions. Creating and maintaining close relationships, partnerships and ongoing ties with South Korea is critical to IU's mission of global engagement. Many of these relationships were forged thanks to the distinguished service of Roy Shin, professor emeritus in the O'Neill School of Public and Environmental Affairs.
"Professor Shin's contributions demonstrate how critical the development and cultivation of personal relationships are to the mission of global engagement," said Hannah Buxbaum, vice president for international affairs. "He has been instrumental in advancing IU's activities in South Korea."
Shin joined the IU faculty in 1977 as chair of the Division of Public and Environmental Affairs at what was then Indiana University-Purdue University Fort Wayne. In 1987, he came to IU Bloomington to serve as professor of public and environmental affairs, assistant dean for academic administration, and director of the Public Affairs Graduate Program in what is now the O'Neill School.
He led the O'Neill School through necessary alterations to its curriculum and the nature and focus of its recruitment, which helped the school solidify its position as one of the leading public affairs schools in the country, if not the world. The O'Neill School is now home to the Roy W. Shin Fellowship, established in 2002 by one of his former students. The fellowship supports students doing dissertation work in energy or environmental policy in northeast Asia and those with a strong interest in public affairs who intend to pursue a career in teaching and research activities serving the public.
Though he officially retired at the end of 1999, Shin remained active as a scholar, focusing on management and development in East Asia, bureaucracy in Korea, and comparative public and industrial policy. He has also served for as advisor to IU President Michael A. McRobbie on global partnerships for several years.
Shin accompanied McRobbie on several IU delegations to South Korea, and his counsel and deep knowledge of the region were indispensable in making each visit rich and productive. In 2009, his efforts made the international alumni conference and reunion in Seoul a success. It was the first conference of its kind in over a decade, and since then, IU has hosted several successful international conferences and reunions based on that model.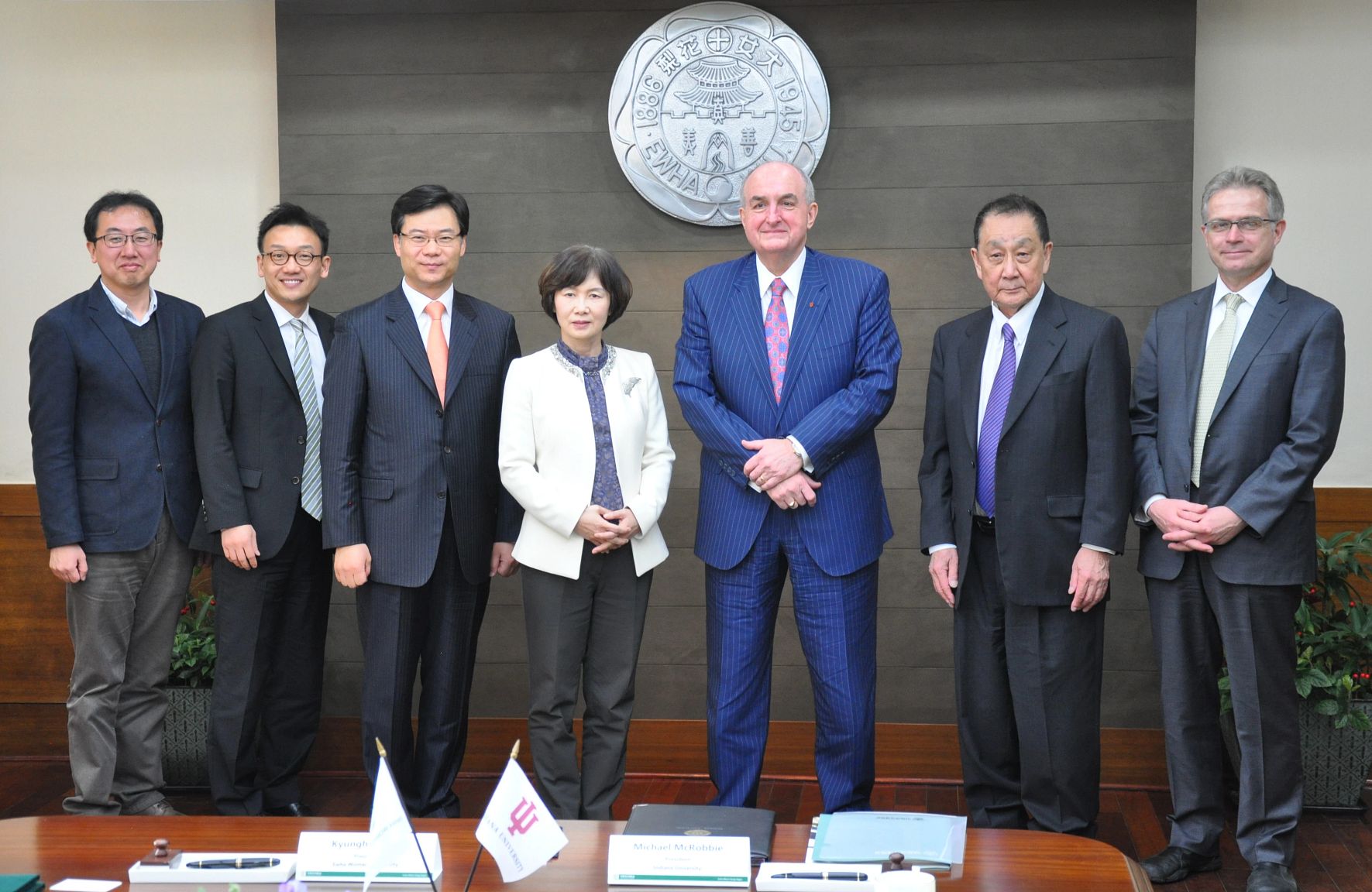 In 2012, Shin helped secure a generous endowment of $1.5 million from the Korea Foundation and three Korean alumni. This allowed IU to establish the Institute for Korean Studies in the Hamilton Lugar School of Global and International Studies, one of the only such academic institutes of its kind in the U.S. In 2015, Shin played a critical role in giving the Jacobs School of Music Chamber Orchestra its Asian debut at the Seoul Arts Center.
Indiana University's ties with Korea are deep and extensive. It is one of the leading countries of origin for IU international students, with more than 600 current students and 6,000 living alumni worldwide, in addition to the many Korean scholars and dignitaries who have visited IU's campuses. During his many years of service to the university, Shin has been a mentor to many Korean students who came to IU for graduate studies. Many of them have gone on to serve in the Korean government or to teach at leading Korean universities.
On Feb. 3, McRobbie hosted a surprise virtual ceremony to honor Shin with a Bicentennial Medal for his many years of distinguished service and extensive contributions to Indiana University's international mission.
"Professor Shin has certainly helped to broaden IU's reach through his impressive record of international service," McRobbie said in his remarks. "And we are most grateful to him for that service."
Information – Brittaney Hartzer is the director of marketing and communications for the Office of the Vice President for International Affairs, News at IU Bloomington.