(BLOOMINGTON) – Indiana University is seeking individuals interested in either working or volunteering at potential COVID-19 vaccination clinics near each campus across the state.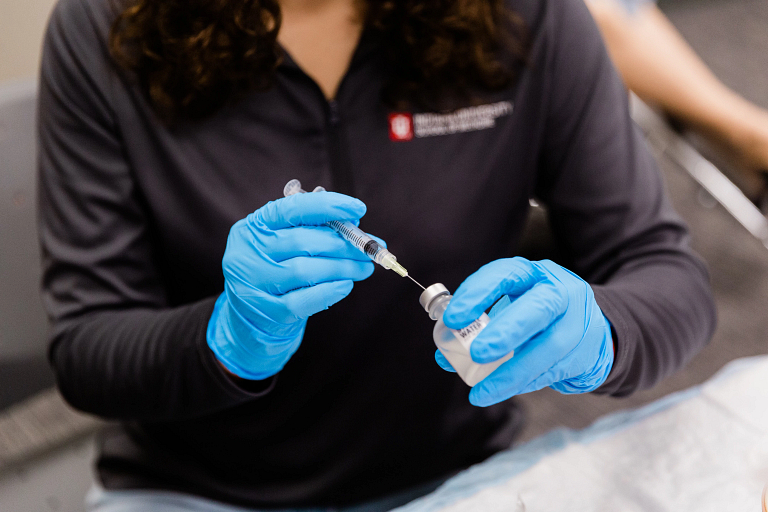 Those interested are encouraged to fill out an online form, detailing any medical skills or other relevant experience. Nonmedical help is needed as well.
Information collected through the form will be provided to COVID-19 coordinators at each IU campus, who will maintain a master list of those available to assist and contact people as positions become available.
IU is not currently operating any of its own vaccine clinics but is preparing to do so in the future, as directed by the state. IU Bloomington has initiated plans to open a public vaccination site on campus, while a Floyd County Health Department clinic hosted on the IU Southeast campus began administering the COVID-19 vaccine in January.
"Vaccinating the people of Indiana for COVID-19 as quickly and efficiently as possible is critical to ensuring the health and safety of our state and campus communities," said Dr. Lana Dbeibo, director of vaccine initiatives for IU's COVID-19 Medical Response Team and an assistant professor of infectious diseases at the IU School of Medicine. "At IU, we have a robust infrastructure to support the state's vaccination effort, and we're inviting IU constituents and other interested Hoosiers to help us maximize our impact."
Volunteers and workers will receive training, if needed. Not all who submit as volunteers will be contacted for their assistance.
Medical roles include:
Medical director.
Vaccinators.
Monitors for patients after receiving the vaccination.
Those currently employed as health care workers are encouraged to pick up part-time work at vaccine sites, as their schedules allow.
Non-medical roles include:
Site manager.
Welcome/screening.
Registration and check-in.
Data entry of dose information, such as product or lot number.
Operations team to ensure resources are appropriately stocked.
Sanitization to clean chairs/stations.
Guides to direct individuals through the site and provide assistance as necessary.
Roll-out of the COVID-19 vaccine is managed by the state of Indiana. Appointments can be scheduled at ourshot.in.gov, which includes regularly updated information about vaccine eligibility, safety and administration.
IU continues to provide information about the vaccine at covid.iu.edu.
Information by Bethany Nolan, News at IU.