(CRANE) – Naval Surface Warfare Center, Crane Division's (NSWC Crane)
has announced its new Technical Director (TD), the first woman to ever be
selected for the position.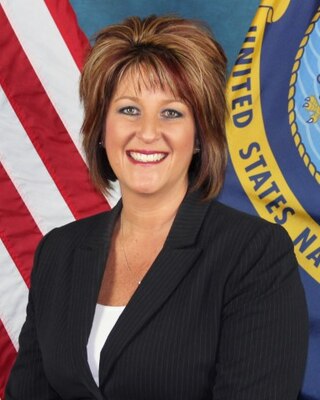 Dr. Angie Lewis has been selected to serve as technical director where she will serve as the senior civilian at the command, which consists of more than 3,800 military and government civilians providing the Navy with acquisition engineering, in-service engineering, and technical support for sensors, electronics, electronic warfare, and special warfare weapons.
"It is an honor to be selected to serve as NSWC Crane's technical director," says Dr. Lewis. "As our nation faces some of the toughest challenges we have seen in recent memory, the expertise of our workforce in Strategic Missions, Expeditionary Warfare, and Electronic Warfare will remain a critical component to ensuring the future security of our country. As the first woman to serve in this role, I understand what this milestone represents to future generations and young girls interested in STEM and business fields. It will take passionate people from diverse backgrounds to meet future mission needs."
Dr. Lewis brings more than 30 years of experience to the position. Most recently, she served as the Business Director and Corporate Operations Department Manager at NSWC Crane Division, providing executive-level leadership for the command's strategic plan, senior-level customer outreach, program office interface, and corporate business capabilities. She was responsible for an integrated approach to investment and resource planning to ensure strong technical health and relevant capabilities are in place for the execution of Electronic Warfare, Strategic Systems, and Expeditionary Warfare missions.
Dr. Lewis says she is humbled to serve as technical director.
"I am very passionate about Crane's mission and the people that work here. I am humbled to work with my Navy teammates in this new capacity," says. Dr. Lewis. "It is my goal to ensure the experts at NSWC Crane have the tools they need to be successful to ensure our Warfighters can do their jobs and come home safe."
Dr. Lewis previously served as the acting division technical director at NSWC Crane Division and oversaw the application of component and system-level product engineering expertise principally to warfighting areas related to NSWC Crane's mission. A proponent of the "One Warfare Center Team" mantra, Dr. Lewis served in the role of Interim Deputy Technical Director for Operations at Panama City Warfare Center Division for several months.
Earlier in her career, Dr. Lewis served as the NSWC Crane Chief of Staff, advising the NSWC Crane Commanding Officer on operational and policy matters. She also served as the Deputy Department Manager for the Global Deterrence and Defense Department at NSWC Crane Division, responsible for overseeing professional science and engineering workload and operational components of over 800 personnel in primary support of the Navy's Strategic Systems Program. She has been instrumental in the establishment of Crane Division University and in the facilitation of the organization's hallmark leadership development courses.
Throughout her career, Dr. Lewis has been an advocate for workforce development and culture. As both a practitioner and a researcher, she has focused on building an innovative culture at NSWC Crane that values leadership and employee engagement.
The Indiana Commission for Women selected her as a Torchbearer in 2015 for significant achievements as a woman in government and for her contributions to her employer, local community, and state. She is a member of the Southern Indiana Section of the American Society of Naval Engineers, a member of the Crane Chapter Federal Manager's Association, and a lifetime member and past president of the Hoosier Hills Chapter of Federally Employed Women. She recently served as President of the Board of Directors for the Boys and Girls Club of Lawrence County.
Dr. Lewis earned her bachelor's and master's degrees at Ball State University, and her doctorate degree in Management at Sullivan University. She also holds a Public Management Certificate, School of Public and Environmental Affairs from Indiana University.
About NSWC Crane
NSWC Crane is a naval laboratory and a field activity of Naval Sea Systems Command (NAVSEA) with mission areas in Expeditionary Warfare, Strategic Missions, and Electronic Warfare. The warfare center is responsible for multi-domain, multi-spectral, full life cycle support of technologies and systems enhancing capability to today's Warfighter.