(BLOOMINGTON) – Indiana University President Michael A. McRobbie has appointed a review committee of six distinguished senior IU faculty members to evaluate the namings on the IU Bloomington campus related to David Starr Jordan, who served as IU's seventh president from 1885 to 1891 and professor of zoology from 1875 to 1885.
Some of Jordan's statements and views have come under particular scrutiny and criticism recently. A number of requests have now been made to remove his name from the building that houses IU Bloomington's Department of Biology and from other locations on the Bloomington campus. The Jordan Committee will conduct its review and submit a report with recommendations for any actions to the president, provost and Naming Committee by Sept. 1.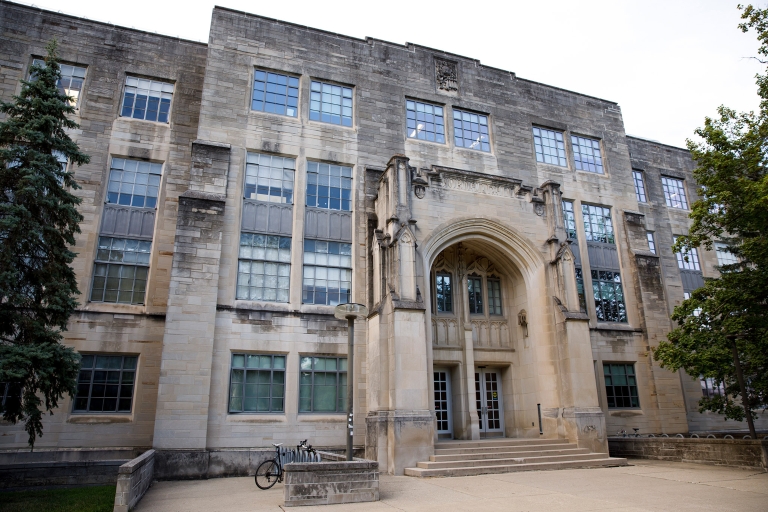 McRobbie asked the University Naming Committee 'to begin a systematic review of all named building or structures on all campuses of Indiana University with the goal of trying to identify any of these where the person after whom these buildings or structures are named has been found to have held views in statements, writings or publicly, inimical to the fundamental values of the university and where there is a case for considering the removal of their present names.
"Removing a name from a building is a serious matter that should not be undertaken without thorough research and the preparation of a detailed report and case for removal of, changing or the keeping of a name," McRobbie said in his charge to the Jordan Committee. "Hence, I am asking the Jordan Committee to prepare a report that addresses the process for the changing or removal of names described in the Indiana University Policy of Institutional Naming UA-06."
McRobbie has charged the Jordan Committee to review the following structures and places named after Jordan, and provide for each any recommendation the committee might have about removing, changing or keeping each of these names:
Jordan Hall
Jordan River
Jordan Avenue
Jordan Parking Garage
Any scholarships, fellowships or other awards that bear his name.
The committee should seek any and all relevant sources, and should solicit and receive public input as needed to evaluate the various points outlined by Policy UA-06.
The Jordan Committee members are:
Karen Bravo
Karen Bravo, committee co-chair, is dean and professor in the IU McKinney School of Law at IUPUI. Dean Bravo joined Indiana University in 2004 and has served as associate dean for international affairs, associate dean for graduate studies, and vice dean of the McKinney School.
An expert in the study of human trafficking, Bravo is the founder and leader of the Slavery Past, Present and Future project, which organizes an annual interdisciplinary conference for a multidisciplinary exploration of human trafficking and slavery.
Austen Parrish
Austen Parrish, committee co-chair, is dean and Rudy Professor in the IU Maurer School of Law. Parrish joined Indiana University in 2014, having previously served as interim dean and CEO, vice dean, and the Irwin R. Buchalter Professor of Law at Southwestern Law School in Los Angeles.
Parrish's research and teaching interests focus on transnational law, transnational litigation, and the role that national courts and domestic institutions play in solving global challenges.
Richard Gunderman
Dr. Richard Gunderman is the Chancellor's Professor of Radiology, Pediatrics, Medical Education, Philosophy, Liberal Arts, Philanthropy, and Medical Humanities and Health Studies at Indiana University. He is also John A. Campbell Professor of Radiology and Bicentennial Professor. Gunderman first came to IU in 1997 and has served on several boards, including the Kinsey Institute at IU, Christian Theological Seminary, and Alpha Omega Alpha National Honor Medical Society.
A biomedical ethicist, Gunderman has authored more than 700 articles and 12 books, and has received numerous teaching awards and other honors for scholarship and public service.
James Madison
James Madison is the Thomas and Kathryn Miller Emeritus Professor of History in the College of Arts and Sciences at IU Bloomington. Madison joined the IU faculty in 1973. A previous Fulbright Scholar, Madison served as director of the Liberal Arts and Management Program in the College of Arts and Sciences from 2006 to 2009 and was a member of the Indiana State Bicentennial Commission.
A renowned historian of the state of Indiana, Madison serves on numerous boards, including Indiana Humanities and the Indiana Historical Society.
Charlie Nelms
Charlie Nelms is vice president emeritus and professor emeritus of education in the School of Education at IU Bloomington. Nelms joined Indiana University first in 1976.
He has served as associate dean for academic affairs at IU Northwest; chancellor and professor of education at IU East; chancellor and professor of education at the University of Michigan Flint; Indiana University vice president for institutional development and student affairs; and chancellor of North Carolina Central University.
A senior consultant for the Association of Governing Boards and senior fellow for the American Association of State Colleges & Universities, Nelms is an expert in HBCU governance and leadership, higher education administration, student retention, diversity and inclusion.
Linda Smith
Linda Smith is a Distinguished Professor and Chancellor's Professor of Psychological and Brain Sciences in the College of Arts and Sciences at IU Bloomington. Smith joined the IU faculty in 1977. She has served on numerous NSF and NIH study panels, as associate dean of undergraduate education for the College of Arts and Sciences, and as chair for the Department of Psychological and Brain Sciences.
An international expert on cognitive science and developmental psychology, Smith is a fellow of the Society of Experimental Psychologists, American Psychological Society, American Academy of Arts and Sciences, Cognitive Science Society and the National Academy of Sciences.
University Historian James Capshew and Deputy Chief of Staff and Bicentennial Director Kelly Kish will consult with the committee as needed. In addition to the Jordan Committee, a full review of all named facilities, buildings and public art on all IU campuses will commence during the fall semester.