(BLOOMINGTON) – Indiana University Bloomington faculty and students have faced significant changes to teaching and learning while staying at home during the coronavirus pandemic, but their need for assistance with research has remained.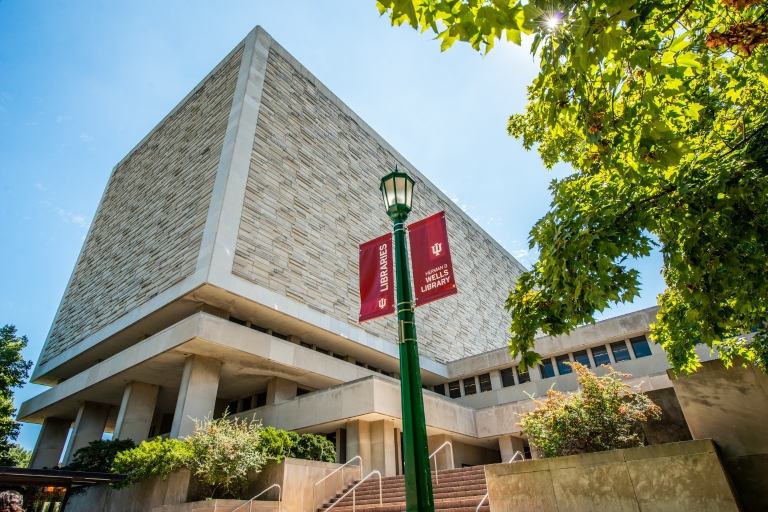 Fortunately, IU Libraries was ready to meet those needs with a variety of virtual reference options.
Students can schedule one-on-one research consultations between noon and 5 p.m. Monday through Friday. They are conducted via Zoom and led by research assistants, many of whom are graduate students. Previously, such consultations were conducted in person at the Learning Commons in the Herman B Wells Library, on a drop-in basis, and by appointment.
"People like knowing we're still there for them," said Meredith Knoff, the Learning Commons librarian.
Reference assistance also is available via the Ask a Librarian chat feature, email, text messages and phone calls. Knoff and Anna Marie Johnson, the Scholars' Commons head librarian, said the chat feature and emails have been popular ways to seek assistance. The number of questions asked via Ask a Librarian has increased 44 percent since remote learning went into effect in March, and emails with reference questions have doubled, Johnson said.
Questions have tended to ask for help finding an article, book or quote, or to troubleshoot a problem, she added.
"A lot of it is directing people through the library website," Johnson said, "but we also refer students to the expert subject librarian who can provide more in-depth research assistance."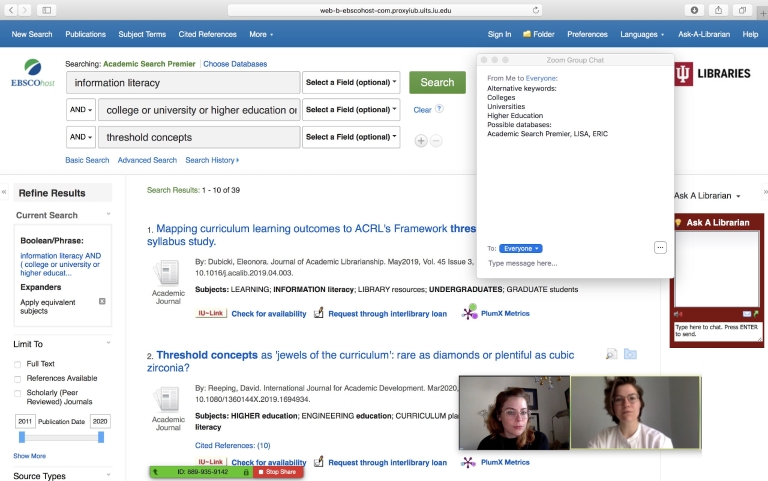 When people are off-campus, starting their research at the IU Libraries website generates the authentication needed to access subscription services to databases and journals.
Another big help in meeting research needs has been IU Libraries' approved request for Emergency Temporary Access Service through IU's HathiTrust Digital Library membership, Johnson said. The program, involving other Big Ten schools, collected digitized collections in a central storage system for preservation and discovery purposes. When physical copies of materials became unavailable, ETAS allowed patrons to access digital copies of those items.
"That has been a huge help to faculty," Johnson said.
Graduate students Margaret McLaughlin and Malachai Darling are among those leading research consultations. McLaughlin said the switch from in-person to virtual assistance has gone well.
"The transition has been seamless," she said.
The research consultations start with understanding what the project is, what sources are needed and the timeline to complete it. Research assistants then provide guidance on how to find the information.
"We teach people research skills; it's tool building," McLaughlin said.
Darling said he was relieved that IU Libraries committed to keeping its student reference assistants employed during the pandemic to help meet student and faculty needs. Johnson said the Scholars' Commons kept all of its graduate students, working one or two shifts. Darling and McLaughlin will continue with the Learning Commons through June 30.
"I wouldn't be able to do this without them," Knoff said.
Information by BY Kirk Johannesen, News at IU Bloomington