(INDIANAPOLIS) – In Indiana, a coalition of veterans groups, faith leaders, civil rights and community organizations, and social service providers has united to advance the call to rein in predatory lending. This year, legislators have introduced SB 26 and SB 415 to put a 36% cap on payday loans, and SB 407 and HB 1239, which aim to provide more tools to go after unlicensed lenders.
But instead of advancing these bills, on Wednesday the Senate Insurance and Financial Institutions Committee will hear SB 395. It puts 36% in all the wrong places.
With the exception of the carve-out for payday lenders, which allows them to charge up to 391% APR on short-term loans of up to $605, Indiana law currently allows other lenders to choose from a blended rate of 36% on the first $2000, 21% on $2000-4000, and 15% on $4000+ OR a flat rate of 25%.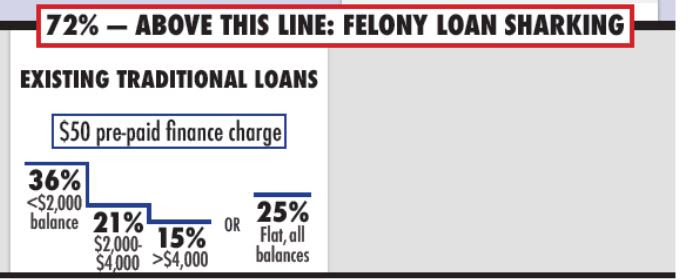 SB 395 would allow a rate of 36% on ANY SIZE LOAN. Take a moment to digest the thought of a car loan at 36%. THAT'S. NOT. GOOD.
Here's what that could look like, using some common loan types:
It also allows a fee of $150 to be layered on top.
Meanwhile, SB 395 does not put 36% in the one place consumer advocates want to see it: in the payday loan chapter. So if this bill passed, payday lenders could continue to drain millions per year in finance charges from vulnerable borrowers – a reality SB 395 would make even more likely, as the majority of payday loan borrowers turn to payday lending because they are struggling to pay other bills.
Read more on their blog, then commit to taking action.