(BLOOMINGTON) – Indiana University and Indiana University Health have marked a milestone toward the completion of the new IU Health Regional Academic Health Center on the IU Bloomington campus.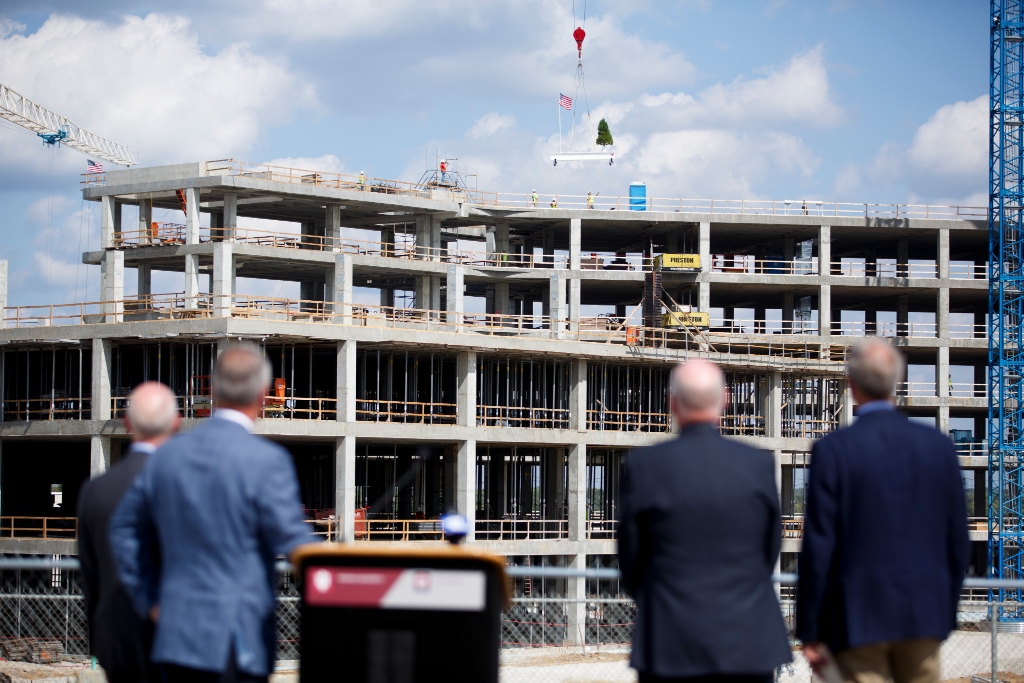 Andrea Zeek, of News at IU Bloomington reports on Tuesday, Oct. 1 the construction team celebrated the placement of the building's final structural beam in a "topping off" ceremony attended by IU and IU Health leadership, faculty and staff. The beam was signed with the names and well wishes of members of both organizations, as well as volunteers and community members before it was hoisted into the air by a crane and installed at the top of the structure.
"Putting this final beam in place together is emblematic of our new relationship," said David Daleke, vice provost for graduate education and health sciences at IU Bloomington. "It represents not only the shared participation of IU and IU Health in a wonderful new facility but also a joint commitment to cutting-edge training of health care professionals and to excellent health care for our community and region."
The occasion represented the symbolic completion of the structural phase of the academic health center. So what's next for the project?
According to Daleke, IU faculty are expected to move into the academic building in fall 2020, with classes anticipated to begin in spring 2021. The hospital is expected to open by fall 2021.
The academic building will be home to nearly 100 faculty and 1,000 students in five of IU Bloomington's clinical education programs: medicine, nursing, social work, clinical psychology, and speech and hearing sciences. It will boast modern facilities outfitted with the latest technology and designed to stimulate creative, interdisciplinary learning, including classrooms for large and small groups and a new Simulation Center with more space and high-tech robotics.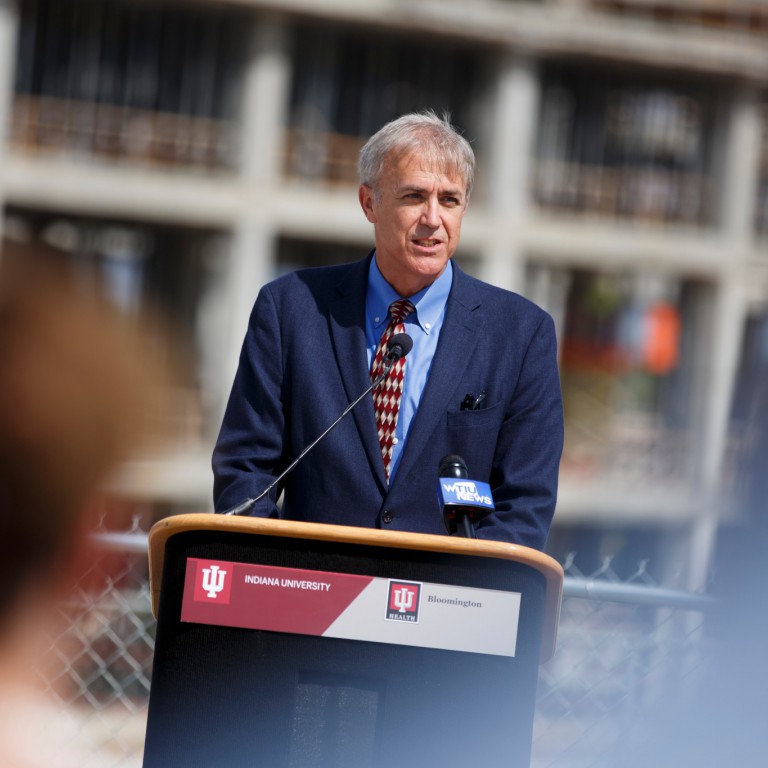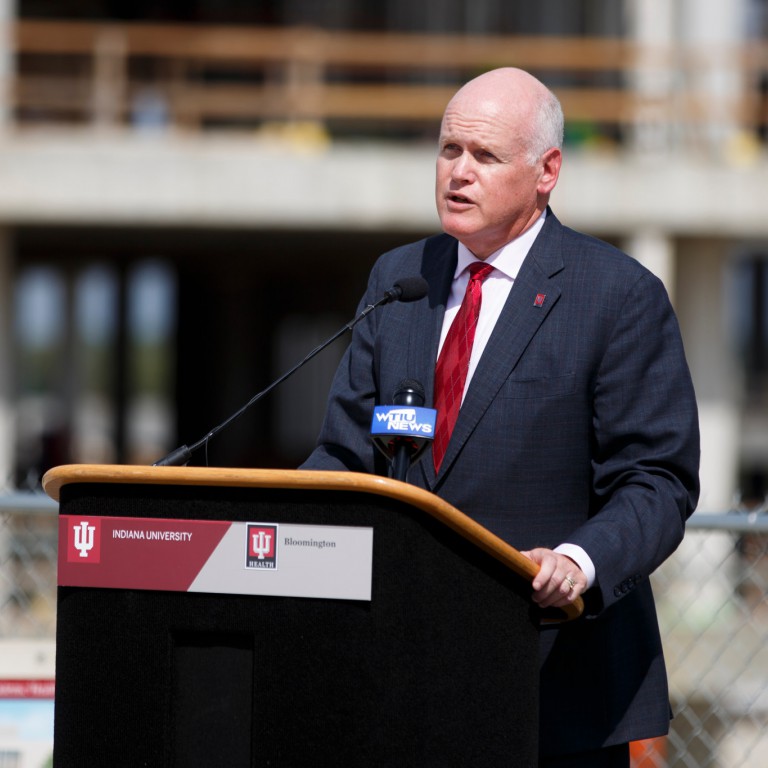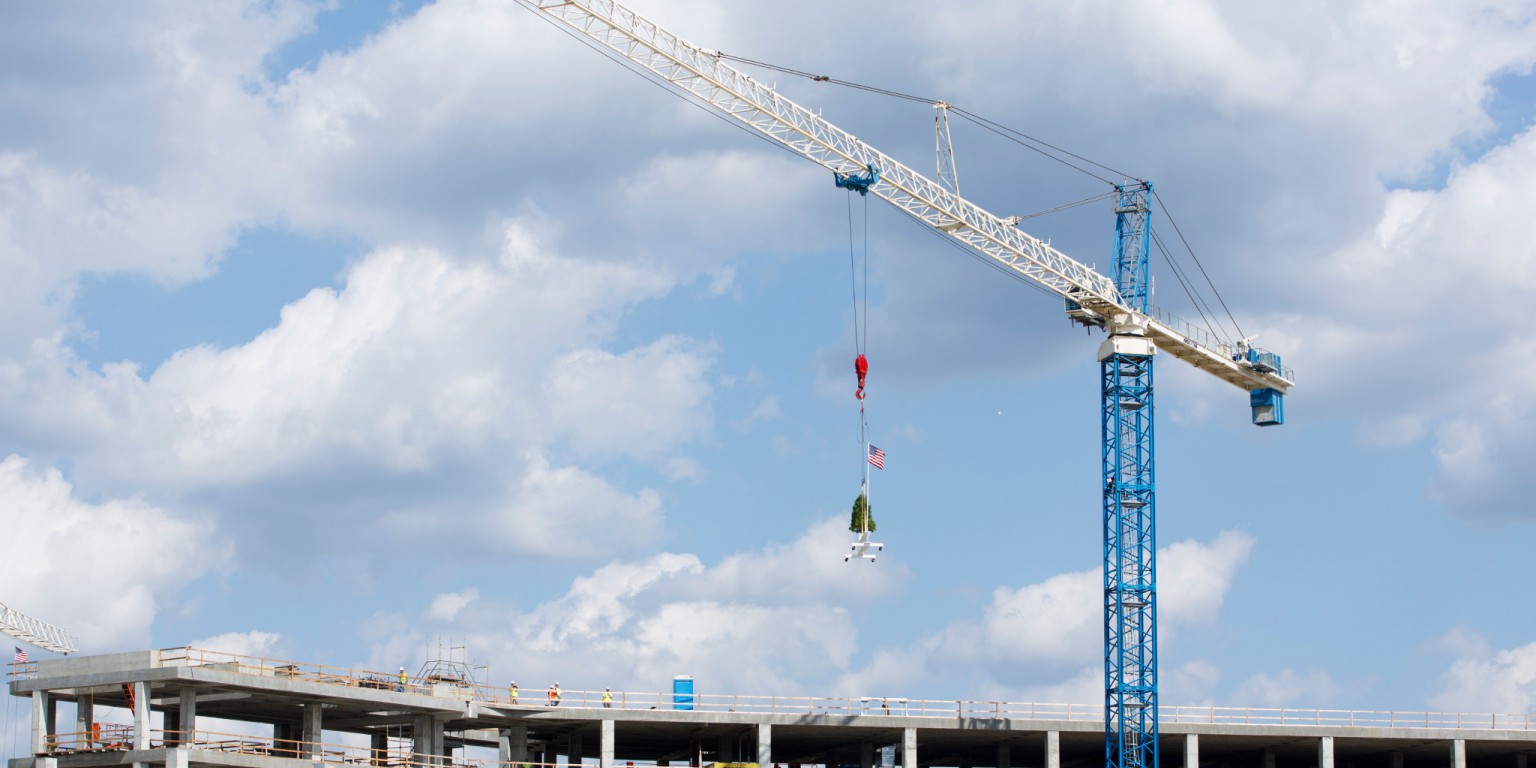 Annette Champion, a clinical associate professor in the Department of Speech and Hearing Sciences, said she's looking forward to teaching and working in the new academic health center because of the space's interdisciplinary nature.
"I think the big thing for us is that we're really excited to be in the same building with other health disciplines," Champion said. "We'll be there with nursing, social work and medical students. And right now, in our little clinic, we're on our own; we aren't really interacting with people in other health professions on a daily basis."
It's critical to bring the disciplines together, she said, because whether her students go on to work in hospitals or schools, they won't be operating in isolation.
"Patients have a lot of needs," Champion said. "It takes a lot of professional input to cover all of those needs, so to have the opportunity to interact with other health professionals on a regular basis is important."
Britney Arce, a clinical assistant professor at the IU School of Nursing's Bloomington campus, said the new academic health center will be a great place for students to see health professionals in action too — especially the different types of nursing careers, from bedside nursing to more administrative roles.
Arce, who worked at IU Health Bloomington Hospital for over a decade, said the combined space will also provide opportunities to build and strengthen relationships between IU and IU Health faculty and staff.
"It's a challenge for us to connect face to face now," she said. "Being at the new building where the hospital is connected, there will be a lot more opportunity for us to work together."