BLOOMINGTON – In May, 39 Indiana University students began working with Hoosier communities, businesses, and nonprofits to advance environmental and sustainability projects across the state.
The effort is part of the IU Environmental Resilience Institute's McKinney Midwest Climate Project, an initiative to accelerate the transition to sustainable and climate-friendly practices in Indiana and the Midwest.
This summer, the students will be tasked with everything from helping communities assess the health of local tree canopies, to drafting legal guidance for the protection of Indiana bat populations, to working with congregations across the state on clean energy and energy efficiency.
This year's group of McKinney Climate Fellows is the largest in the program's history, with students representing 5 IU campuses, 7 schools, and a mix of undergraduate and graduate programs. Partners hosting fellows include the Indianapolis Motor Speedway, Cummins, the Indiana Forest Alliance, and a dozen local governments, among other organizations.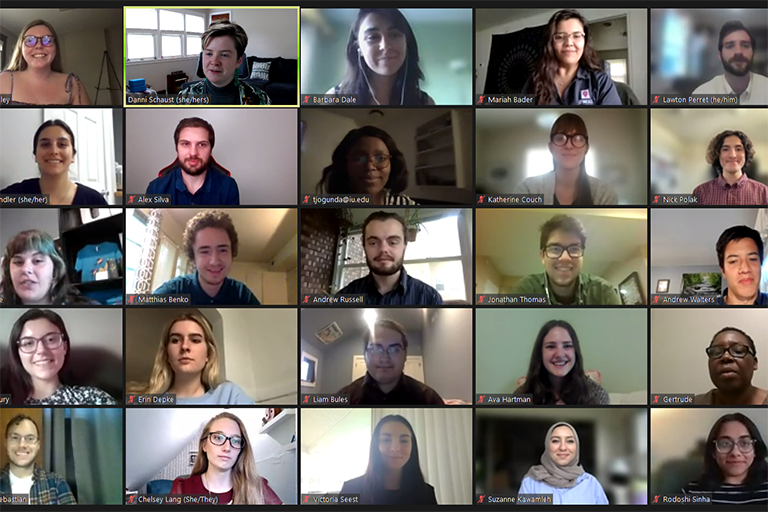 "In the sixth year of this program it's clear that demand for talented students who want to make a difference for the health and well-being of Hoosiers and the environment has never been higher," said ERI Resilience Implementation Manager Danni Schaust. "We're proud to connect Indiana organizations with the next generation of climate leaders and grateful for the support of the McKinney Family Foundation in making this program possible."
To begin their summer-long externships, fellows participated in a three-day virtual boot camp in mid-May. The boot camp included sessions on the impacts of climate change in Indiana, how to connect with public audiences when talking about climate change and sustainability, and how to incorporate equity into organizational goals.
Sam Shafer, an IU Bloomington undergraduate pursuing a degree in environmental sustainability, said the boot camp provided a fresh perspective on the importance of equitable policy when addressing climate change. Shafer is working for the Hoosier Environmental Council, Indiana's largest environmental policy organization, this summer.
"Climate change affects all individuals regardless of their differences," Shafer said. "Therefore, a unified approach to tackling this problem is of the utmost importance."
In past years, climate fellows have led efforts to measure community-wide emissions that contribute to global warming. This year, six fellows will be using some of that data to develop community climate action plans that identify policies and actions local governments can take to meet emissions reduction targets. Five other fellows will be helping communities develop their own equity-based tree planting plans. The efforts could help Hoosiers cope with climate impacts, such as heatwaves and extreme precipitation, in the decades to come.
"Local governments in Indiana are on the front lines of addressing some of the harshest effects of climate change," Schaust said. "Our fellows possess the passion and knowledge for making progress on these long-term challenges."
Since 2017, the McKinney Climate Fellows program has placed more than 150 students in fellowships in collaboration with local governments, businesses, and nonprofits across the state.
Information: Jonathan Hines, Indiana University Environmental Resilience Institute