BLOOMINGTON – Tuesday evening in a ceremony at Bloomington City Hall, seven young nominees won S.W.A.G.G.E.R (Students Who Act Generously, Grow, and Earn Respect) Awards. They were selected from among 17 impressive young people, all of whom were recognized for their meaningful and generous acts.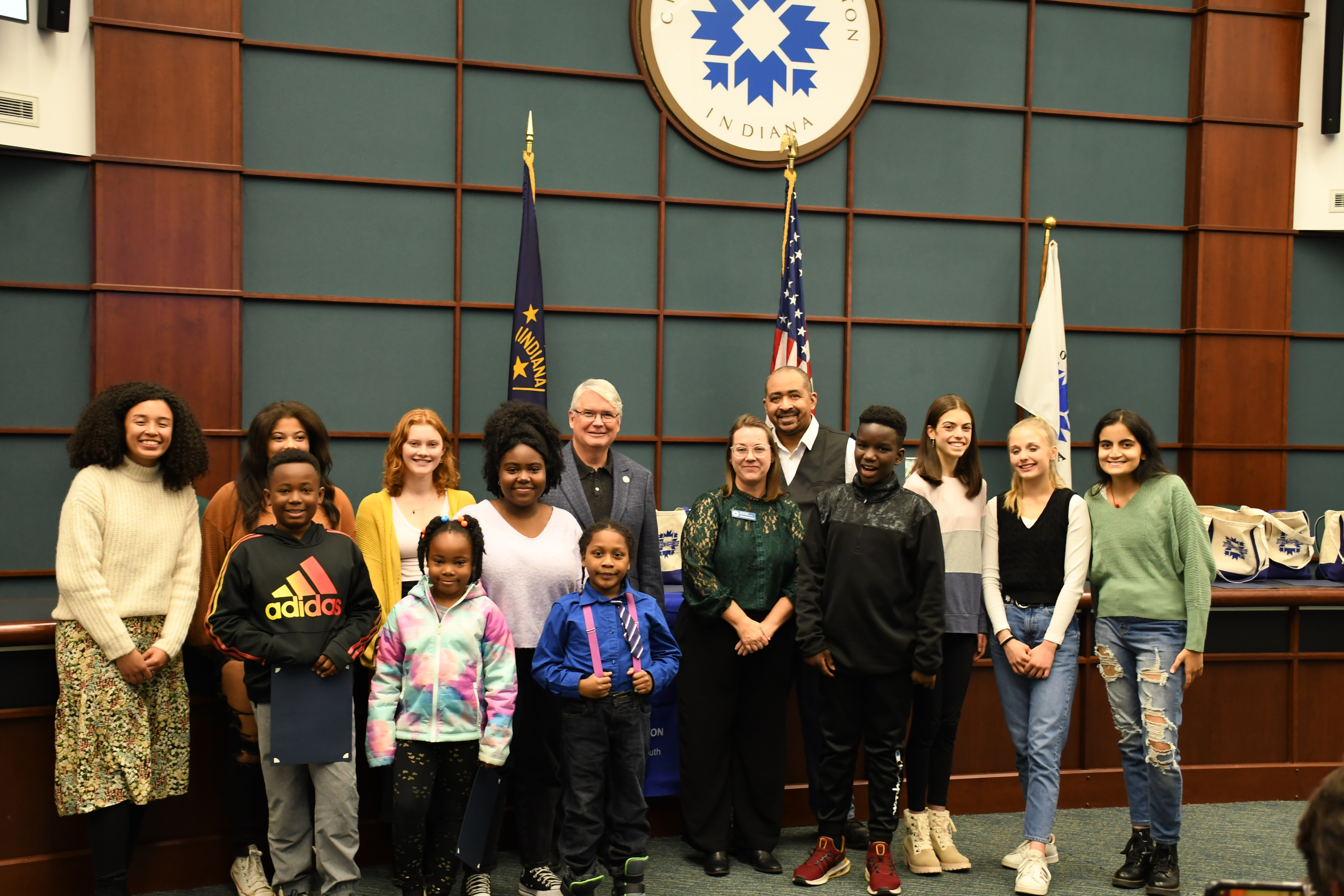 Youth nominees fall into four school-age grade groups: K-3, 4-6, and 9-12. Nominations come from educators, neighbors, friends, relatives, and clergy of students who live or attend school within the Monroe County Community School Corporation area.
This year's winners included Zech'ariah Palacios (K-3), who has been working on a community project with his mother called "Zach's Keep Kids Warm Coat Drive," where they help community members in need that do not have a vehicle and ensure that they are prepared for cold weather.
Caleb Iruoje (3-6), made a new student feel welcomed into the classroom by introducing them to his friends and including them in activities.
Zion Miya (9-12), not only sets an example of studiousness and determination for his growth but has exemplified a generous and caring personality, especially so toward his sister.
A 9-12 group award went to Sydney Crossley, Sabrah Wagner, Jael Davis, and Saphyne Franklin for exceptional leadership in social justice activism by advocating for a racial discrimination justice policy to be included in the MCCSC student handbook.
After a welcome from co-chairs of the City of Bloomington Commission on the Status of Children and Youth, Isadore Torry and Katie Rodriguez, and remarks from Mayor John Hamilton (https://bton.in/Jp5_L), each winner received a personalized proclamation from the City of Bloomington and prizes donated by local businesses.
"One of the highlights of being the mayor of Bloomington is getting the opportunity to honor some of our finest young community members," said Mayor John Hamilton. "I am awed by the work of all of this year's nominees and delighted to present proclamations to the winners. Bloomington clearly has a bright future."
The purpose of the Commission on the Status of Children and Youth is to promote connections in our community that empower, enhance, and nurture children and youth. One of the Commission's goals is to celebrate the successes of children and youth. The S.W.A.G.G.E.R.award criteria acknowledge children and youth who have shown commitment to a cause or take action(s) that has improved their lives and/or the lives of others around them.
All nominees (*Award Winners):
Caleb Iruoje*
Delaney Thompson
Ekta Kaul
Elise Erwin
Ingrid Pendergast
Jael Davis*
Jeremiah Boyce
Kendall Crossley
Mason Crossley
Sabrah Wagner*
Sanae Davis
Saphyne Franklin*
Soraya Bowles
Sydney Crossley*
Taylor Neal
Zech'ariah Palacios*
Zion Miya*