INDIANA – This initiative supports grant writers pursuing projects and programs that improve the quality of life for Uplands residents across a variety of community needs. In this year-long program, fellows learn from experts how to effectively develop compelling grant applications, including gathering data, developing budgets, improving your message, finding funding opportunities, and much more.
Fellows selected for ROI's second grant writing cohort will also receive:
$1,000 commitment stipend to be paid at graduation
Up to $1,000 in matching funds for no more than two successful grant applications
Apply by September 2, 2022.
This past spring, ROI graduated its first cohort of Grant Writing Fellows. This inaugural cohort successfully secured $1.77 million in grants invested in the Uplands region!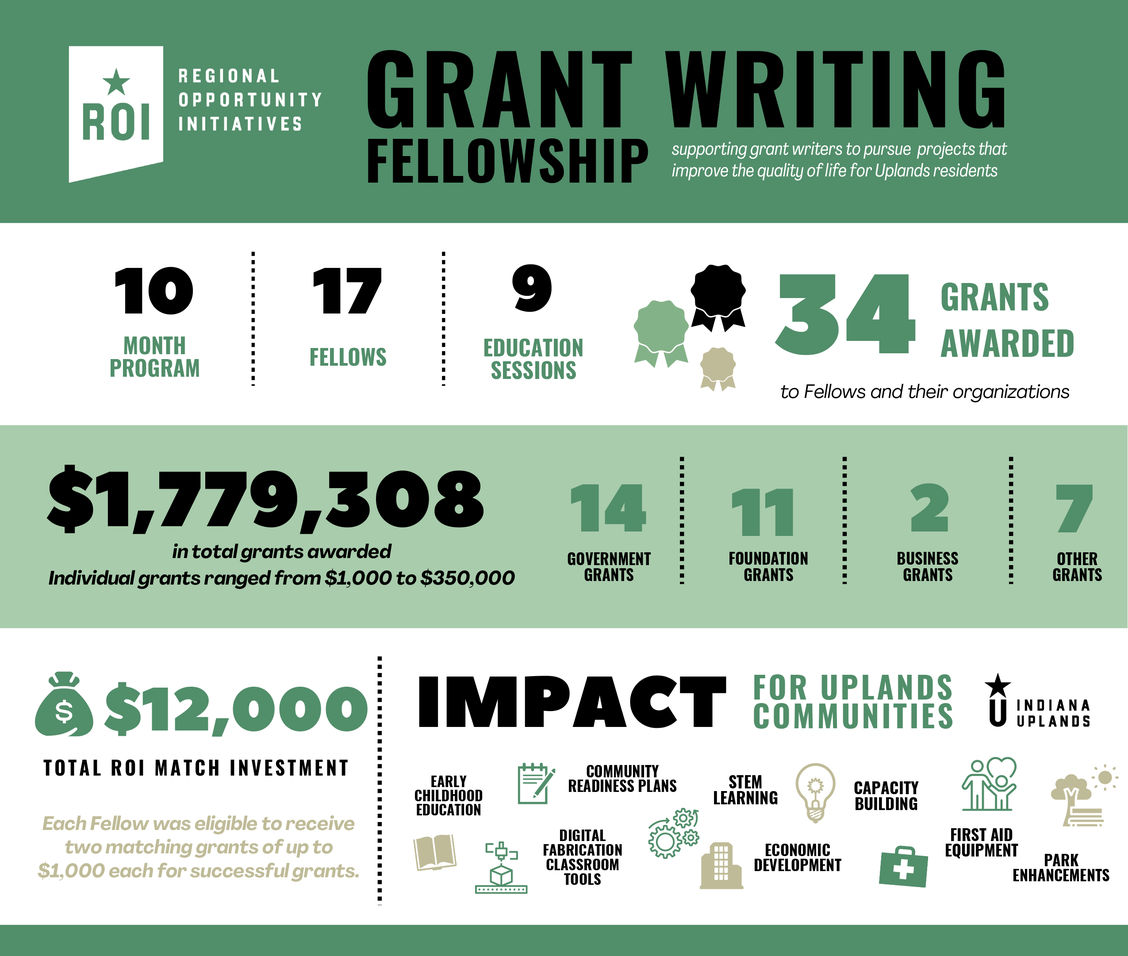 Who Should Apply For Cohort 2?
Fellows will be selected through an application process. Candidates will be considered based on a commitment to expanding and building resource capacity, a passion for improving outcomes for the residents of their community, and a commitment to training and collaborating with partners around the Uplands region.
To qualify for the fellowship, Fellows must commit to providing grant writing services to their community through their organizations and/or businesses for a minimum of two years. They will also need to attend all ROI professional development workshops, classes, and meetings throughout the fellowship.
Session Topics
At this time, we anticipate professional development in the 2022-2023 year to be a hybrid of both in-person and live online events. The first two events will be in-person, with most of the follow-on sessions delivered in a virtual format.
Session 1: Grant Writer Workshop 1
Session 2: Grant Writer Workshop 2
Session 3: Professional Writing for Maximum Impact
Session 4: How to Build a Better Budget
Session 5: How to Create Metrics to Show Impact
Session 7: Finding the Right Grant Opportunity
Session 8: Program Sustainability
Session 9: Grant Management
Session 10: Telling Your Story – Building a PR Campaign for Your Community
Timeline
September 2, 2022: Applications Close
September 9, 2022: Selected Fellows Notified
September 23, 2022: Grant Writing Workshop 1 in French Lick, IN
October 21, 2022: Grant Writing Workshop 2 in French Lick, IN
November 2022 to May 2023: Monthly Professional Development Sessions andGrant Agency Spotlights (Third Thursday of the month from 9 – 11 a.m.)
May 18, 2023: Final Session & Graduation (Location TBD)
For more information on ROI's Grant Fellowship click here.
If you have questions contact Lisa Abbott, ROI Vice President of Economic and Community Development, at lisaabbott@regionalopportunityinc.org.
The mission of ROI is to advance economic and community prosperity in the 11 counties of the Indiana Uplands (Brown, Crawford, Daviess, Dubois, Greene, Lawrence, Martin, Monroe, Orange, Owen and Washington counties).

ROI is implementing education, workforce, and quality of place initiatives across the Uplands region. More information can be found at https://regionalopportunityinc.org/.