JEFFERSONVILLE – Attorney General Todd Rokita has obtained the emergency license suspension of a Jeffersonville funeral director after police found 31 decomposing bodies improperly stored at a funeral home.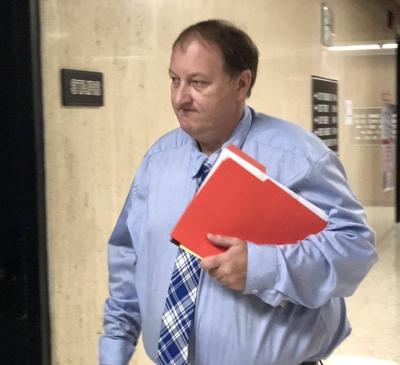 Randy Ray Lankford agreed Friday to surrender licenses for himself and his facility, Lankford Funeral Home and Family Center. Today, the State Board of Funeral and Cemetery Service approved the suspensions.
"Our office puts a high priority on protecting Hoosiers from harmful business practices and professional malpractice," Attorney General Rokita said. "In this case, our Licensing Enforcement team acted swiftly to take the appropriate actions."
The licenses are suspended indefinitely.
On July 1, Jeffersonville police discovered 31 unrefrigerated corpses in body bags throughout the funeral home in various stages of decomposition. Some of the bodies had been kept there for an extended period, with at least one of them having been there since March. The officers also found the cremated remains of 17 individuals.
Upon learning of the conditions at the facility, Attorney General Rokita's team on July 26 filed for emergency license suspensions with the State Board of Funeral and Cemetery Service.
"Grieving families must be able to trust that their loved ones' remains will be respectfully and properly handled," Attorney General Rokita said. "Further, the unsanitary conditions at this funeral home posed a clear and immediate threat to public health and safety. We are committed to making sure that anyone entrusted with a professional license issued by the state is meeting the required standards."
At this time, no criminal charges have been filed against Lankford. The Clark County Prosecutor is still waiting on a final investigative report from Jeffersonville Police before deciding on charges.
Attorney General Rokita expressed particular gratitude to Deputy Attorney General Ian Mathew and investigators Denise Singleton and Lindsey Bruce for their work on this case. He also thanked Jeffersonville police for professionally executing a gruesome task in their inspection of the premises.
An investigation into this matter remains ongoing, and anyone with information that might be helpful is asked to please contact the Attorney General's Licensing Enforcement Section by calling 1-800-382-5516.
The petitions for license suspensions are attached.
Jeffersonville attorney Larry Wilder filed the first civil lawsuit against the funeral home on July 5 in Clark Circuit Court on behalf of two clients concerned about the handling of their daughter's remains.
In the suit, the two claim they entrusted the remains of Nicole Lorey, who died June 14, to the business. The case claims that Lankford told the family she had been cremated but that he never delivered an urn with her remains, leading the family to believe her body may be among those recovered.
A second family has joined the suit with similar allegations concerning their deceased loved one, James "Mike" Settle, who died in April 2022.
A second suit was filed July 7 by Jeffersonville attorney Karl Truman on behalf of a mother and sister who allege the funeral home "failed to properly care for and account for" the remains of Joseph Devers.
The following day, the family of Julia Wimbush filed suit alleging the funeral home was negligent in cremating Wimbush, who died in January 2022.
The family received a box of what they were told were Wimbush's ashes in March, according to the suit, though the news of the investigation has the family questioning what they received.
"In light of the ongoing police investigation, all the family knows is that they got a box containing someone's ashes," said Indianapolis attorney Greg Laker in a statement.
Court records do not show a reply from Lankford in any of the lawsuits and Lankford says no civil attorney will take his case.
The judge hearing the suit has ordered the Clark County Health Department and Clark County coroner to turn over to the court the names of all individuals whose remains were found on the property as well as their next of kin.
Lankford's court appearance Tuesday, August 3, 2022. Lankford said he produced documents including his insurance, lease, financial information, and a download of his Facebook page.
Attorneys had also requested Lankford's email records. Tuesday, Lankford said he had forgotten the password and that police still had his phone, which he needed to reset the code.
Lankford is due back in court on September 15, 2022 at 1:30 p.m.
The police investigation into the conditions at the funeral home is ongoing.