WEST LAFAYETTE — Discovery Park District at Purdue is a testament to the adage, "If you build it, they will come."
And that's for families, young professionals, and retirees excited about living near a university community, the vibrancy of its culture — and West Lafayette's No. 8 ranking of the Best College Towns & Cities in America. In compiling its 2022 list, WalletHub gauged 415 communities across three key areas: wallet friendliness, social environment, and academic and economic opportunities.
Anchoring the district's residential effort is Provenance, led by developer Old Town Design Group of Carmel, Indiana. Provenance is seeing strong activity and interest across its offerings of single-family homes, apartments, and condominiums:
Of the 56 single-family homes planned in the first phase, 18 are sold, a pace well ahead of projections.
Of 12 townhomes in the first phase — three each in the four planned buildings in phase one — four units have already been sold.
All 125 apartments in the first phase are 100% leased.
Additionally, the $86 million, 830-bed Aspire at Discovery Park District, a four-building apartment project that opened in 2019, is fully leased. Purdue trustees announced plans this month to purchase the property from developer Balfour Beatty-Walsh Housing LLC. Purdue Research Foundation is scheduled to complete the purchase, before transferring the property to Purdue for folding it into its residence halls system. University ownership will require state approval.
Continuum, a three-acre, mixed-use apartment, and commercial development just west of Convergence began leasing its 246 luxury one- and two-bedroom apartments as well as 15,000 square feet of street-level commercial space in early 2022. The developer is J.C. Hart Co. of Carmel.
Future plans for Provenance include another 125 apartments and approximately 200 more single-family attached and detached homes. Plans also include possible senior housing for retirees as well as a community center, fitness center, restaurants and retail, a centralized green space, and community gardens.
Source, a 57-unit condo complex slated for a corner of Squirrel Park, is currently planned to be completed in 2024 with one-, two- and three-bedroom condos for alumni who now want a place near campus for football weekends and other Purdue events.
Purdue's deep ties to Sonny Beck, chief executive of Beck's Hybrids — a family-owned seed company serving the Midwest for over 80 years — have planted the seed for a novel addition to the district and the Source project. Beck is a Purdue alum and current member of the university's board of trustees.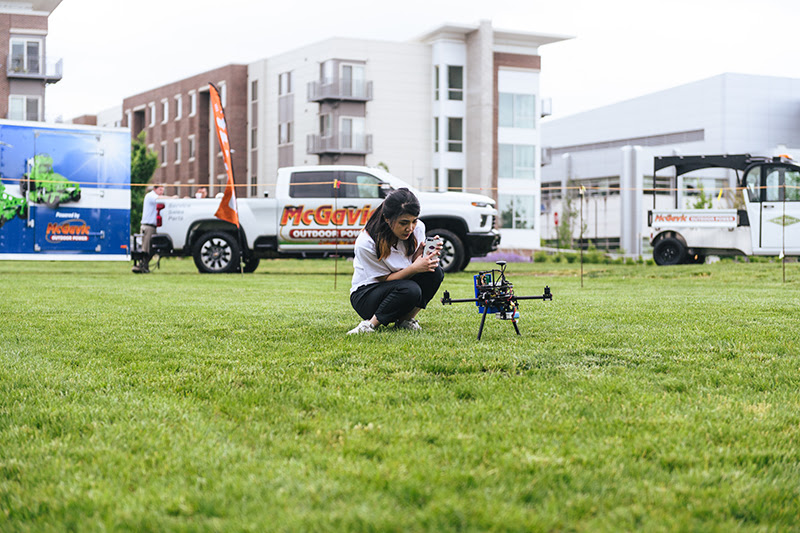 Discovery Park District at Purdue is designed to capitalize on its proximity to Purdue and its leading research, innovation, and learning culture for growing deep partnerships between the university, industry, and the community.
The Beck family donated a 1938 horse barn that will be repurposed as an event venue and possible restaurant at State Street and Airport Road. The family also made a generous donation to help with the costs to dismantle, move and reassemble the historic barn, which is 72 feet by 142 feet and stands 45 feet tall. Uniquely blending that live-work-play concept, the university launched Work From Purdue, an innovative program that incentivizes remote workers to move to the district. Purdue, consistently ranked in the top 10 most innovative colleges in the nation, is the only university to engineer such a future-focused, live-and-work lifestyle for people working remotely.
As demand for housing in the live-work-play community is being met, market demand for amenities such as restaurants, retailing, and medical services also grows.
Ascension St. Vincent on May 6 announced it will build a micro-hospital in the district, featuring eight inpatient beds, eight ER treatment rooms, CT imaging, an ambulatory surgery center, and other health care services. With site construction beginning this year at U.S. 231 and Airport Road, the micro-hospital for the first time puts inpatient and emergency room care within the city of West Lafayette.
Going forward, another key driver for residential and commercial development within the district is the Purdue University Airport. Opened in November 1930 as the nation's first university-owned airport, it encompasses 537 acres divided into airside and landside facilities.
Celebrating Discovery Park District at Purdue
Discovery Park District at Purdue hosted a day of discovery and next-generation solutions on May 25, highlighting innovations such as 6G and Lab to Life for moving from testbed to scalable, real-world deployment into neighborhoods like Discovery Park District. Here's the lineup of the panel and autonomous tech showcase videos from the celebration event: