WEST LAFAYETTE — The Discovery Park District at Purdue, a $1 billion mixed-use development embedded into the fabric of the Purdue University campus, highlights the early success of a vision to establish a thriving "live-work-play" community and the impact of university-private-community partnerships.
That's powered by the hundreds of new jobs supporting aerospace and high-tech industry manufacturing and cutting-edge research facilities; a newly announced micro-hospital; a planned event venue and additional retail establishments, joining high-end offices; and a multiphase development of townhomes, condominiums, apartments, and single-family homes with additional plans for senior-living housing.
And there's much more to come as Purdue and its key local and global partners take the steps to capitalize on the growing national trend for those who want to live, work, play, and — at the latest — retire near a prosperous and progressive university community.
"President Daniels conceived and championed this idea as a way to build the Greater Lafayette economy while making the nearby campus environment exciting and attractive so Purdue can recruit the talent it needs for the future," said Brian Edelman, president of the Purdue Research Foundation.
Purdue Research Foundation is leading the development of the 400-acre district. Already ahead of its 30-year timeline, the district has transformed the west end of the campus into a gateway for intellectual discourse and commercial and industrial collaboration.
According to the Indiana Chamber of Commerce, $889.5 million worth of public investment and $1.5 billion in private-sector investment flowed into Greater Lafayette from 2015-20, much of that through the Discovery Park District at Purdue.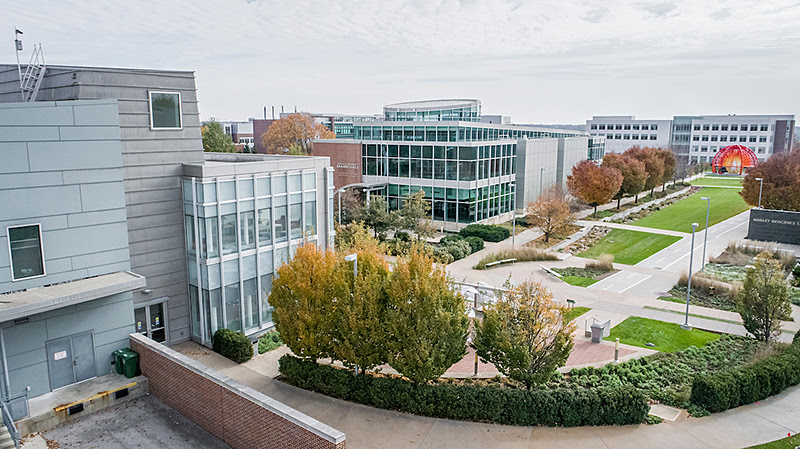 The depth and breadth of the public-private investment project are visible through the progress in the district, which has expanded beyond the State Street Redevelopment Project and the established Discovery Park interdisciplinary research complex of facilities that Purdue launched in 2001.
"The Discovery Park District at Purdue will continue to grow and evolve as corporate partners locate jobs and workers to the area," Edelman said. "Our job is to make sure the corporations that decide to locate in the Discovery Park District 'receive the keys' to Purdue University, ensuring that all of the research and recruiting interests of the companies are met and met at the speed of business. Additionally, the vision of Discovery Park District at Purdue calls for providing the options for housing, entertainment, health care, education, and lifestyle amenities that those workers need."
Rolls-Royce, Saab, and Schweitzer Engineering Laboratories have brought millions of investment dollars to the district and have taken advantage of Purdue's engineering and technology expertise. More importantly, they've added hundreds of jobs to the community.
Aerospace engine manufacturer Rolls-Royce announced plans in April to grow its already sizable and long-standing investment in the district. Through a $204 million project, the United Kingdom-based company will expand one building and construct two test facilities, creating 30 jobs that will pay average annual salaries in excess of $90,000.
Rolls-Royce's plans include:
A 60,000-square-foot hybrid electric/controls facility. This facility will be added to the Purdue Technology Center Aerospace facility branded with Rolls-Royce's name between U.S. 231 and Newman Road. It will accelerate the development of hybrid-electric technologies.
A 23,500-square-foot altitude testing facility that would allow simulation and testing at the altitude of the latest-technology aero engines.
A 280,392-square-foot test utility building that would feed air into the altitude test facility and to the planned Hypersonic Ground Test Center, which would be hosted by Purdue. Known as HGTC, the massive test center that was announced last August would be the first-of-its-kind facility in the U.S., where a nonprofit consortium of defense industry firms can test in Mach 3.5-5.0 and Mach 4.5-7.5 ranges.
Sweden-based global defense and security company Saab, meanwhile, opened its $37 million manufacturing facility last October near Maurice J. Zucrow Laboratories. Its employment is expected to reach 300 by 2027. The Saab facility, first announced in May 2019, supports the production of the U.S. Air Force's next-generation Boeing T-X advanced pilot training aircraft, which will be used to train future Air Force pilots for generations to come.
Schweitzer Engineering opened its $20 million facility in February 2020 on the west edge of Discovery Park District on U.S. 231. There, around 70 employees focus on electric power research and development. The founder of the Pullman, Washington-based company is Purdue electrical engineering alum Edmund O. Schweitzer III, who created the first digital protective relay in 1982, revolutionizing the electrical protection industry.
These industry partnerships also represent major wins for the national security and technology initiative of Purdue's Next Moves in advancing the university's efforts to become the U.S. epicenter of hypersonics activity.
And strategically and geographically positioned as a hub for academic and industry partnering in the district is the Convergence Center for Innovation and Collaboration, billed as the "business front door to Purdue University." Convergence has 143,000 square feet of space, including 22,000 square feet of LEED Silver-certified flexible office space. It also has 6,000 square feet of available retail space.
Convergence is now home to the Purdue Foundry, which supports Purdue's growing startup community. The Purdue Office of Technology Commercialization and Purdue's Office of Corporate and Global Partnerships also are housed in Convergence. Other major Convergence tenants, supported by co-working industry pioneer Carr Workplaces, include:
Wabash is a Lafayette-based leader of engineered solutions for the transportation, logistics, and distribution industries.
Bayer, global life sciences, health care, and agricultural company, will use the space to employ students to provide support in information technology, data science, and engineering.
Beck's, an Indiana family-owned and operated seed company, has opened a satellite location.
Celebrating Discovery Park District at Purdue
Discovery Park District at Purdue hosted a day of discovery and next-generation solutions on May 25, highlighting innovations such as 6G and Lab to Life for moving from testbed to scalable, real-world deployment into neighborhoods like Discovery Park District. Here's the lineup of the panel and autonomous tech showcase videos from the celebration event:
About Purdue University
Purdue University is a top public research institution developing practical solutions to today's toughest challenges. Ranked in each of the last four years as one of the 10 Most Innovative universities in the United States by U.S. News & World Report, Purdue delivers world-changing research and out-of-this-world discovery. Committed to hands-on and online, real-world learning, Purdue offers a transformative education to all. Committed to affordability and accessibility, Purdue has frozen tuition and most fees at 2012-13 levels, enabling more students than ever to graduate debt-free. See how Purdue never stops in the persistent pursuit of the next giant leap at https://stories.purdue.edu.
Information: Phillip Fiorini, pfiorini@purdue.edu