INDIANA – Indiana paddlers have a unique opportunity to observe wildlife while enjoying Indiana's water resources.
Indiana DNR would like more information about the wildlife that spend time around Indiana's waterways and asks paddlers for help.
Volunteer paddlers can sign up to complete paddling trip postcards documenting the wildlife they observe while floating from June 1 to July 31. Volunteers will be mailed a packet upon signup. Previous volunteers will be mailed a new packet and do not need to sign up again.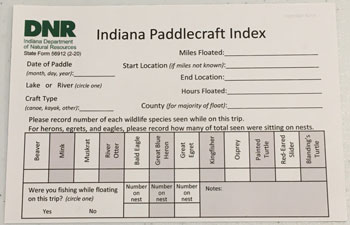 The DNR has selected some key species that are either challenging to study or are lacking Indiana-specific information. The species selected are also ones that paddlers may be able to easily identify. These include:
Great Blue Heron
Great Egret
Kingfisher
Painted Turtle
Red Eared Slider
The Paddlecraft Wildlife Index documents the number of wildlife seen per hours floated and per miles floated. After several years, these numbers will allow wildlife managers to estimate changes in key wildlife populations over time. With paddlers' help, Indiana DNR may also gain insight into new locations where these wildlife are living.
How can I help?
Hoosiers who paddle can help Indiana DNR to collect information that will help Indiana manage wildlife for future generations. If you are a paddler and enjoy wildlife watching while paddling, this might be the volunteer opportunity for you. Forms, instructions, and simple identification keys for the selected wildlife to monitor will be mailed a few weeks before the survey period begins.
Want to find a place to paddle? Learn about Indiana water trails.
Questions about the survey? Contact DNR