INDIANA — As severe weather season gets underway and Severe Weather Preparedness Week is just days away, officials are sharing tips on how to best keep safe.
Each year, IDHS collaborates with the National Weather Service (NWS) during Severe Weather Preparedness Week to remind and educate Hoosiers about seasonal severe weather threats and how to effectively prepare for them.
Preparation and communication are crucial during a disaster situation. Talk with friends, family, and other community members about creating communication and safety plans for before, during, and after all of Indiana's disasters.
Here are a few topics a proper disaster plan should include:
Communication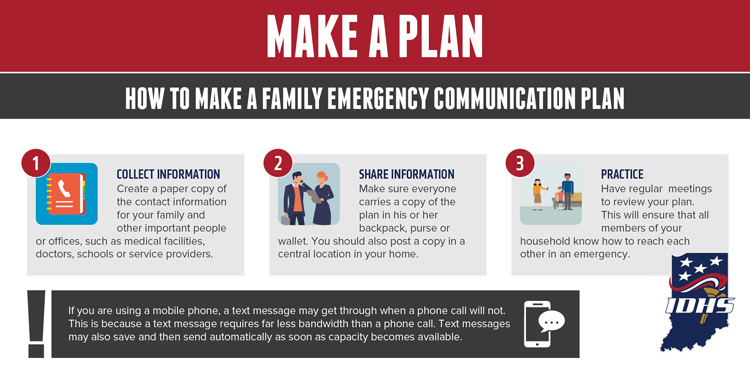 Communicating during a disaster can be difficult, as communication channels can be limited or completely cut off depending on the situation. Having an established emergency communication plan will enable families to maintain contact with one another even if they become separated. Consider the following information when making a household emergency communication plan:
Identify different ways to receive weather alerts
Understand how each disaster could impact forms of communication
Choose a location for household members to meet if separated during a disaster
Create a copy of emergency contact numbers for every household member
Shelter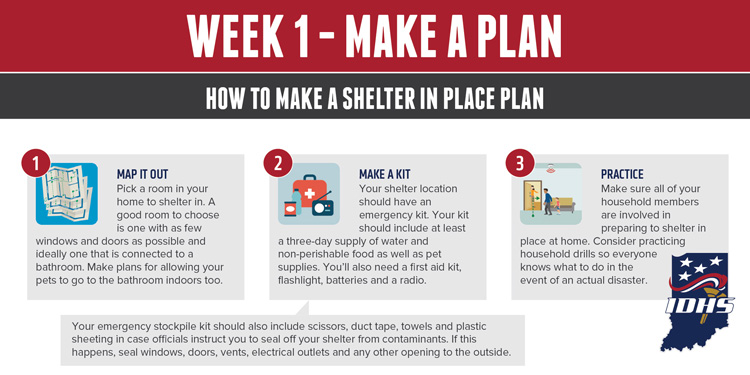 Sheltering is important when disaster conditions require individuals to seek protection at home, work, or in other locations.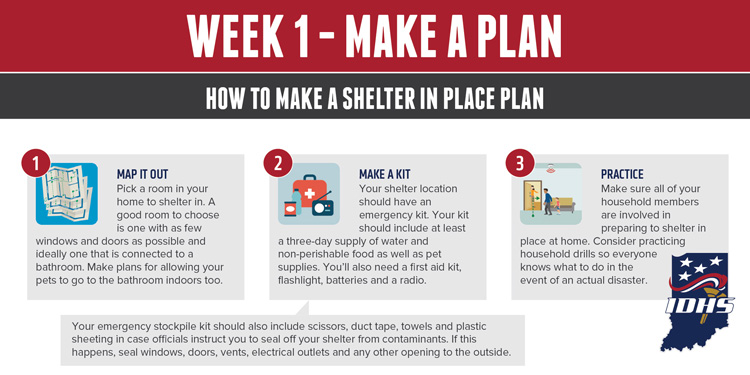 The three different types of sheltering include:
Stay-at-Home
Mass Care
Sheltering in Place
Learn more about the different sheltering types at Ready.gov.
Evacuation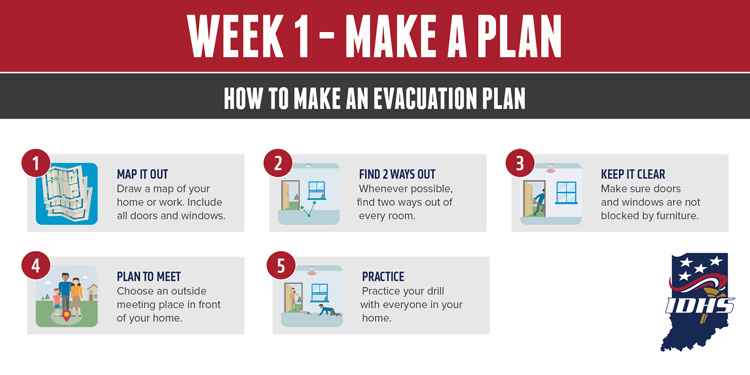 Sometimes a disaster might require evacuation from home or the community. In some situations, a day or two to prepare will be available, while other situations might call for an immediate evacuation. Regardless of the time frame, establishing a proper evacuation plan is important for keeping every member of the family safe.
For guidance on what to include in your evacuation plan, visit Ready.gov
One way is by conducting household tornado drills at various times during the day so everyone is prepared for all possibilities.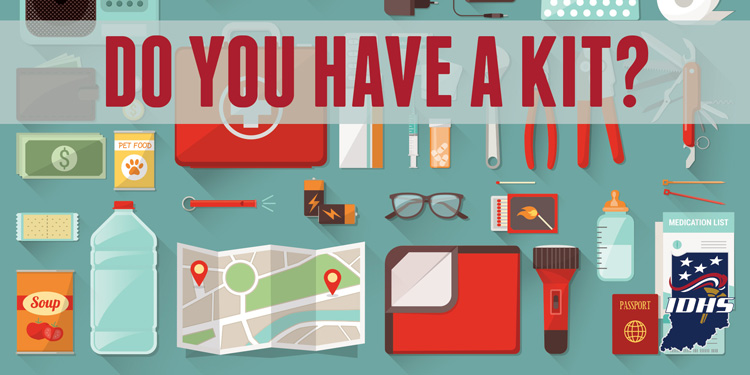 The Indiana Department of Homeland Security and National Weather Service (NWS) also recommend Hoosiers prepare a disaster kit and recommend it contain the following:
Food and water for three days (include one gallon of water per person, per day)
Battery-operated all-hazards radio (receives more than 60 types of emergency alerts)
Flashlight
Extra batteries for radio and flashlight, if needed
First aid kit
Extra clothing, sturdy shoes, rain gear, blankets and personal hygiene items
List of emergency phone numbers
Important documents (copies of photo ID, social security card, insurance and banking information)
Cash (small bills, because power outages can limit ability to use ATMs and credit cards)
Special items (baby formula, insulin, life-sustaining medication and pet supplies)
In the event of a flooding emergency, IDHS also lent some tips to protect Hoosiers:
Be aware of any nearby floodplains – flat areas of land near a body of water that is prone to flooding.
Do not try to drive through water. As little as 2 feet can cause most cars to float, and as little as a few inches of moving water can wash away most cars. Turn around; don't drown!
Pump out flooded basements gradually (about one-third of the water per day) to avoid structural damage.
Indiana can experience a wide variety of disasters, be it natural or man-made. It is important for Hoosiers to research all the different disaster risks that can impact their community. Understanding these risks will help in the creation of preparedness plans and offer guidance on which insurance coverages to purchase.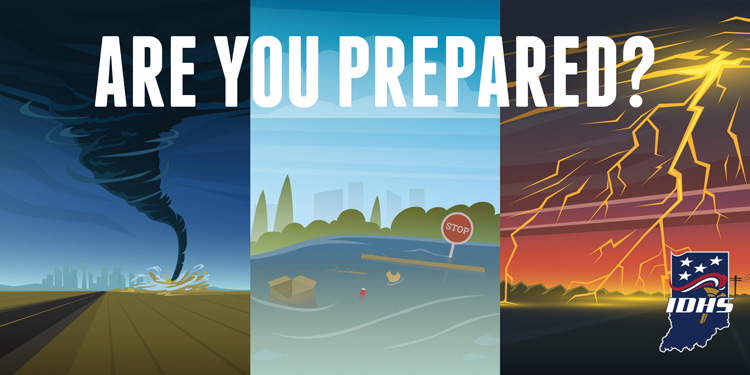 A few disasters and severe weather Indiana can experience include:
Emergencies in public settings can be prepared for by practicing personal awareness while out in public. For more information, visit Ready: Whenever, Wherever.