BLOOMINGTON – "Harvest for the World" – A Celebration of Music and Food is this Saturday, Sept. 25th, at the Bloomington Community Farmers' Market, located at 401 N. Morton St. next to Bloomington's City Hall. 
Come celebrate the rich diversity that coexists in the Bloomington Community from 8 a.m. until 1 p.m.
"Harvest for the World" is an experience of sight, sound, and taste, featuring cross-cultural fashions, dance, and sounds from Bloomington's international communities.
Taste delicious cuisine from food and beverage artisans and gather produce from farm vendors to create flavorful cuisine at home.
Here is a sampling of artists performing:
India is one of the largest democratic countries in the world. It is a multi-cultural, multi-religious, and ethnically diverse country, Where languages, music, dances, festivals, architecture, food, and customs differ from region to region and state to state. Deepa Shah takes great honor in introducing Kala Deep, an Indian cultural center here in Bloomington. They perform with a team ranging from 4 years to 50+. They will present Bollywood-style dances, folk dances, and instrumental music. Their market booth also has traditional ethnic Indian attire, Indo-western dresses, jewelry, home decor, and much more. They are excited to be part of this event and showcase their talent, Indian culture, and heritage.
Ana Nelson is a clarinetist, saxophonist, composer, and arranger known for her multi-genre diversity in classical and jazz. Ana has performed with a variety of groups and artists across the Midwest. As a recording artist, Ana has appeared on recordings with Bootsy Collins for his remix of the "Indiana Fight Song," Indiana University Jazz Ensemble performing "Gennett Suite" recorded for WTIU TV, and releases for Oberlin Orchestra and IU New Music Ensemble. Currently, Ana is pursuing a Doctorate in Clarinet Performance.
Pianist Jamaal Baptiste grew up on the island of Aruba, a connection for the music of the Americas and Europe. Jamaal is very comfortable performing in a wide range of musical settings, with experience in Jazz, Blues, R&B, Gospel, Latin, Brazilian, and Caribbean music. Jamaal is a member of the Batuquê trio, based here in Bloomington. He is also an original member of Ritmos Unidos, a collaboration from seven-time Grammy nominee and percussionist, Michael Spiro. Jamaal graduated with a master's degree in jazz studies at the Indiana University Jacobs School of Music, where he is currently pursuing a Doctor of Philosophy in ethnomusicology in the Department of Folklore and Ethnomusicology.

Together, Ana Nelson and Jamal Baptiste form the NelBap Duo, a piano/saxophone duo that specializes in jazz, Latin jazz, and soulful music genres.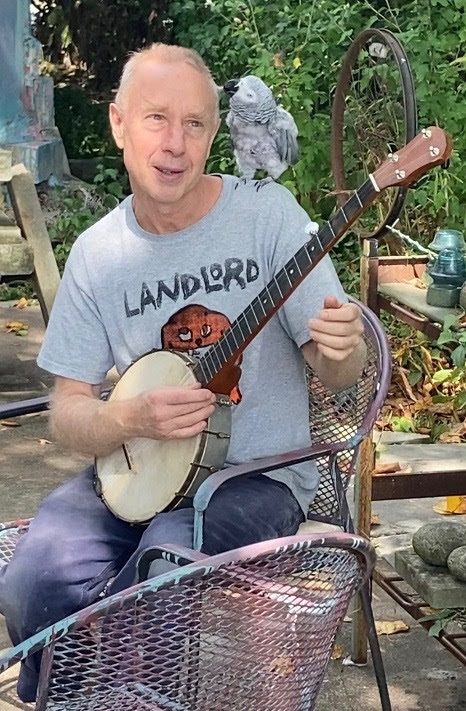 Nicholas McGill has been an enthusiastic lover of string instruments for many years now, and he was very lucky to have lessons in classical sitar for three years. His music is composed of a mixture of styles and genres, from modern to ancient. He shares that he has had a wonderful time over the past 10-15 years, playing music and learning, recording, and working on collaborations. Before focusing on the music he did a lot of sculptural art in metal, and also some visual art. Here is a link to some of his music.
.
Centeotl is a traditional group from Mexico City that has been preserving the important oral tradition of the Aztec-Chichimeca Dance and ceremony for over 7 generations. Centeotl has performed in Powwows and Indigenous events all over the North East and tri-state area as well as in Europe and Mexico. Centeotl is devoted to preserving the tradition and helping our community to connect with their roots and to share them with the world.
Mariachi Perla del Medio Oeste was created in 2018 as a joint initiative between the Latin American Music Center at the Jacobs School of Music, the La Casa/Latino Cultural Center, and the Department of Folklore and Ethnomusicology. The group is a volunteer ensemble committed to the cultivation and promotion of Mexican-American, Mexican, and Latin American music and culture, both within IU and the larger Southern Indiana region.
Harvest for the World" Performance Info
| | | | |
| --- | --- | --- | --- |
| Adam Rivere | Musical Instruments (variety) | 8:30-9:30 a.m. | Circular Stage |
| | | | |
| --- | --- | --- | --- |
| Nicholas McGill | Improvisational Sitar Music | 9-9:45 a.m. | City Hall Landing |
| | | | |
| --- | --- | --- | --- |
| Kala Deep | Bollywood & Folk Style Dances from India | 9:20-9:50 a.m. | Plaza |
| | | | |
| --- | --- | --- | --- |
| Mariachi Perla del Medio Oeste | Mariachi Band | 10-10:40 a.m. | Plaza |
| | | | |
| --- | --- | --- | --- |
| Centeotl | Aztec Dancers & Drummers | 9:45 – 10:30 a.m. | Circular Stage |
Tru Musiq Group
Soul, Jazz & Funk Band
(Set #1) – 10:45-11:15 a.m.
(Set #2) – 12:30-1 p.m.
Circular Stage
| | | | |
| --- | --- | --- | --- |
| NelBap Duo | Latin Jazz | 11:25 a.m.- 12:25 p.m. | Plaza |