INDIANAPOLIS – When Matthew Brown takes the podium at Carroll Stadium on May 15 as IUPUI's student commencement speaker, he'll be realizing an opportunity and dream he once thought would be impossible.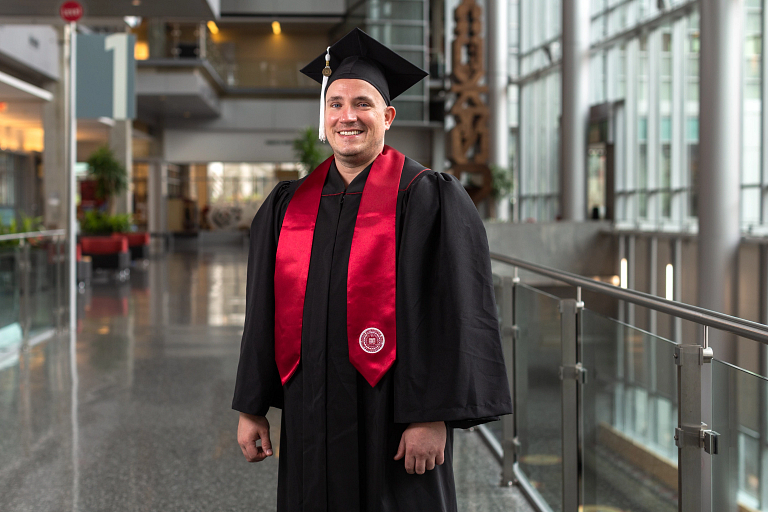 There's a message that Brown wants everyone to hear: Never quit and never lose sight of your dreams despite the challenges.
Students are facing unprecedented challenges, such as a pandemic and the emotions tied to a controversial presidential election, social unrest and social justice issues.
Persevering is difficult, Brown said. He knows. He had every reason to quit and give up hope.
Juvenile detention centers became his second home starting at age 12. At 16, he was arrested, charged as an adult and eventually sent to prison. Released at 20, he had to figure out what to do with his life. He thought his only prospects seemed like construction, factory work or the service industry. And in his 20s, he also was raising three children on his own.
But now, at 37, he's graduating with a bachelor's degree in communication studies and a minor in psychology. He's eager to start a career that uses his speaking skills. That could be in the entertainment industry, or as a professional speaker. Regardless, he sees a bright future, and he wants others to know that's possible, too.
"We live in a day and age when a lot of people settle," Brown said. "My hope is that people won't settle. I want everyone who listens to my speech to walk away with the feeling that they can do whatever they dream to do."
Emilio Robles, a visiting lecturer in applied theater at IUPUI, was one of two faculty members who encouraged Brown to apply to be the student commencement speaker. He said Brown is a great choice because he speaks with authenticity, conviction and integrity.
"He doesn't hide the bumps, bruises and scars of his past, and it increases his credibility in the message he is delivering. Credibility is sacrosanct in communication," Robles said. "Matt shares his message in an effort to speak to the unifying theme of adversity, which many of our students at IUPUI can relate to in their own academic careers. The multifaceted impact this institution has made to help confront students' challenges and recognize their own uniqueness, 'artistry' and potential is a story with which many graduates can connect."
Brown's past includes being arrested at 12 for stealing sleeping pills from a store that he then sold to classmates under the guise of them being acid. Six months later, stealing a CD for a girl he had a crush on landed him in a juvenile detention center. He started smoking marijuana and stealing cars. From ages 13 to 16, the longest stretch Brown wasn't in a juvenile detention center was about three or four months, he said.
"I didn't feel like I fit in anywhere," he said. "I was trying to fit in and find a place."
At 16, an attempted car theft led to a high-speed chase by police, resulting in 22 charges, convictions on several and a prison sentence. Good-time credit and earning a general equivalency diploma helped Brown get released after four years.
"I was ready to not go back to that lifestyle," Brown said.
A couple of years after his release, Brown attended Ivy Tech and earned a few credits, but he stopped because he didn't think college would be useful. For about a decade, he worked at restaurants. But when one shut down and he lost his job, Brown had to figure out a next step.
"People around me would say, 'You have it in you to be something better,'" Brown said.
He felt that in his heart, too. Brown said he was reading one of the "Wild at Heart" books by John Eldredge, an author and lecturer on Christianity, when a chapter titled "Adventure to Live" inspired him to become somebody better.
"I felt like God was calling me to something higher," Brown said.
He got on IUPUI's website, searched degrees and thought a communication studies degree would be a good fit. He applied, but he also applied to Ivy Tech because he wasn't certain he'd be accepted at IUPUI.
Brown studied at Ivy Tech in the spring and fall of 2018 before starting at IUPUI in the spring of 2019. He said that a credit for a beginning speech class that didn't transfer from Ivy Tech turned out to be a blessing. He took R-110: Fundamentals of Public Speaking at IUPUI, which allowed him to compete in the Speech Night Competition. The competition allows students to showcase their talents at the end of every spring and fall semester via a policy speech.
The competition involves multiple requirements and rounds that whittle the field. Brown was one of seven finalists who spoke to a crowd of about 500 in Hine Hall that spring 2019. His speech advocated taxing the pornography industry in the United States to fund the rescue of people from sex trafficking. He finished second and received a $1,000 prize.
"Based on that success, it convinced me I wanted to be on stage," he said. "I enjoy being on stage and public speaking."
He's enjoyed other success, too. After taking Robles' Introduction to Acting course, Brown auditioned for the play "A Few Good Men" and earned a role. He's being inducted into Lambda Pi Eta, a national communication studies honor society.
Mike Polites, a senior lecturer in communication studies, said he saw Brown's potential during his Interviewing Principles and Practices class last year.
"Matthew stuck out to me immediately because he smiled, asked questions to build rapport and allowed his personality to come through," Polites said.
Brown is likable and makes others feel comfortable, Polites added.
Robles said Polites called Brown the "Peyton Manning" of his classes because of his ability to make his teammates better and lead by example.
Polites also encouraged Brown to apply to be the student commencement speaker. The process involved a 500-word essay, an outline of the speech, reference letters, an interview with the selection committee and then the speech before the committee.
Brown said he's honored and humbled by the opportunity to address his fellow IUPUI graduates, faculty and staff.
"It means the world to me," he said.
INFORMATION by Kirk Johannesen, of News at IUPUI