BLOOMINGTON – The Indiana University Board of Trustees approved five new graduate and two new undergraduate degrees at its April meeting.
Two of the graduate degrees are online collaborative programs between multiple IU campuses.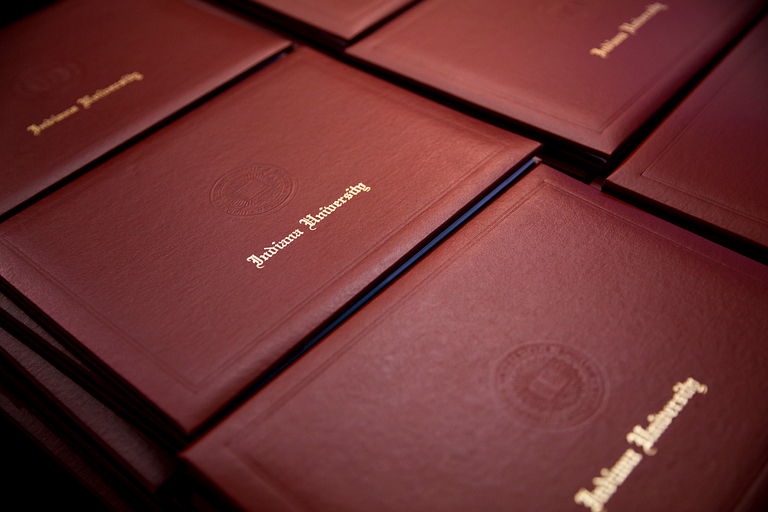 The Master of Education in teaching, learning, and curriculum is an affordable online program that will prepare current or aspiring teachers for leadership positions, including department chair, instructional coordinator, or educational program director for cultural institutions. The program will complement or offer an alternative to face-to-face programs at all IU campuses.
IU Southeast and IU Northwest will join IU Bloomington, IU East, and IUPUI in offering a Master of Arts for teachers in French. The online, collaborative program will equip students who plan to teach French in high school or other settings with advanced knowledge and skills that will improve student outcomes. It will fulfill the Higher Learning Commission's requirements for those wanting to teach college-level French courses in high schools and community colleges.
The IU School of Education in Bloomington will replace its current Master of Education in learning and development sciences, educational psychology track, with a Master of Science in Education in school psychology. This degree can be earned in two years, along the way to an Ed.S. or Ph.D., and is more reflective of the coursework students complete.
The IU Bloomington College of Arts and Sciences will add a Master of Science in cognitive science to its offerings. Since 1989, the cognitive science program has offered a Ph.D. that was one of the first of its kind in the country. The addition of a master's degree will expand the highly regarded program's offerings for students, who often go on to work as entrepreneurs, data analysts, software developers and researchers.
A new Bachelor of Science in clinical psychological science in the College of Arts and Sciences focuses on evidence-based training for the mental health field. The program will prepare students for graduate training in clinical psychological science, or for paraprofessional and program evaluation positions in the field of health care.
The College will also add a Master of Arts in American studies, which will be awarded to students in the Ph.D. program upon completion of all requirements before the defense of their doctoral dissertation. Offering a graduate degree aligns with other American studies programs across the country.
A new Bachelor of Science in rehabilitation sciences at IU Kokomo's School of Nursing and Allied Health Professions will prepare students for entry-level rehabilitation jobs in the health care field and get them ready for graduate studies. The program includes several STEM components and will initially offer an occupational therapy assistant track.
The degrees approved by IU's trustees still await final approval by the Indiana Commission for Higher Education.
Information Barbara Brosher, News at IU.