(INDIANAPOLIS) – A former NASA astronaut and NFL athlete will deliver a free, virtual talk Saturday, Oct. 3, as part of the annual research conference of the Indiana STEM Louis Stokes Alliance for Minority Participation, or IN LSAMP.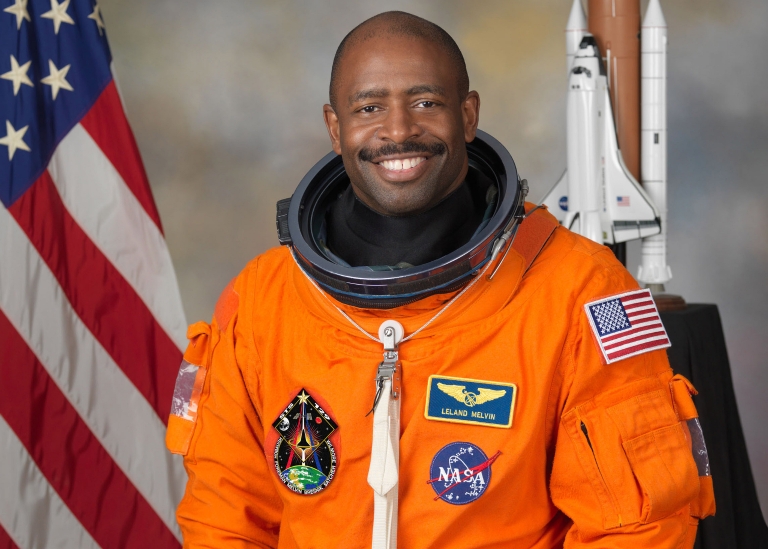 An alliance of IUPUI, Indiana University Bloomington, IU Northwest, IU South Bend, Ball State University and Ivy Tech Community College Indianapolis, IN LSAMP is a $5 million, NSF-funded initiative that aims to significantly increase the number of African Americans, Hispanic Americans and other historically underrepresented minorities in Indiana receiving bachelor's degrees in science, technology, engineering and mathematics.
The 2020 IN LSAMP Research Conference, "Fly High With STEM," will take place from 9 a.m. to 4 p.m. A keynote by Leland Melvin, the only person drafted into the National Football League to have flown in space, having served as a mission specialist on two flights aboard Space Shuttle Atlantis, is scheduled at 11 a.m.
Additional speakers include IUPUI Chancellor Nasser H. Paydar and Geoffrey S. Mearns, president of Ball State University, who will deliver the welcome and opening keynote, respectively. Paydar is principal investigator on the grant that established IN LSAMP in 2016.
This year's conference is aimed at undergraduate STEM students, along with higher education faculty, high school students, STEM teachers and anyone else with a desire to lead the next generation of STEM students into the workforce. The conference focuses on faculty mentorship, professional development and building a community of scholars to broaden participation of underrepresented minorities in STEM.
"LSAMP is responsible for more than 650,000 bachelor's degrees earned by minority students in STEM and 1,000-plus innovators and trailblazers whose work is impacting the world, including Dr. Jerome Adams, the 20th Surgeon General of the United States," said Kim Nguyen, alliance director for IN LSAMP and director of statewide and regional collaborations at the STEM Education Innovation and Research Institute, or SEIRI, at IUPUI.
"IN LSAMP Scholars are making similar contributions to scientific discoveries and technological advancements in STEM that will impact the people in Indiana, the nation and the world in the next decades," Nguyen said.
Over the past four years, IN LSAMP has supported 199 IN LSAMP Scholars, with 83 alumni represented in all areas of STEM, from careers to Ph.D. programs. This year's conference will feature an IN LSAMP alumni panel spotlighting six of these graduates, including Olatundun Awosanya, a Ph.D. student in biology in the School of Science at IUPUI; Oriana Esteves-Ruiz, an undergraduate pursing a degree in biotechnology at IUPUI; and Isaiah Makonnen, a master's student in information systems in the IU Kelley School of Business at IUPUI.
As IN LSAMP Scholars, Awosanya and Esteves-Ruiz conducted research at the IU School of Medicine, studying the effect of weightlessness on bone healing and the effect of temperature on antibody efficiency, respectively. Makonnen's research as an IN LSAMP Scholar focused on the use of simulations to improve autonomous vehicle technology at the IU Luddy School of Informatics, Computing and Engineering in Bloomington.
The alliance also provides assistance to help students develop their research and writing skills as part of the research process and encourages scholars to present their work. More than 318 students have delivered research presentations since 2016, including 21 who will present at this year's conference.
Additional events at this year's conference include a session on STEM career planning for undergraduate students nearing graduation; "How to be a STEM Star," a workshop for high school students on the benefits of peer mentoring in STEM at IN LSAMP; and a plenary session by Dayna Thompson, director of the Charles W. Brown Planetarium at Ball State University.
Information by Kevin Fryling, of News at IUPUI