(BLOOMINGTON) – Indiana University Bloomington students, staff, and faculty will have different dining experiences on campus for the 2020-21 school year as part of efforts to keep everyone safe during the COVID-19 pandemic.
The new restriction is part of the University's safety plan aimed at slowing the spread of COVID-19 and will be noticed immediately by the estimated 8,500 students who sign up for meal plans.
Students may order food from dining halls and campus eateries, but for carryout only.
"IU Dining has enhanced its focus on guest safety," said Rahul Shrivastav, executive director of IU Dining.
Menus will be streamlined as well. Ordering meals from campus dining locations through Grubhub will be encouraged, Sprong said. Students who order through Grubhub and pick up their meals at designated locations will not incur a fee, but those who have meals delivered will pay a delivery fee.
Payments will be contactless through Grubhub, using contactless card readers. Cash will not be an option; only I-BUCKS, CrimsonCard and credit cards may be used, Shrivastav said.
"The dining team is working hard to provide fun, delicious and nutritious meals while making safety the No. 1 priority. We are looking forward to our students returning to campus and serving them the best food possible for them to be successful Hoosiers," Shrivastav said.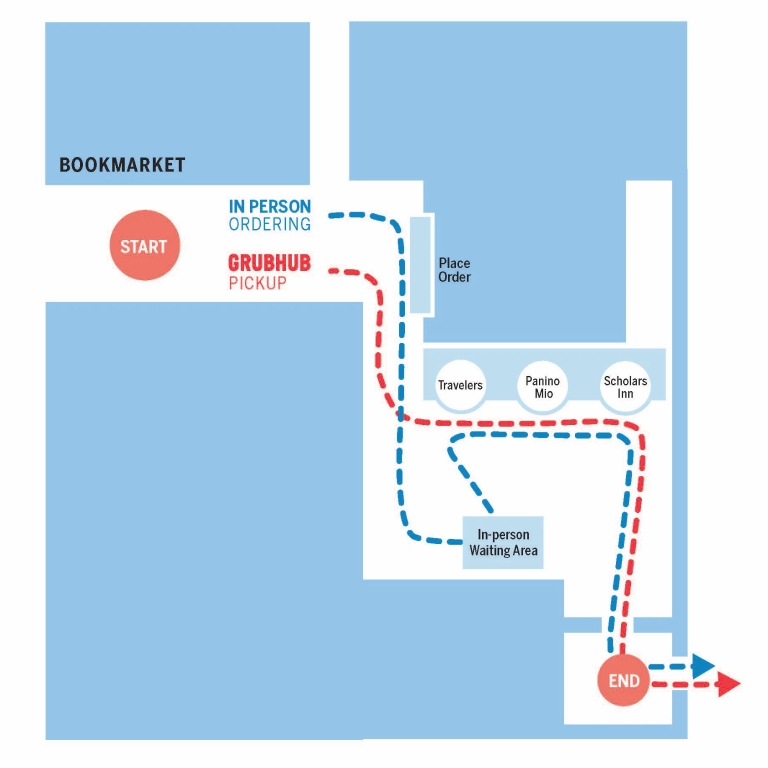 Face masks will be required when inside a campus eatery or dining hall to order food and when picking up food at a campus location, Sprong said. Also, safety ambassadors will be stationed in dining halls and campus eateries to help prevent overcrowding and ensure people follow the university's COVID-19 safety protocols.
Some dining locations will change. Campus cafés in Jordan Hall and the Student Recreational Sports Center will be closed, but the one in Ballantine Hall will reopen. The Globe will move to the Circle Café location through the fall semester. All restaurants in the Indiana Memorial Union, which is undergoing renovations, are expected to be open for the spring semester, Sprong said.
Two new options will be at Read and Gresham halls, which will have kitchens to prepare meals but no storefronts, Sprong said. There will be options for pickup and delivery through Grubhub. Gresham will offer individual pizzas, salads, deli sandwiches and falafel. Read will offer the breakfast menu from the Gloriana food truck, the barbecue menu from the Stripes food truck and smash burgers.
The Tudor Room will reopen as an a la carte restaurant under the direction of Dave Tallent, executive chef of IU Dining and Catering, and feature local fare such as meat from Jasper-based Fischer Farms. The popular buffet service will be discontinued. The change keeps in mind the COVID-19 direction and guidelines from the Centers for Disease Control and Prevention, the state, and the food-and-beverage industry. Breakfast and lunch will be served Monday through Friday, and brunch will be served Saturday and Sunday.
IU Dining is also working to create virtual dining spaces where students can connect with community members, because traditional dining will be transformed into a takeout experience.
Information from Kirk Johannesen, News at IU Bloomington.