(BLOOMINGTON) – Indiana's largest research university and its largest health care provider have announced their partnership to provide screening, testing. and management of COVID-19 for the 140,000 Indiana University faculty, staff, and students at all IU locations across the state.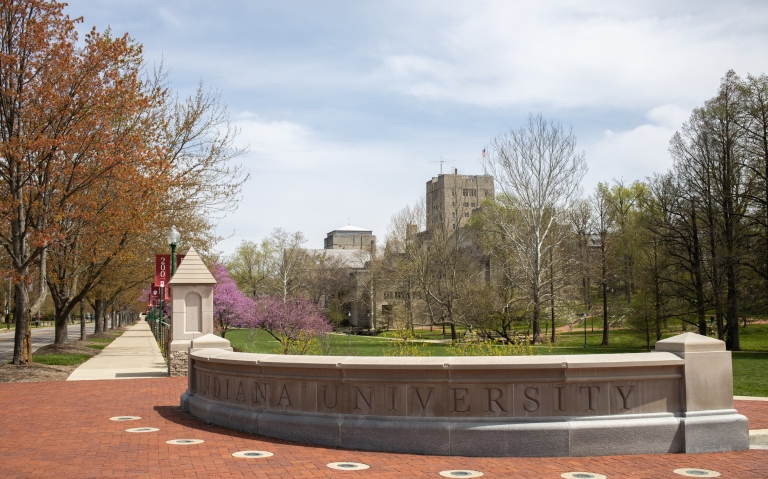 As communities throughout Indiana work to resume activities, and colleges and universities analyze how a safe return to campuses could work in the fall, this partnership provides a comprehensive and essential set of services for screening, testing, and management of COVID-19.
"It is universally recognized among public health and health care experts that the ability to test for the COVID-19 virus is the necessary foundation of a responsible reopening process. Gov. Holcomb's reopening strategy is predicated on the ability of the state to test all Hoosiers who are symptomatic," IU President Michael A. McRobbie said.
"Through its partnership with IU Health, Indiana University will now have access to comprehensive COVID-19 screening, testing, and management services for all its students, faculty, and staff on all its campuses and facilities across the state who believe they are symptomatic. This partnership will be instrumental in helping care for the IU community as we work to enable people to return to our campuses," he added.
As part of the agreement, beginning June 1, all IU students, faculty, and staff at any IU campus or facility – or enrolled in IU Online – who have symptoms of COVID-19 will have access to virtual screening and virtual clinic visits. Should virus testing be required, those in Indiana can have the sample collection for this testing done beginning June 1 or soon after at one of 15 different sites on or near IU campuses around the state.
IU Health is Indiana's largest health care provider and will soon have the capacity to carry out over 6,000 COVID-19 tests a day — offering the most testing capacity in the state — using facilities that have been extensively used for COVID-19 testing since February.
"Partnerships like this one have been invaluable in helping the state of Indiana mitigate the spread of COVID-19 and reopen critical activities," said Dennis M. Murphy, IU Health President, and CEO. "We plan to support more of these kinds of collaborations so, together, we can have a greater impact on improving public health."
The services included in IU's agreement with IU Health are:
IU Health COVID-19 symptom checker: An interactive virtual screening, available 24/7, for any IU student, faculty, or staff member who has COVID-19 symptoms. Through a series of questions, the assistant reviews symptoms and offers information regarding the next steps in care.
IU Health virtual screening clinic: A virtual clinic staffed by IU Health registered nurses and supervised by an IU Health physician, available 24/7 for those with symptoms of COVID-19. The virtual clinic will provide a consultation and advise on the next steps in care, including how and where to be tested for COVID-19.
COVID-19 testing: Virus testing available at 15 sites across the state on or near IU campuses, with results usually available in 24 to 36 hours.
Care during self-isolation: Virtual medical support for those who test positive for COVID-19 or are waiting on test results. IU students, faculty, and staff will have access to IU Health clinicians who will provide guidelines on self-isolating in addition to a daily check-in on symptoms.
Return from self–isolation: Guidance from IU Health clinicians for those who have tested positive and recovered from COVID-19. The clinicians will work with the individual on when it's appropriate to return to work/school based on current medical guidelines and recommendations.
Daily well check: A daily text message to those in predetermined or high-risk groups asking about new symptoms consistent with COVID-19. If symptoms are reported, the individual will be guided on the next steps, including how to self-isolate and where to get a test for the virus.
Beginning June 1, IU faculty and staff will be able to access these virtual services via links in One.IU. Additional information about the partnership, including specific clinic and testing sites and how to use these services, is available at coronavirus.iu.edu.
Information News at IU