(BLOOMINGTON) – When the firefighters of Station 5 in Bloomington gather around their new kitchen table for meals, they're sitting courtside to a helping of Hoosiers basketball history – Literally.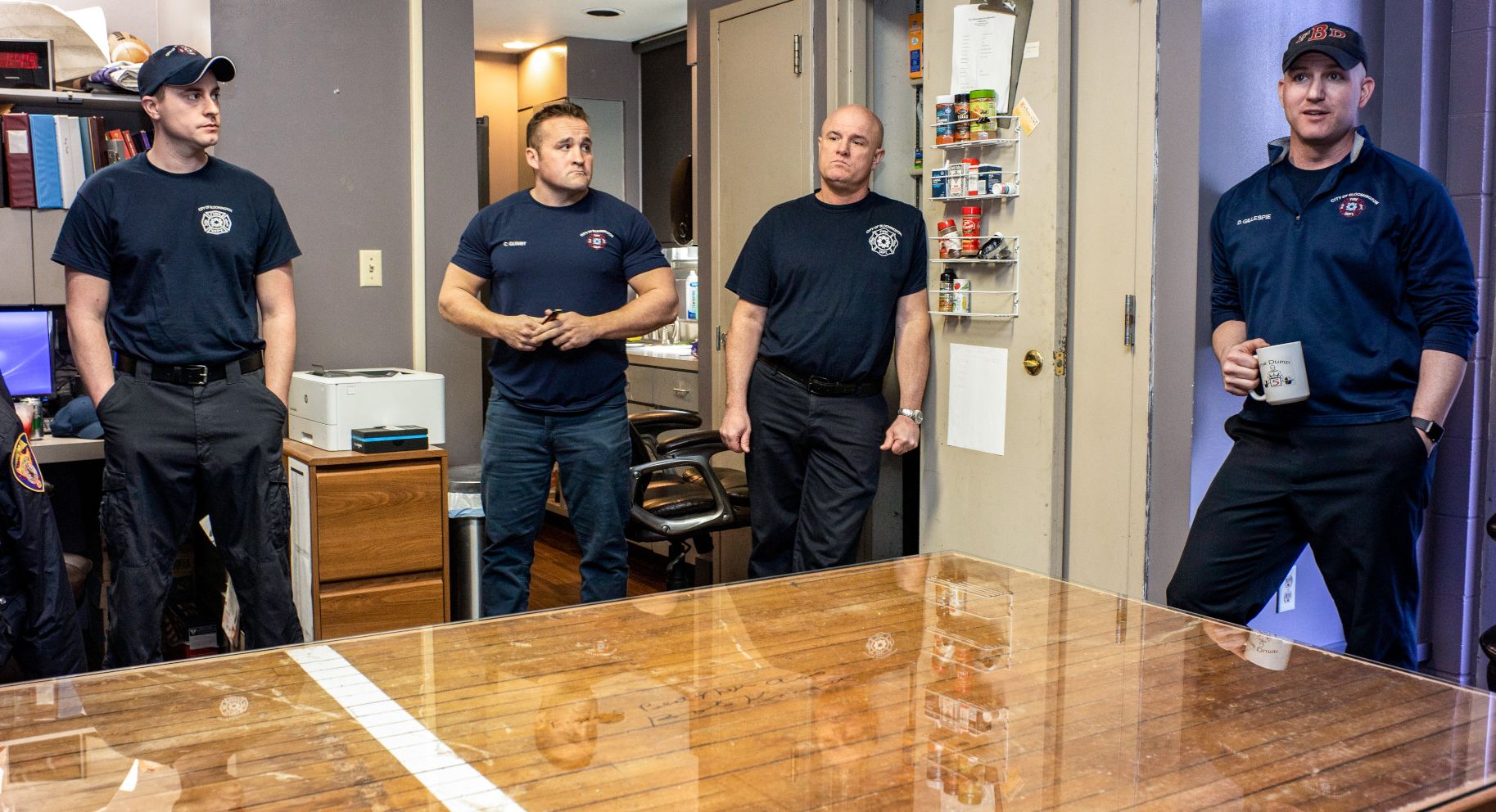 The wooden centerpiece of their dining area features a section of the historic basketball court used from 1928 to 1960 in the old Seventh Street Indiana University Fieldhouse.
IU's 1940 and 1953 men's NCAA championship squads played on the court, and legendary Hoosiers Branch McCracken, Bobby Leonard, Don Schlundt, Archie Dees and Walt Bellamy graced the hardwood.
So, too, did an Ohio State player who would later become a legendary IU coach, and whose signature adorns a spot on the table: Bob Knight.
Such a unique conversation starter for the fire station wouldn't have been possible without the assistance of Todd Reid, manager of IU Surplus, and a bit of good fortune.
Special opportunity
In late January, Station 5 wanted to replace its old and worn-out kitchen table, so some of the firefighters headed to IU Surplus, which redistributes and disposes of unneeded university property. They had seen an online listing for a solid oak table at IU Surplus and wanted to buy it, Capt. Danny Gillespie said.
When they arrived, though, they realized the table wasn't quite what they wanted.
As they wandered through the store, firefighter Craig Quimby walked by Reid's office, which is filled with IU memorabilia, and noticed a Bob Knight doll that stood about 3 feet high. That caught their attention and prompted the firefighters to enter the office, where they encountered Reid.
When Reid learned what the firefighters were looking for, he had an idea.
He still had stacks of sections of the historic basketball court, which had been donated to IU Surplus, and asked the firefighters if they'd like to buy one to make a new kitchen table.
The idea was a slam dunk.
"We were awestruck, really. Like, 'Are you serious?'" firefighter Jayden Elkins said. "(Reid) said, 'We'll get a forklift over here and get you a big section.' We were like, 'Oh, my gosh! That would make a great kitchen table.'"
Reid said he was glad to help because he knew the court section would be put to good use.
"Anyone who knows anything about fire departments knows that a kitchen table is a lot of blood, sweat and tears and your heart poured out at this table, and you're breaking bread with some of the finest men and women in the community. So it was just a good fit," Reid said. "Clearly, from all of them being in my office, there was a lot of love for IU."
On Jan. 28, the firefighters brought a trailer to IU Surplus, picked up the section and hauled it back to the station. Over the next month, they spent hours creating the new kitchen table. They cleaned the wood with oil soap and cut it to the size they wanted for the top: 7 feet, 4 inches by 3 feet, 6 inches.
Elkins constructed table legs from redwood, and side trim was cut and attached. Instead of applying a varnish to the court section, a sturdy piece of glass was placed on top to protect it and retain the flooring's roughness and weathered look, Elkins said.
The section the firefighters purchased was from center court, so the white, mid-court stripe neatly bisects the kitchen table.
"It adds a lot of character," Reid said.
'Like a childhood dream'
The good timing didn't stop with finding the perfect tabletop.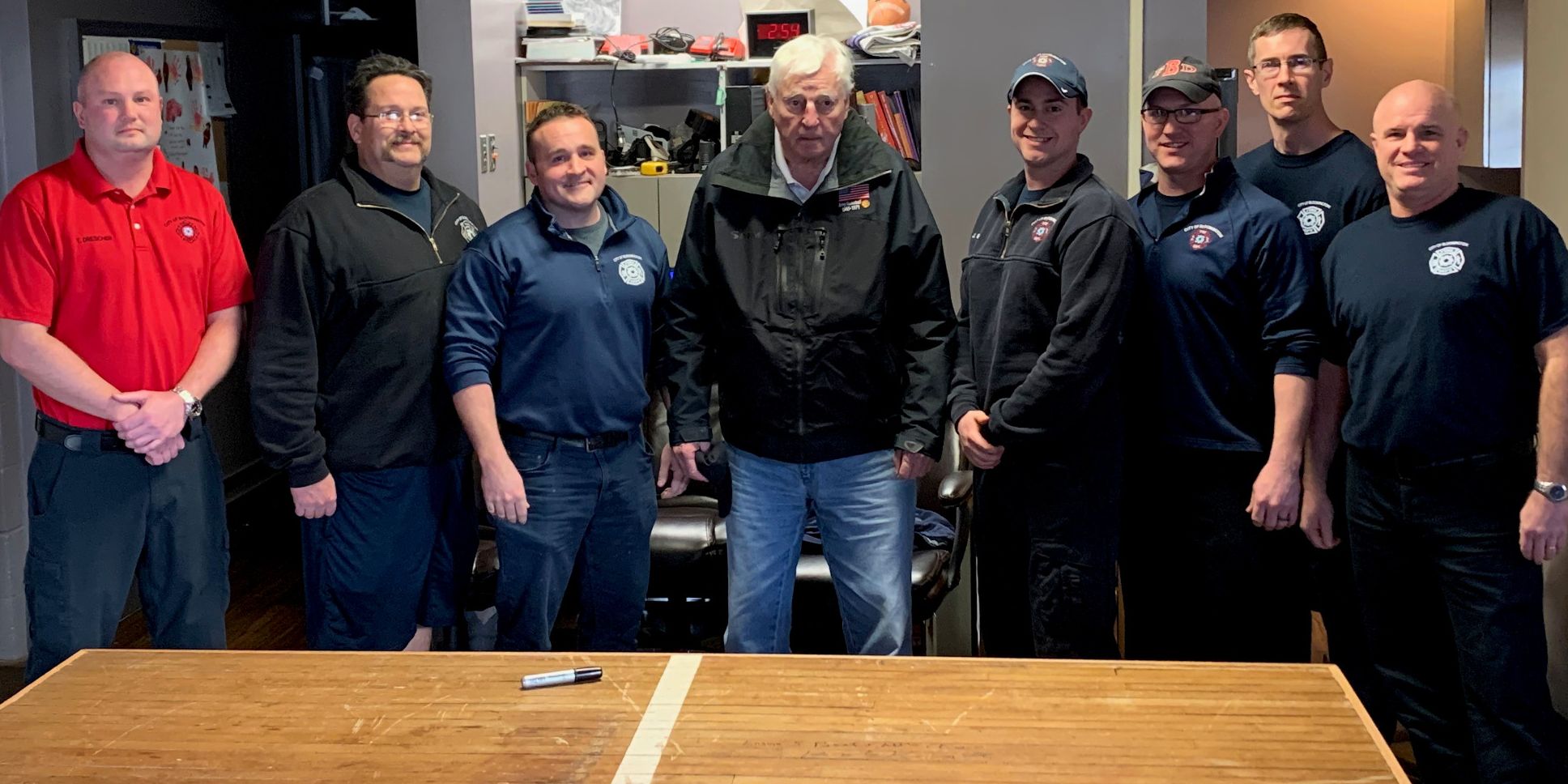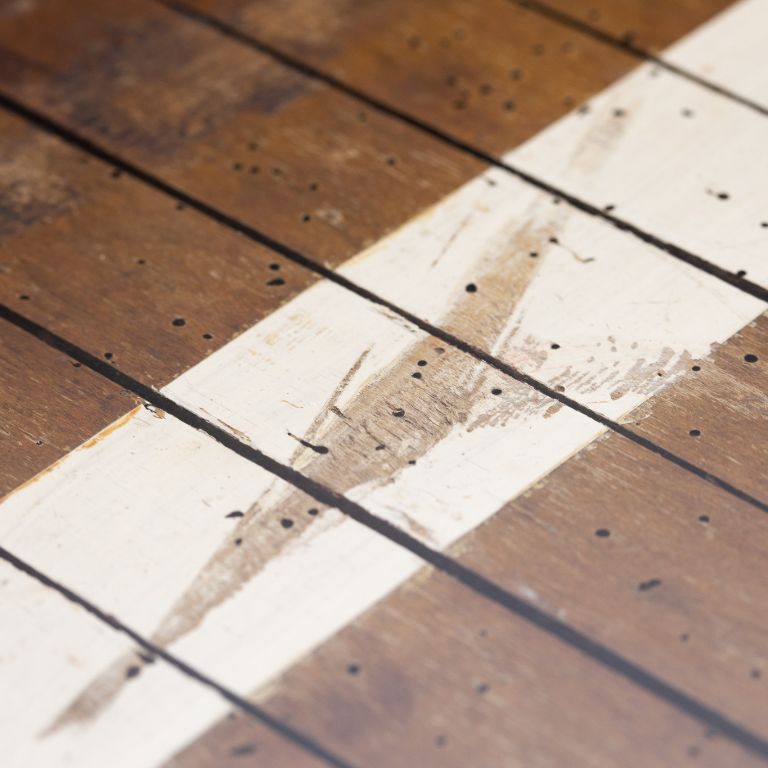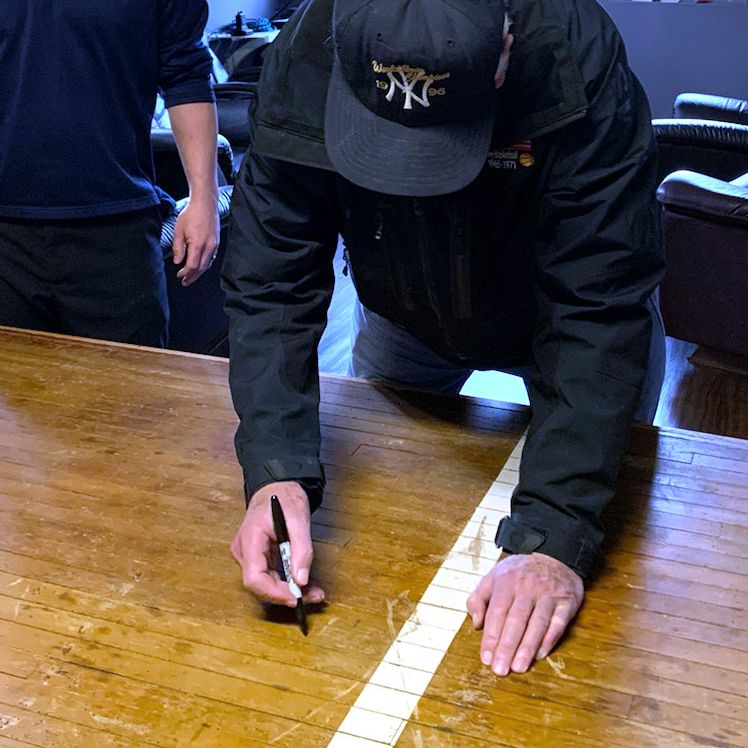 The place where firefighter Bob Loviscek receives physical therapy for his knee also is where Knight goes for physical therapy. When their treatments overlapped, Loviscek said he told Knight about the court they were making it into a kitchen table and said the legendary coach enjoyed the story.
After the table was completed, Loviscek asked his physical therapist to show a photo of it to Knight.
On Feb. 27, Bob's wife, Karen, contacted Loviscek, asking if they could stop by the station to see the table.
Of course, Loviscek said "yes." Then he called the other firefighters and told them to stop their training exercise and get to the station quickly because Bob Knight would be there in about 15 minutes.
It was then that the firefighters seemed more like anxious children waiting to meet a sports star.
"This is a group of guys that doesn't really get excited or nervous like most people, by nature, but we were all pacing and just waiting on Bobby to get here," firefighter Craig Quimby said.
"We were like a kid waiting on their dad, waiting for him to show up. And when he pulled up, it was like, 'What do we do? Put a pot of coffee on?' We didn't even know if he liked coffee," Elkins said.
"For all of us it was like a childhood dream," Gillespie added.
Knight stayed about 20 minutes, during which he signed his name to the court section and chatted with the firefighters. Quimby told Knight about attending one of Knight's basketball camps as a child. Knight expressed admiration for the firefighters and what they do, Gillespie said.
"That was cool to hear Bob Knight thank us. That was pretty neat," Elkins said.
Gillespie said the firefighters are hoping that some former IU basketball players will come by and sign the court section, too.
In the meantime, he said, they're working on making a plaque from a leftover section of the court as a gift for Knight.
Information: Story by Kirk Johannesen of News at IU Bloomington