(BLOOMINGTON) – Indiana University has broken ground on the new Stephen L. and Connie J. Ferguson International Center, which will serve as the hub of international engagement through its study abroad and international student programs and services.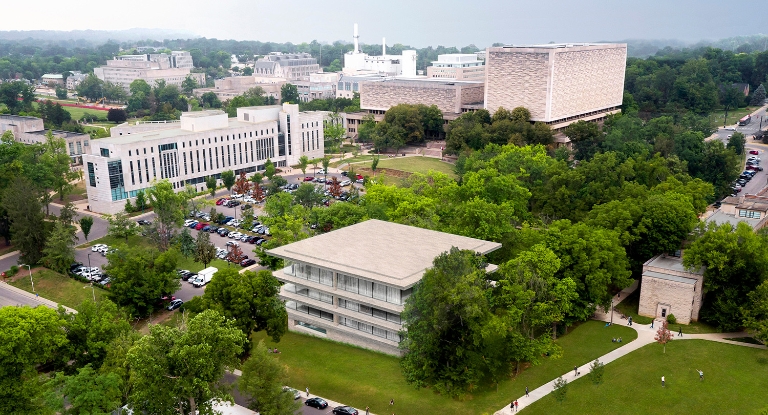 The 40,000 square-foot center will be at the corner of Jordan Avenue and Seventh Street in a bustling area of campus near IU's Hamilton Lugar School of Global and International Studies, Herman B Wells Library and Neal-Marshall Black Culture Center. It will house programming and support services for students who have studied or are interested in studying abroad, as well as the university's large international student population. It will also provide opportunities for collaboration and cooperation between these programs and services in the Ferguson International Center and the Hamilton Lugar School, contributing to a model that will be unique in the Big Ten and one of the few of its kind in the U.S.
The center was funded, in part, by a $5 million gift from IU alumni Steve and Connie Ferguson.
"The Ferguson International Center will enable us to more effectively serve the thousands of IU students who study abroad each year as well as IU's international students," IU President Michael A. McRobbie said. "And, for the first time, it will bring together the IU staff members from various locations across the Bloomington campus who do an outstanding job of supporting these communities, as well as other staff members who support additional aspects of IU's international engagement mission.
"On behalf of IU, I want to offer our most sincere and grateful thanks to Connie and Steve Ferguson for their dedicated service to the university, and their willingness to support this much-needed center through their extraordinarily generous gift."
Wednesday's groundbreaking was held as IU continues to celebrate its Bicentennial Year, during which the university has honored its longstanding traditions of international affairs and international studies. The IU Bloomington campus ranks sixth in the nation, out of around 1,000 colleges and universities, in terms of the number of students who study abroad. IU also has one of the nation's largest and most diverse international student bodies, with more than 7,600 students from 147 countries across all campuses.
The new center will foster greater interaction and collaboration between international students and those who study abroad while providing space for meetings and other functions by the roughly 100 formal and informal internationally focused student organizations on the Bloomington campus. It will also host academic and government delegations from other countries who regularly visit IU, highlighting IU's standing as one of the country's most globally engaged universities.
"Connie and I discussed this gift at length," Steve Ferguson said. "This is a special project for personal reasons and for what it means for our international and domestic students. The location is actually part of my childhood; I grew up down the street from the building site and walked by it every day on the way to school. Situated in the heart of campus on the Jordan Avenue corridor, the location could not be better.
"Over the last 30 years, Connie and I have traveled the globe and have met many wonderful people and developed meaningful friendships. If everyone had those opportunities, the world would be a better place. This center will enable students to become truly global citizens. It will serve as an open-arms presence for our international students and be a one-stop place of guidance for IU students as they consider venturing abroad. And for the parents of the university's international students, our hope is that the center will provide tangible reassurance that their children are welcomed and valued members of the IU family."
Building a more global university experience was a priority of the university's Bicentennial Strategic Plan set forth by the IU Board of Trustees in 2014 to guide IU into its third century. The Ferguson International Center will be a critical component of that effort moving forward.
"Global engagement is an integral part of an IU education," IU Vice President for International Affairs Hannah Buxbaum said. "We're grateful to the Fergusons for recognizing its importance and for their incredibly generous philanthropic support. This building opens up a new chapter for our students to interact, engage and share intercultural experiences."
Steve Ferguson holds a J.D. from the IU Maurer School of Law. In 2018, he was also awarded an honorary Doctor of Humane Letters degree for his many contributions to the university, including 12 years of service as a member, and eventual president, of the IU Board of Trustees. Steve has also served on the IU Foundation Board of Directors; the IU Southeast Board of Advisors; the IUPUI Board of Advisors; and the Dean's Advisory Council for the Luddy School of Informatics, Computing, and Engineering. Connie Ferguson earned her bachelor's degree from IU's College of Arts and Sciences and is a founding member of the university's Women's Philanthropy Leadership Council.
Their gift counts toward the $3 billion For All: The Indiana University Bicentennial Campaign.
The Indiana University Bicentennial Campaign is taking place on all IU-administered campuses, including IU Bloomington, IUPUI, IU East, IU Kokomo, IU Northwest, IU South Bend, and IU Southeast. The campaign will conclude in June 2020 to coincide with IU's bicentennial celebration. To learn more about the campaign, its impact and how to participate, visit forall.iu.edu.
Information News at IU Bloomington