INDIANA – Curious about water availability in the state? Indiana DNR's Water Division compiles a weekly summary that includes soil moisture, surface water, and groundwater conditions.
Temperatures for the week began much above normal. Then dropped to much below normal and are ending the week near normal to slightly above normal.
Light to heavy amounts of precipitation fell across much of the state. The heaviest 7-day rainfall total was 5.29" and was recorded at "Elnora", in Daviess County for the week beginning May 13, 2022.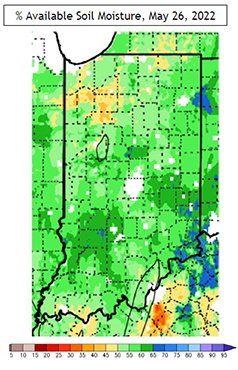 Strong storms with straight-line winds struck Indiana on Saturday, May 21, also an EF-1 tornado was reported in Shelby County, and EF-0 tornadoes in Brown and Johnson Counties.
Soil moisture slightly decreased in northern Indiana and increased slightly in the rest of Indiana. Soil moisture remains above 50% available soil moisture for most of the state with an area in the northwest and north-central Indiana down to 40% available water.
Soil temperatures at the 4" depth under bare soil increased in all portions of the state. Temperatures are averaging from 65.7 degrees in northeast Indiana to 70.0 degrees in west-central Indiana.
Surface Water: Status of Indiana Rivers on May 27, 2022
Streamflow conditions are generally above to near normal across the state. There are many gauges reporting above normal discharge. There are 5 gauges reporting an all-time high for the date, 28 gauges are reporting much above normal, 41 gauges reporting above normal, 66 reporting normal, 1 gauge reporting below normal, 1 reporting much below normal, and 1 reporting an all-time low for the date.
Across the state, there are two stream gauges reporting action stage and one gauge reporting minor flood stage. Currently, 19% of stream gauges indicate steady flow conditions; 41% are increasing and 37% are decreasing.
Observed streamflow at real-time USGS observing sites over the past 7-days ending May 24, 2022, averaged 1% much below normal, 4% below normal, 77% near normal, 16% above normal, and 3% much above normal.
Groundwater: May 26, 2022, Real-Time Groundwater Network
Groundwater wells across the state are reported are near-normal conditions. There are 6 wells indicated below or
much below normal groundwater levels.
La Porte 9, Wayne 6, Wells 4, and Harrison 8 are currently below normal due to seasonal impacts.
Hamilton 7 is below normal and continues to be impacted by nearby pumping for public water supply. Jasper 13 (much below) continues to slowly recover from agriculture irrigation impacts occurring during the summer of 2021.
USACE Reservoir Levels as of May 26, 2022:
Most reservoirs have moved toward summer operations. Current levels are compared to summer pool levels. Louisville District Lake elevations: Brookville +0.4'; CM Harden +1.1'; Cagles Mill +4.2' (still operating near winter pool levels); Monroe +4.1'; and Patoka +2.3' (still operating near winter pool levels)/.
Reservoir levels in the Upper Wabash Lakes: Roush +0.3', Salamonie +0.2', and Mississinewa +0.1'. NOAA 7-Day Quantitative Precipitation Forecast 7-Day Quantitative precipitation forecast for May 26-June 2, 2022, predicts light to moderate amounts of precipitation across the state with heavier amounts in the southwestern portions. The 48-hour QPF's indicate the largest amount of precipitation is expected for May 26-27 and lighter amounts for the last two days of the forecast.
The 30-Day Outlook from the NWS Climate Prediction Center for June 2022 predicts above normal temperatures for Indiana and indicates equal chances for above or below normal precipitation.
You can view the report here.