LAWRENCE CO. – A slew of severe weather, including high winds and heavy rain, caused extensive damage Saturday afternoon in Lawrence County and other south-central Indiana counties.
Marshall Township Volunteer Fire Department and others were busy cleaning up storm damage.
The Lawrence County Sheriff's Department began receiving calls of trees and limbs down in roadways at 2:43 p.m.
A severe thunderstorm warning was issued for Lawrence County at 3:12 p.m.
There were also reports of storm damage in Martin and Greene counties.
Bedford North Lawrence cleaned up on the track, and on the road home while bringing home the IHSAA sectional championship trophy during Unified track action at Jasper on Saturday. You can watch the video of the Stars helping with the clean-up by clicking here.
Storm damage was reported on some of these Washboard, Gas Line, Sportsman, Old Farm, Pinhook, Tunnelton, and Vinegar Hill roads, Steve Earl, North Helton, Guthrie, Fleenor, Judah Logan, Donica Church, Chapel Hill, and Popcorn roads, and on State Road 54 and State Road 58 and Old State Road 37, Reuter Lane and in the Knob Creek and Coveyville area and many more. There were also reports of trees down in Mitchell on West Grissom Avenue, VFW, DNR, and South Meridian roads, and others.
A caller on Valley Mission Road reported at 3:18 p.m. that they believed a funnel cloud touched down and destroyed their barn and took down powerlines.
The city of Edinburgh experienced heavy damage. Multiple people in the city reported trees falling on cars and houses and roadways were littered with debris.
The scoreboard on the football field of Edinburgh Community High School was knocked over.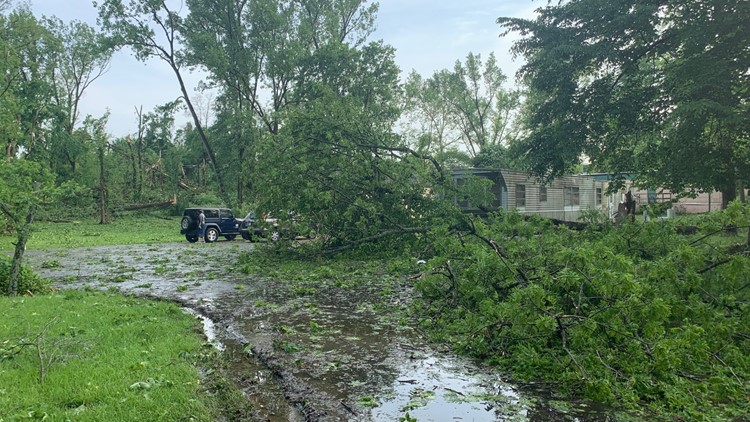 Nearby, at Camp Atterbury in Johnson County, high winds heavily damaged the military training base's historic Post Chapel, Sheriff Duane Burgess confirmed. Others saw what looked like funnel clouds in the sky in Johnson County.
Bartholomew County Sheriff's Office called in extra deputies to help with the damage cleanup. The Taylorsville area trailer park had several homes damaged.