INDIANA – Last week, the Southport 6th Grade Academy in Perry Township hosted its first in-person career day since the COVID-19 pandemic. The I-69 Finish Line project team presented to approximately 150 students who are active in the school's Science, Technology, Engineering, and Math (STEM) program.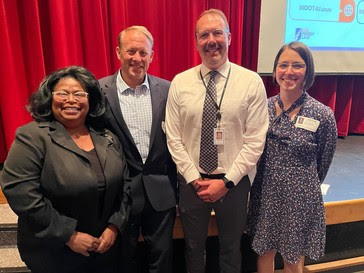 The Academy's STEM students follow a process to solve problems and understand the influence of creativity and innovation in decision making. The presentation focused on getting the next generation excited about the many technologies and career paths involved in building and maintaining our infrastructure. This includes planning, design, project management, and the various construction trades.
Project managers Sarah Rubin and Tim Miller are pictured here with school principal Jason Wiesmann and Matti McCormick with the Walsh-Milestone Joint Venture, which is designing and building I-69 and I-465 on the southwest side of Indianapolis.
State Road 37 will soon shift to the elevated pavement and bridges between Southport Road and Fairview Road in Johnson County, starting with southbound traffic on or after Thursday. Traffic will no longer stop for traffic signals at Wicker Road and County Line Road.
New southbound entrance and exit ramps will open connecting with County Line Road west of S.R. 37. The traffic shift will temporarily close southbound S.R. 37 access to County Line Road for two months. Future traffic shifts will close County Line Road and access northbound S.R. 37. Click here to view a map of the traffic patterns and alternate routes once the changes are completed.
The Mooresville Road Bypass bridge has reopened across I-465, and the Mann Road overpass is expected to close for about three months starting on or after June 6. The I-465 westbound exit ramp will remain open to northbound Mann Road and the I-465 eastbound on-ramp will remain open from Thompson Road and northbound Mann Road. Click here for a map of the closure and detour.
Belmont Avenue closed at S.R. 37 in April and is expected to close today at Winslet Boulevard for about four weeks. Access to the Aspen Lakes Apartments is from the north at Southport Road.
Watch for Wellingshire Boulevard traffic to be shifted to one side of the road today near Southport Road to rebuild the entrance to the Southern Dunes housing complex.
To prepare for the S.R. 37 traffic shift, expect one southbound lane to be closed one day this week. Crews will be removing temporary barriers south of the Fairview Road stoplight.
Slow down and move over for mowing crews, which are expected this week along S.R. 37 and nearby roads between Fairview Road in Johnson County and S.R. 44 near Martinsville.
Construction crews will minimize truck traffic and temporary work zones starting midday on Friday for Indianapolis 500 and Memorial Day weekend travelers. We'll be back on track starting Tuesday, and you should expect our next project update that morning.
Interchange construction is expected to close Smith Valley Road west of S.R. 37 starting in early June. You'll be able to access the area from the north using the Fairview Road signal and Bluffdale Drive extension, and from the south using S.R. 144, Huggin Hollow Road, and the Old S.R. 37 extension.
Click here to view side-by-side maps comparing the current and upcoming traffic patterns.
Summer break has begun for Waverly Elementary and other Mooresville schools! Daytime flagging of S.R. 144 traffic west of S.R. 37 is expected to end this week.
Surface paving of the S.R. 252/S.R. 44 ramps along I-69 is expected to close the shoulders early this week.
As early as next week, night crews plan to patch S.R. 39 bypass pavement in Martinsville that was damaged during last year's detour. Expect two nights of flagging near Morgan Street and Sumner Avenue as weather and other factors allow.
The actual starting date and duration for work and any closures may be adjusted if inclement weather or other unforeseen activities occur.