WEST LAFAYETTE — Three engineers from Purdue University's College of Engineering have been named fellows by the National Academy of Inventors, the highest professional distinction given solely to academic inventors.
The new Purdue fellows are Santokh Badesha, adjunct professor for innovation in the Elmore Family School of Electrical and Computer Engineering; Ajay Malshe, the R. Eugene and Susie E. Goodson Distinguished Professor of Mechanical Engineering; and Nien Hwa Linda Wang, the Maxine Spencer Nichols Professor of Chemical Engineering.
This year's selections bring the number of Purdue Engineering NAI fellows to 12. In all, Purdue has 17 fellows.
The NAI Fellows Program highlights academic inventors who have demonstrated a prolific spirit of innovation in creating or facilitating inventions that have made a tangible impact on the quality of life, economic development, and the welfare of society. The organization designated 164 fellows for its 2021 class. Fellows will be inducted during a ceremony next June in Phoenix.
Badesha is a corporate fellow and manager of open innovation at Xerox, where he is the all-time record holder for U.S. patents. He has generated patented technology used in nearly all major Xerox printing system families. He is internationally recognized for inventing technologies that have ushered in the era of digital printing on demand. He holds 258 issued U.S. patents and an additional 55 patents at different stages of the patenting process.
His patents cover foundational printing technologies. Some of the most noteworthy include photoreceptors, fuser subsystems, and intermediate transfer belts. More information about these technologies is available in this engineering story.
Badesha has worked across government, academia, and industry to open new opportunities for technological innovation and commercial successes. He serves as a trustee of the New York State Fuzehub Manufacturing Collaborative, which connects New York manufacturers to academic and industry experts to accelerate R&D and productivity solutions.
In 2021, he was inducted into the National Academy of Engineering "for developing materials enabling the broad use of laser printing and the creation of color laser printing." Badesha was named an honorary member of the Society for Imaging Science and Technology. He is a fellow of the Royal Society of Chemistry and Society of Imaging Science & Technology.
He was named a chartered scientist by the Science Council of the United Kingdom and received the Distinguished Inventor of the Year Award from the Rochester Intellectual Property Law Association. Badesha is the recipient of many awards from Xerox, including being inducted into the Xerox Innovation Group Hall of Fame.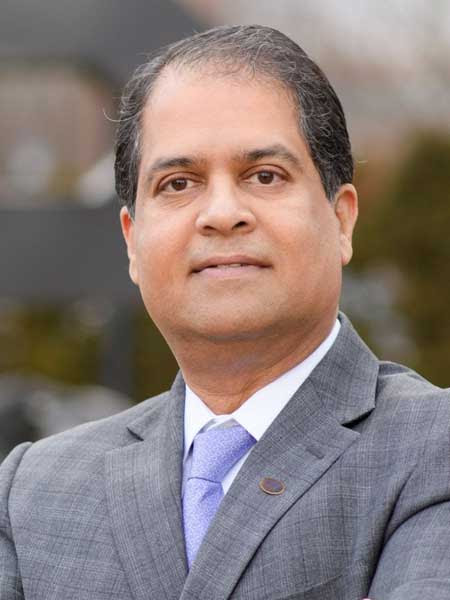 Malshe is an internationally recognized educator, inventor, and entrepreneur who works in the areas of bio-inspired designs, advanced materials, smart manufacturing, productization, and frugal engineering for technological and socioeconomic equity. His specialized application areas include heterogeneous electronics, high-performance mechanical machines, agriculture and food production, and in-space manufacturing.
Malshe's nanomanufacturing inventions have delivered major advancements to the performance, sustainability, and safety of high-performance machines used across multiple industrial sectors, including aerospace, heavy-duty transportation, electric vehicles, and energy, among others. In particular, he has devoted his efforts to finding impactful solutions to a central challenge that confronts many industries: mechanical equipment performance constraints that stem from harsh surface-to-surface asperity contact originating at the nanoscale in critical components such as gears, valve diaphragms, bearings, rails, pistons and cutting tools.
Malshe holds 26 U.S. patents. He was inducted into the National Academy of Engineering in 2018 "for innovations in nanomanufacturing with impact in multiple industry sectors." He was named one of the 20 Most Influential Professors in Smart Manufacturing by the Society of Manufacturing Engineers in 2020.
Other selected accolades include the NanoBusiness Alliance's Lifetime Achievement Award (2018), the Small Business Association Tibbetts Award (2014), the R&D 100 Award for his TuffTek® tool coating, and three Edison Awards (2014, 2016, 2017). He is a fellow of the American Society of Mechanical Engineering, American Society of Materials, International Academy of Production Engineering, and the Institute of Physics in the U.K.
Wang's patented and licensed ligand-assisted displacement (LAD) chromatography technology has enabled the cost-effective and sustainable domestic production of high-purity rare earth elements (REEs), which are essential for the strategic independence and competitiveness of U.S. advanced manufacturing.
REEs are essential ingredients used to make many high-tech products, from rechargeable batteries to TV screens to jet engines. Until recently, production of REES in the U.S. has been limited, with China controlling more than 85% of the global REE supply. Building on decades of research, Wang's LAD processes have enabled efficient and environmentally sustainable methods for the extraction and purification of REEs through her U.S. patent for ligand-assisted chromatography for lanthanides separation.
Hasler Ventures LLC has secured first rights from the Purdue Research Foundation to commercialize Wang's LAD chromatography process for REE separation and purification. Hasler Ventures has sublicensed the technology to American Resources Corp. (AREC), a supplier of raw materials. In a parallel arrangement, Hasler Ventures licensed Wang's chromatography technologies to Medallion Resources Ltd. for use with minerals and other raw materials.
Wang has created and holds the copyright for the Versatile Reaction and Separation (VERSE) simulation software package, which was the first simulation tool for liquid chromatography systems of separations coupled with reactions. VERSE has been the key tool for the analysis, design, and development of innovative methods for REE purification. It also was instrumental for a collaborative project between Wang and the Argonne National Laboratory in developing new capture and purification processes for medical isotope production in the U.S. She also has invented new technologies for converting plastic waste into clean fuels and other useful products.
In total, Wang holds five issued U.S. patents, five foreign patents, as well as two copyrights on software packages in the reactions and separations field. Her inventions have been licensed or optioned by 14 companies, including two Fortune 500 companies. She is a member of the Purdue Innovator Hall of Fame, and a fellow of the American Institute for Medical and Biological Engineering and the American Institute of Chemical Engineers.