BRAZIL – Pray. Eat. Repeat. They are three simple words, but they will be read by thousands of future law enforcement officers, at-risk kids, young witnesses, and victims of crime who dine from the new Indiana Sheriffs' Youth Ranch kitchen in years to come.
Last weekend, Sheriffs and about 150 other assembled guests were led in prayer by Pastor Phil Ping, senior chaplain of the Youth Ranch, as they dedicated the academy's remodeled youth kitchen here to his late wife.
"Stephanie, who passed 10 years ago, loved kids and she loved helping others," Ping said. "She would be happy about what we are accomplishing today and with each group of youth who visit here – the mentoring of law enforcement officers, the bonding with at-risk kids, the comforting of young witnesses and victims of crime."
Ping, the former owner of Ping Tree Service in Indianapolis, donated funds to convert ISYR's residential kitchen and dining room into a commercial kitchen able to safely and efficiently serve hundreds of meals to young visitors and chaperones each day.
Ping was surrounded by his oldest daughter Melissa Dalton and three of his grandchildren – Natalie, Destiny, and Abagail – for the dedication of Stephanie's Kitchen. Also in attendance were his sister-in-law Beverly Ping and two friends from Joyful Manna fellowship on Indy's westside: Jeff Brundage, song leader; and Daniel Earl, youth pastor.
Laurie Layton, wife of former Marion County Sheriff ISYR founder John Layton, designed and oversaw the kitchen project.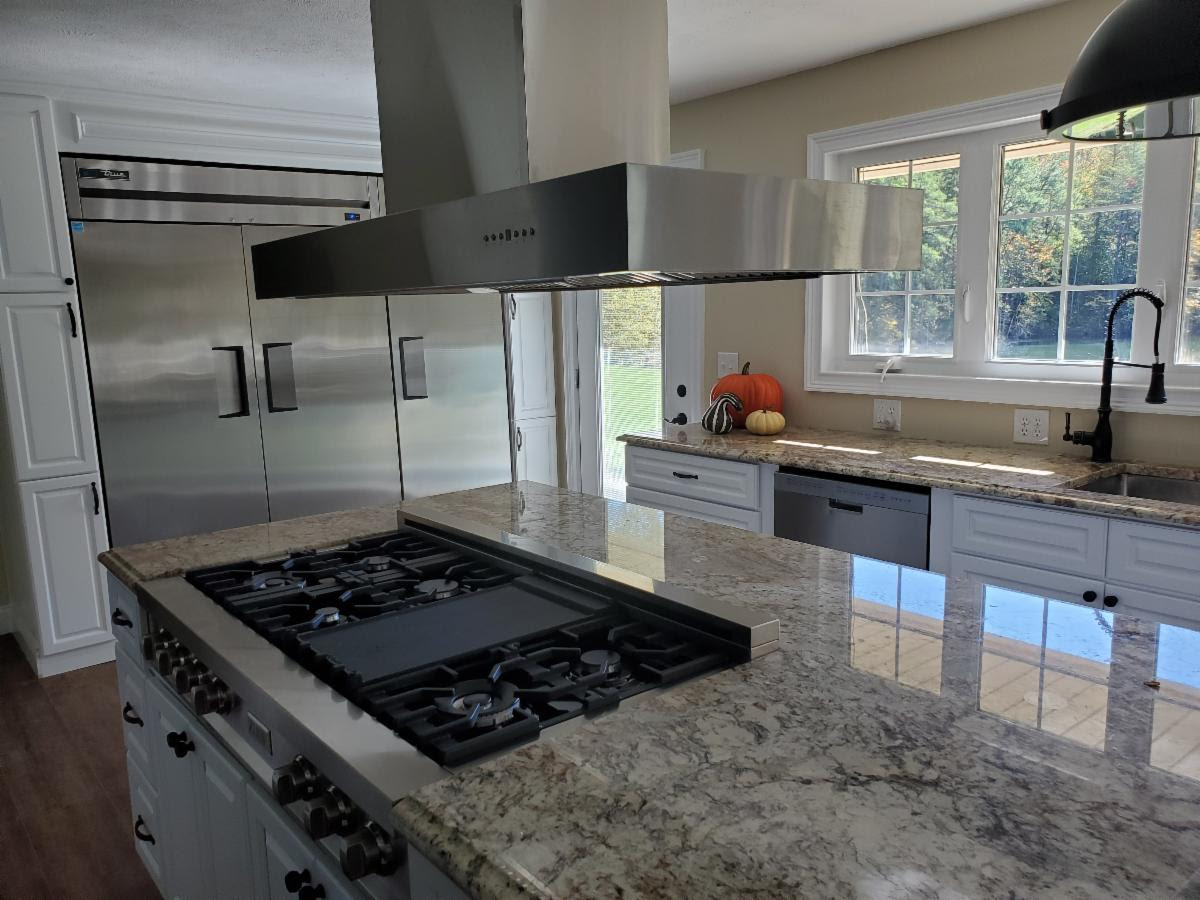 Stephanie's Kitchen now features an oversized gas cooktop, microwave ovens, multiple sinks, a coffee station, heavy-duty dishwasher, oversized double ovens, commercial freezer and refrigerators — and a 16-foot granite-top island for storage and serving.
Through additional donations and discounts on materials and labor, Laurie Layton stretched Ping's generous contribution to add an adjacent full bathroom for Sheriff's Lodge & Conference Center visitors. She also added matching plank flooring and paint to the adjacent living room. The kitchen's two smaller windows and a glass sliding door were replaced by six larger windows and five glass doors – providing an amazing view of the nearby lake and additional entrances for serving lines and exits in case of emergencies.
"We learned quickly as we hosted groups that a residential kitchen couldn't keep up," said former Sheriff Layton. "To serve breakfast, lunch and dinner to our student leaders was like hosting three family reunions each day.
Our prayers were answered by Pastor Ping. His gift of Stephanie's Kitchen was truly a blessing."
Pastor Ping serves as the volunteer chaplain of ISYR. The chaplain's fund provides free, needed toiletries and clothing to at-risk kids, as well as requested devotional materials.