(UNDATED) – In August 2020, a man was arrested after he shot and killed his long-time girlfriend, a Washington County Correctional officer was arrested after having a sexual relationship with a female inmate, a French Lick man was arrested on a reckless homicide charge, Lawrence County Special Olympics wins a title, and IU President McRobbie announced his retirement.
Man Arrested After Shooting And killing His Long-Time girlfriend
Lawrence County Sheriff's Department deputies arrested 58-year-old Phillip "Butch" Deckard, of 2738 Maul Ridge Rd., on charges of murder, involuntary manslaughter, reckless homicide, domestic battery, and aggravated battery after he allegedly shot and killed his long-time girlfriend Charlene Silvers during a domestic dispute.
On Wednesday, August 26, 2020, at approximately 1:56 p.m., Lawrence County Sheriff's Department Central Dispatch received a call from an individual who said they had been involved in a minor traffic accident on State Road 158 and the other involved vehicle fled the scene. According to the caller, the other driver stated he was trying to get his female passenger, who suffered a gunshot wound, to the hospital.
The vehicle that fled the scene was a silver or gray Ford Focus. The caller gave police the license plate number.
At approximately 2:03 p.m. IU Health Bedford Hospital called dispatch to advise a female was in the emergency department with a gunshot wound to the abdomen.
A Lawrence County Sheriff's deputy was met by the IU Health Emergency Management Supervisor who escorted him to the waiting room to speak to Deckard. Deckard was sitting in a wheelchair covered in Silvers' blood. He also had dried blood on his hands.
Officials say Deckard and Silvers had been in a relationship for 13 years and both live in the home on Maul Ridge Road.
Deckard told the deputy, "My girlfriend got shot. "Yeah, it was an accident."
The officer asked how Deckard got all the blood on him he said he was helping Silvers get in his vehicle.
Deckard told the officer that he and Silvers had been arguing all morning. He said he had a pistol and Silvers took it and was shooting at him by the porch outside of the residence. Deckard said Silvers then set the trailer on fire. He said Silvers came back into the house and he had a .223 rifle in his hand.
Deckard said Silvers shoved him and when she shoved him the gun went off. He added he wasn't pointing the gun at Silvers.
Medical staff advised they were life lining Silvers to another hospital. The officer asked to speak to Silvers if she was conscious.
Silvers told police that Deckard had shot her. The officer asked why and she told him they had been arguing. The officer then asked if it was an accident and Silvers shook her head no. The officer then asked if she thought he did it on purpose and she said yes.
Deckard told police he and Silvers had been arguing all day and "their place is tore all to hell."
Deckard said the both of them were breaking items, including dishes and the television. He says Silvers also poured gasoline from the living room to the bedroom and set the bedroom on fire.
Silvers then allegedly retrieved a .25 caliber semi-automatic handgun.
According to Deckard, Silvers went outside. He followed her and she fired two rounds at him but apparently wasn't trying to hit him. She then threw the gun in a mud puddle.
Deckard said the AR 15 rifle was in the residence inside the door on the left side.
Deckard said he went back inside the residence and picked up the rifle and Silvers knocked him backward.
Police say Deckard is 5'08" tall and weighs 200 pounds. Silvers is 5'08" tall and weighs 128 pounds.
Deckard said he didn't know how Silvers got shot.
He said he has never hit her, but she always hits on him, but she can't hurt him.
Deckard then stated he would never shoot her, that it was an accident, and he had never pointed the rifle at Silvers.
When asked why he picked up the rifle he said he didn't know it was there and he just picked it up.
Deckard said they were in close proximity to each other (within arm's length) when Silvers pushed him and the gun discharged.
When police went to the house they found it in disarray. Inside, furniture was turned over, various items of glass were broken, the television was laying on the front porch, tubs of clothing were strewn about outside, numerous windows were broken out, various other items were thrown out of a window, and a fire had been started inside the residence.
A large amount of what appeared to be blood was located on the front porch and just inside the front door, which is also the living room area.
Police located one .223 caliber spent shell casing on the front porch and two .223 caliber spent shell casings located just inside the front door on the floor. Two more .223 caliber spent shell casings were located on the living room floor.
The rifle and the handgun were lying next to one another on the living room floor.
Numerous exit holes, of what appear to be bullet holes, were located in various locations around the residence.
A neighbor told police they heard four or five gunshots coming from the east behind their residence. This is in the direction of the home Deckard and Silvers shared.
The neighbor said there were two initial shots, a short pause, and then two more consecutive shots. About five to ten minutes after hearing the shots, they heard a car pulling out of a driveway.
Silvers was pronounced dead on Thursday at 7:24 p.m.
Pathologist Dr. John Cavanaugh performed an autopsy on Silvers. He said Silvers was possibly shot by two bullets, but probably one.
One bullet wound was to Silver's left arm breaking both the radius and ulna bones in her forearm. A second bullet wound entered her left side between the seventh and tenth rib. A fragment projectile exited the right 7th rib. A bullet fragment was located under a surgical incision from the removal of her stomach.
A jury trial is schedule for January 19, 2021 in Lawrence County Superior I.
The Summer Games Sports and Fitness Challenge in the Special Olympics are awarded in each of the 10 areas. The awards were selected by the Board of Directors and honored at the State Conference.
Lawrence County Special Olympics Takes First Place In Virtual Competition
Lawrence County Special Olympics won First Place in their virtual competition in summer games in August 2020.
Area 7 Volunteer Awards:
Volunteer of Year – Katie Gibbens, Lawrence County
Family of the Year – Hillenburg Family from Monroe County
Coach of Year – Jessica Poindexter
Athlete of Year – Justin Brown from Monroe County
Bedford Walmart Store #1026 gave the group a donation to continue their daily virtual fitness activities and cruise-in events twice each month.
The organization has 60-70 athletes and the organization tries not to create a financial burden on the families that take part in these programs
Washington County Corrections Officer Arrested
A Washington County corrections officer was arrested Monday, August 17, 2020 after investigators learned of possible inappropriate contact between Jail staff and a female inmate.
The investigation began on August 17, 2020, after Sheriff Brent Miller learned of possible sexual contact between a female inmate housed at the Washington County Jail and Jacob E. Silverthorn, who was employed as a corrections officer.
The contact was alleged to have happened a few days prior, while Silverthorn was working at the jail and responsible for overseeing inmates in the facility.
Sheriff Miller immediately contacted Indiana State Police Detective Travis Baker and requested an independent investigation into the allegations. It was also alleged Silverthorn provided liquid nicotine to the inmate.
As a result of Detective Baker's investigation, 27-year-old Jacob Silverthorn, of Salem, was arrested on felony charges of sexual misconduct with an inmate and trafficking with an inmate.
A jury trial is scheduled for May 4, 2021, at 8:30 a.m. in Washington County Circuit Court.
IU President McRobbie Retiring After 14 Years At The Helm
Indiana University President Michael A. McRobbie announced he will retire after 14 years as president and 24 years in senior positions at one of the nation's top public research universities.
During his tenure, IU has been recognized for its leadership across a wide range of key areas, including student success, research and scholarly excellence, community engagement, international education, health sciences training and research, and economic development for all of Indiana.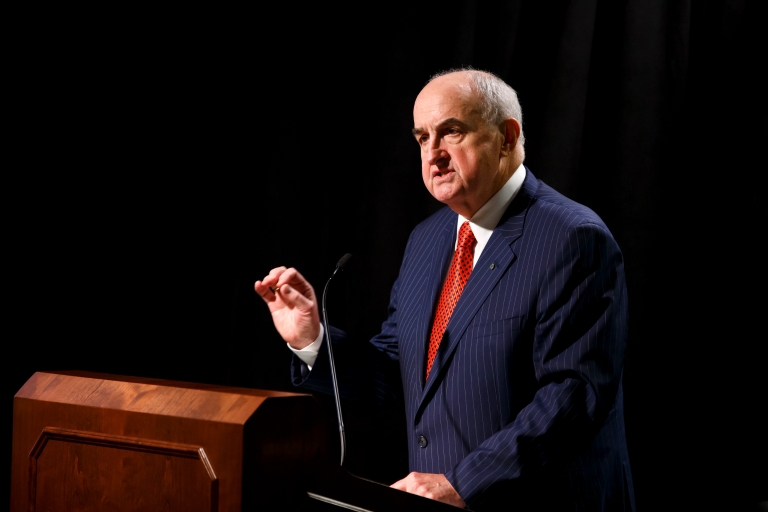 McRobbie made the announcement in an email to faculty, staff, and students, and during the August 14, 2020 Board of Trustees meeting.
French Lick Man Dies, Another Arrested On Reckless Homicide Charge
An off-road vehicle accident on Saturday, August 1, 2020, claimed the life of a French Lick man and landed the victim's father-in-law behind bars.
Officers from French Lick and West Baden Springs responded to a 911 call at 11:15 p.m. south of State Road 56, near County Road 1050 West and County Road 300 South, northwest of French Lick Municipal Airport.
Investigators say 32-year-old Zachary Flick had gotten off a side-by-side UTV to retrieve a hat when he was struck by the vehicle as it was returning to pick him up. Flick fell after being struck by the vehicle and hit his head on a rock.
Police say Flick suffered a severe head wound and never regained consciousness. He was rushed by a Dubois County Emergency Services ambulance to Memorial Hospital in Jasper and then transferred to Deaconness Midtown Hospital in Evansville where he died from his injuries.
Police say the weather was bad and a helicopter could not fly to the scene.
The driver of the vehicle, 46-year-old Jeremy Parks, of French Lick, told police the vehicle slid on the wet grass when he was returning to pick up Flick and he was unable to stop before striking the Flick.
Witnesses at the scene say the vehicle was traveling around 20 to 25 miles per hour at the time of the accident.
Parks was arrested on felony charges of reckless homicide and operating a vehicle while intoxicated causing death.
A jury trial is scheduled for March 30, 2021, at 8:30 a.m. in Orange County Circuit Court.